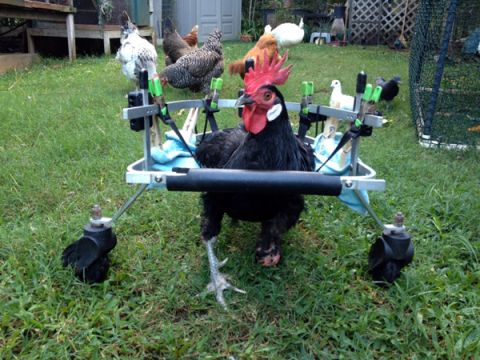 Barbara Parkes is the kind of person you pray is your seat-mate on a long-haul flight. Engaging, accessible and armed with heart-warming true stories about animals given a second chance, Parkes is a walking example of the chestnut 'choose a job you love and you'll never work a day in your life.'
Parkes is the owner of U.S.-based K9 Carts, which makes custom wheelchairs for animals — mostly dogs, though sometimes cats, rabbits, chickens and other species — that have compromised mobility due to accident, illness, genetic disorders, aging or are recovering from surgery. In business for nearly 40 years, Parkes and K9 Carts have given countless creatures a new lease on life, while providing dignity to old dears making their final exits.
If that weren't cheering enough, the Scottish-born Parkes also has an altruistic streak a mile wide: when possible, she donates custom carts to needy animals that have been rescued. Indeed, K9 Carts came to Samaritanmag's attention during a follow-up piece on Angel the brutally injured and abandoned Toronto kitten, whose hinds legs were paralyzed during suspected abuse that broke her back.
Because of her injury, Angel dragged her hind legs behind her. K9 Carts fitted Angel with a cart for free; now the kitten, in the words of her caregiver Karen Beharrell, is "flying around." All stories should be so life-affirming. Parkes spoke to Samaritanmag from her office in Washington State.
You create carts for all kinds of species, correct?
Right. Dogs probably account for 70 to 75 percent of our business. But we make up a lot of carts for cats, many suffering from cerebellar hypoplasia, which is a neurological deficit requiring a fully supportive cart. Or it might have been a cat that was attacked by another animal and had its spine severed. Rabbits also do very well in carts. The very first one I ever did was back in Pennsylvania around 1976 and I was amazed at how well the rabbit took to the cart. I'm not really up on all the latest rabbit diseases so I can't offer an answer as to why they find themselves needing carts. But all species seem to have their problems. For example with dogs, especially larger dogs, it's degenerative myelopathy, which is a disease of the spinal cord.
We also had two or three chicken carts sent to a rescue organization in Hawaii — many cases are rescues — and there was a rooster in Spain. I haven't seen one working yet, but I am told they do okay. We shipped a fox cart to South America recently. We've also made carts for possums, ferrets, deer one time, a horse, goats, sheep. But those are rare.  The deer was at an animal rescue sanctuary in Hawaii. The problem with deer is that they hop and spring so it's difficult for a deer to walk normally like a dog.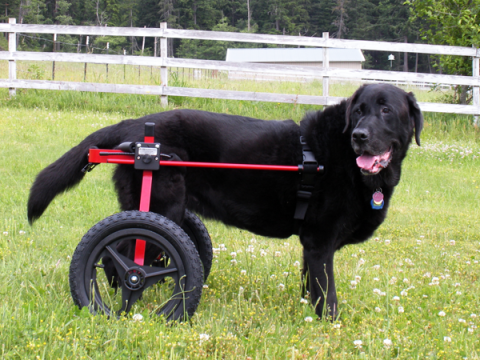 What's involved in doing a fitting?
First we evaluate a dog to ensure what cart design will work best: standard two-wheeled cart (strong in the front legs) extra supportive (needs some help with the front legs) or fully supportive cart (needs total support for all four legs). The carts are convertible — in other words parts can be added later on or taken off if the pet rehabilitates. I then take measurements, and talk to the owner about the cart and maintenance of the cart, while reviewing the different fitting points as the cart is being made.
Depending on the design of the cart, this takes about 20 to 25 minutes. The cart is made up of three parts governing the height, length and width. We pre-make the standard parts so that when an order comes in, we can pull the requisite part and assemble a cart for the pet in question. For example, an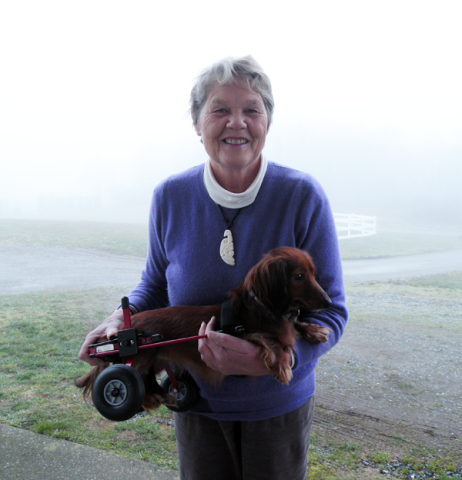 order could be a cart for a small dog but what kind? A little Yorkie, a Dachshund or a little Pomeranian all have different leg lengths, and usually require different widths. So we can just pull the parts and make up what's necessary. Some carts — extra supportive carts — might take a bit longer but mostly an owner won't have to wait much longer than half an hour.
How heavy are these carts?
The carts are very lightweight — they're made of aluminum — and very well balanced, which is particularly important. I am a firm believer in rehabilitation and I think the carts are not being used enough for that. Some animals just need a little bit of help and if we put them in a cart and keep everything in alignment there's a good chance it will come back to walking, especially younger animals.
How long can an animal "wear" the carts each day?
It depends on the animal, its age and the problem. For example, I adopted a little Dachshund years ago that was paralyzed as a puppy. He was in his cart all day because he could rest in it; he could lay his little head down on the ground and then he'd bounce up and rush off barking as Dachshunds usually do. But you need to acclimatize them to the cart; I told a client this morning to take it slow and for shorter periods. If a dog has been down for a long time, it's like you or I getting out of bed from the flu. You don't want to walk a few miles. You need to gradually work back up. So the age of the dog and the length of time it has been immobile will determine that.
Also, with a larger dog, it's a problem using the cart in the house because they'll be banging into the furniture.  With a dog over 40 pounds, you'll probably be using the cart to take them out for their morning walk or to eliminate, which they can do in the cart. And that helps a lot, especially with paralyzed animals, because you do have to expel their bladder or they'll get bad urine infections.
But small dogs can stay in them all day… but they will crash into furniture. Piccolo — my little Dachshund —  was a hopeless driver and was always crashing into things. My coffee table and doorways were all marked up. But some of them are quite good; they learn to avoid things and to take wide turns.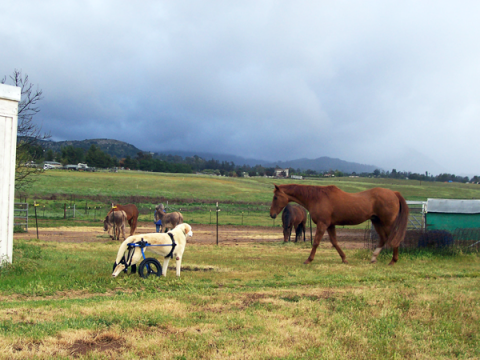 What are some of the logistics of your business – how unique are you, and how busy?
When we started out many years ago we were the only company like this for a long time. Today, there are quite a few and while I won't name names, many unfortunately are having carts made in China so the quality isn't as good. We have a quality cart though we have had to lower our prices to compete. But we have a very comprehensive website.
I also started a rental program, which I thought was badly needed for things like post-op or for people who weren't sure their dog would take to a cart or for economic reasons. And it has a built-in 'rent-to-own' option, which means 100 percent of the rental fee is put toward the purchase price of the wheelchair should you choose to keep it. We also do a lot of international business. We probably make about 30 carts a week. Cost-wise, the smaller carts are $199 and up to $399 for the big carts. Fees vary for rentals. And we try and help rescues whenever we can.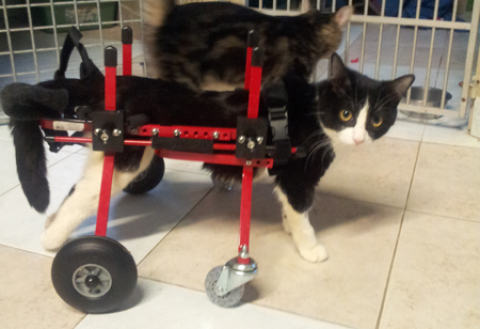 Can you chart the genesis of the company?
It can pretty much be traced back to 1975 when I married (and since divorced) a veterinarian who was an orthopedic specialist and who had animals coming in that were paralyzed and for one reason or another could not afford surgery or too much time had passed. He'd created a cart back in the 60s and I helped to build the business up from there.
I am not a veterinarian, but I worked for years with various animals, in general, small animal clinics and then in orthopedics and neurology. Truthfully, I probably know more about animal mobility than anyone in the country because I have seen so much. I can see an animal walking and recognize the mobility problem, back, hip, knee or neurological. K9 Carts operated in Pennsylvania from 1975 to 1995, Montana from 1995 to 1999, and from 1999 to present I've been here in Washington State on Whidbey Island.
You must have a catalog of heart-warming stories.
I do. I get such wonderful letters from people — I think that's why I haven't retired. I just love helping people and their animals. And you just never know when you pick up the phone; it could be someone from Australia or South Africa… anywhere. People will tell us they never expected their dog to be able to walk again. Or they will thank us for giving their dog such quality of life in its last six months. It's just so rewarding to have found something like this especially given my love of animals.
I have probably had more hugs from people — and licks from dogs — than just about anybody. I remember a fellow in the U.K. who had a Jack Russell terrier in a little cart and when he was out walking with him people would come up to him and say, 'Why don't you put the dog to sleep?" and he would turn to them and say, 'And what good would that do?' It's so important that people know that there is another choice for pets when they start to lose or have lost their mobility, to continue to have a quality of life, to wag their tails and go for walks again.
Nike