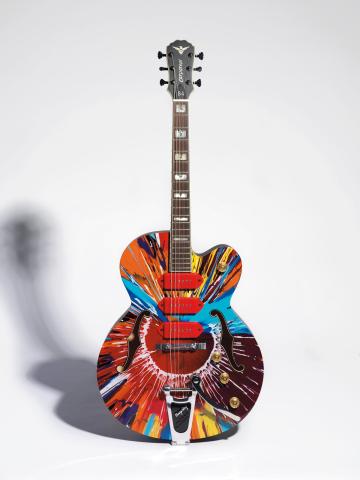 His art literally fetches millions; wonder what this guitar will bring? British painter, sculptor and installation artist Damien Hirst has put his colourful psychedelic "spin" on a Canadian-made Carparelli guitar, which will be auctioned at Christie's showroom in London, England, on Feb. 17. All proceeds go to War Child, an international organization which supports children affected by war.
The Scarborough Nine guitar, donated by Toronto's Carparelli, will be on display at Christie's in South Kensington in London. Hirst painted the guitar using his celebrated "spin painting" technique created on a spinning circular surface.
"The spin painted guitar is a stunning piece of art and [the money from its sale] will do immeasurable good for the children and families that War Child supports in some of the most devastated regions of the world," Toronto's Barbara Harmer, War Child's music and special initiatives director in North America, said in a press statement.
Hirst is Britain's richest living artist with an estimated wealth of £215 ($339.75 million CAD), according to a report in the 2010 Sunday Times rich list. In September 2008, he sold a complete show, Beautiful Inside My Head Forever, at Sotheby's auction, fetching  £111 million ($175.37 million CAD).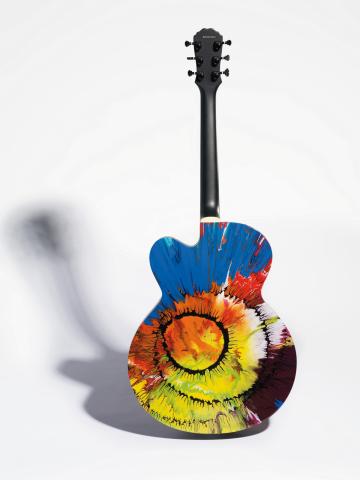 He is best known for the natural history series, which presents dead animals preserved in formaldehyde, such as The Physical Impossibility of Death in the Mind of Someone Living, a 14-foot tiger shark. His other famous works include A Thousand Years, a glass case with maggots and flies feeding off a rotting cow's head; and For The Love of God, a platinum cast of an 18th century human skull covered in diamonds. Besides his 'spin paintings,' he is also known for his "spot paintings," consisting of rows of randomly coloured dots or circles.
The Scarborough Nine guitar is the second donation that Hirst has made to the charity.  In 1995, he contributed to a series of small spin paintings as part of a limited edition box curated by music producer Brian Eno.  The boxes were sold at the Pagan Funwear fashion event.
War Child, which has offices in London, Toronto and Amsterdam, works to help children whose lives have been torn apart by conflict, in Afghanistan, Darfur (Sudan), Uganda, Sierra Leone, Democratic Republic of Congo, Ethiopia, Sri Lanka and Haiti.  www.warchild.ca
Nike