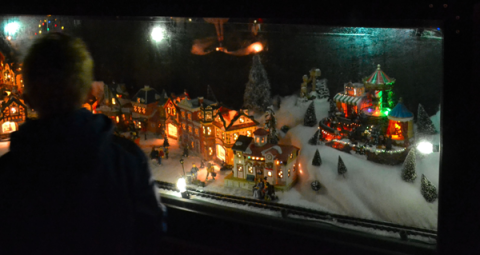 There's Christmas and then there's Christmas as staged by the Singleton family of Campbellville, ON.
For each of the last 17 years, Paul and Barb Singleton and their family have transformed their acre-wide rural property into a head-spinning, jaw-dropping display of lights, figures and holiday-themed scenes set to music, amassing a dizzying amount of fun facts in the process.
The display requires over 800 extension cords and over 600 feet of speaker wire, takes about 400 man-hours to assemble and runs nightly from 5 to 10 pm throughout the holiday season. Oh, and the 14-foot-tall Christmas tree in the lower field boasts about 1,800 light bulbs. Plus many of the displays incorporate specially crafted antiques items.
More than just a breathtaking — and free to the public — attraction witnessed by an estimated thousand-plus spectators annually, the Singleton's Christmas display also raises money for the Halton Women's Place via a donation box set up outside. Halton Women's Place provides shelter and crisis services for physically, emotionally, financially and sexually abused women and their children. Talk about capturing the altruistic spirit of the season.
"Some people put in a dollar, sometimes you'll see $20 bills in there and sometimes there are cheques for $100," Paul Singleton explains to Samaritanmag.
"We had a family last week that told me they were very comfortable and happy and that they had collectively decided to donate the equivalent of what they would have spent on Christmas decorations and presents to one another. I'm guessing when that cheque comes in it'll be more than $20.
"People ask me why I do this and I say 'Because I can.' I have the time; I have the space; I have enough skill to sort this out and I get a kick out of it. And that's what people do with the donations; they do what they can.
"So year-over-year we usually end up donating a couple of thousand dollars and last year we donated around $4,400. And a hundred percent of the donations go to the shelter; I eat all the operating expenses myself."
Asked why the family chose Halton Women's Place, Singleton explains that wife Barb served for a number of years on their board of directors. "For the first few years we didn't actually collect money. But this was sort of a natural progression with my wife's involvement, and we've probably done the donation box for 12 or 14 years," he adds.
"Initially this display was kind of a local thing but it's mushroomed and it's now much larger than just the Campbellville area. We get people from all over the place and who keep coming back thorough the season. We're what people do when they go out in the evening," he laughs. "And there is a lot of word of mouth."
More than just the money collected for the shelter, though, the Singleton family display – which also boasts 28 themed "story boxes" set up like shop windows and depicting holidays scenes like Santa's workshop – also inspires child-like awe and a palpable sense of community.
Explains Singleton, "Last week I was out there chatting with a woman who said, 'Oh this is wonderful' and then started to cry, which is not what I am expecting. She said, 'My father has been in hospital for weeks and I just accidentally drove up the Guelph line, pulled in and you have no idea how much I needed this.' For her the display had a different meaning, it was more poignant.
"But you go out there any night and you'll hear amazing stories. We've had teenagers living in one of those residential homes for troubled kids and they're out there playing like children again. That's pretty darn nifty. 
"When people visit our displays they get out of their cars and walk around and talk to each other. It takes about 15 minutes to see it all but that communication is what makes it so special. There's a real cheerfulness about that."
Jordan Ανδρικά • Summer SALE έως -50%