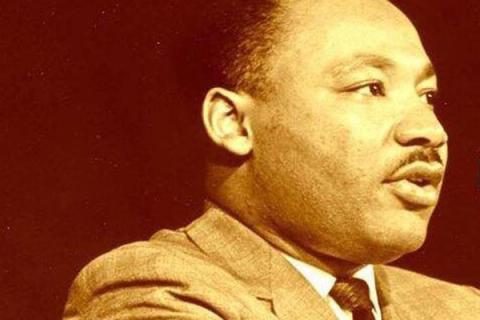 Today (Jan. 16) is Martin Luther King Jr. Day in the United States, honouring one of the great leaders in America's civil rights movement.
Held each year on what would've been King's birthday (Jan. 16) or on the third Monday of each January, the commemorative day puts Kings efforts to protest racial discrimination using non-violent activism into sharp focus.
King dedicated his efforts to a number of major causes while he was alive. These included the march on Washington for jobs and freedom in 1963, which had the goals of ending racial segregation in public schools, a law prohibiting racial discrimination in employment, guaranteed minimum wage for all workers, and protection of civil rights workers from police brutality. He was also involved in marching for voter rights in Selma, Alabama in 1965, opposing the Vietnam War, and speaking on the "Poor People's Campaign" in 1968, which focused on economic equality.
King's peaceful activism and tireless efforts for the equality of all Americans made him a target to many. His house was bombed in 1955 after supporting Rosa Parks; he had bricks thrown at him during marches; and in 1968 he would be assassinated by James Earl Ray at age 38.
Proving that King's work is still far from done, a number of states have found a way to undermine his message of equality. In Alabama, Arkansas, Mississippi, Virginia and Missouri, there's some form of official stance undermining King Day, with some states going so far as to hold concurrent Robert E. Lee Days, celebrating the General in Chief of the Armies of the Confederate States from the American Civil War who fought in support of slavery.
One of the most popular ways for people to observe Martin Luther King Jr. Day is in volunteer service. Another way — and one that may prove particularly educational in 2017 — is to visit one of the many civil rights museums and monuments dedicated to King and the events he participated in throughout the U.S. Samaritanmag collected a list of a few of these places together.
Here they are:
The National Civil Rights Museum
Memphis, Tennessee

Dedicated to sharing the culture and lessons from the American Civil Rights Movement, this museum — built at the former Lorraine Motel here Martin Luther King, Jr. was assassinated in 1968 — was opened in 1991 and features exhibitions about student sit-ins in 1960 and the Montgomery/Rosa Parks bus boycott of 1955-56.
Birmingham Civil Rights Institute
Birmingham, Alabama

This venue documents the "struggle of African American citizens in Birmingham to become full participants in the city's government and business community." One of the central locations in America's civil rights struggles, the Birmingham institute features exhibits about the march to Selma and a photo gallery on the burning of the Freedom Riders' bus in 1961.
SPLC Southern Poverty Law Center Civil Rights Memorial
Montgomery, Alabama

The SPLC is dedicated to civil rights causes and fighting hate groups and extremism. The Civil Right Memorial features the names of various civil rights martyrs and is meant to honour those who've been killed in the struggle for equality.
National Museum Of The American Indian

With locations in New York, Washington, DC and Suitland, Maryland, the NMAI is dedicated to "serving the greater public as an honest and thoughtful conduit to Native cultures—present and past—in all their richness, depth, and diversity" while "covering the entire Western Hemisphere, from the Arctic Circle to Tierra del Fuego." Some exhibits include a focus on the various treaties between the United States and various American Indian Nations, and a look at the Algonquian people of the Chesapeake.
International Civil Rights Center & Museum
Greensboro, North Carolina
Honouring the four North Carolina A&T State College students who started the "sit in" movement on Feb. 1, 1960, this museum aims to show why "institutionalized oppression has no place in the human race."
Rosa Parks Museum at Troy University
Montgomery, Alabama
This museum is dedicated to Rosa Parks, "the mother of the civil rights movement," who refused to give up her seat on a bus to a white man. In a "non-violent and non-threatening manner" the museum features six distinct and unique areas that tell the story of bravery and courage of early civil rights soldiers.
Canadian Museum For Human Rights
Winnipeg, Manitoba
"A centre of learning where Canadians and people from around the world can engage in discussion and commit to taking action against hate and oppression," the Canadian museum features exhibitions such as "Freedom Of Expression In Latin America" and an ongoing series dedicated to aboriginal truth and reconciliation efforts.
Smithsonian Museum of African American History and Culture
Washington, DC
Devoted to the documentation of African American life, this newly opened museum features a wide range of exhibitions focusing on things like sports, music, cultural expression and the efforts of African Americans in wartime.
National Women's History Museum
Alexandria, Virginia

Still in development, its goal is to build the first ever national museum in Washington, D.C., dedicated exclusively to women's history. A number of online exhibitions focus on topics like civil rights, pathways to equality, civil rights and reform leaders.

Listen to a speech by Martin Luther King Jr. about non-violent social change and his hopes for the future:
Air Jordan 1