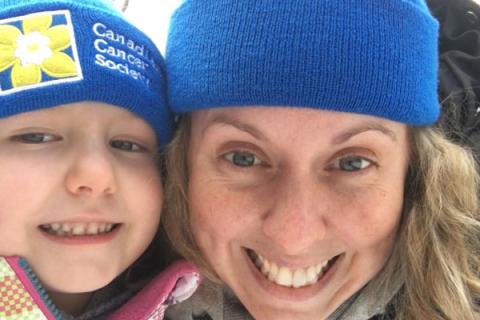 Come Feb. 15, there'll be a whole bunch of families rediscovering a mode of winter transportation that's been around for thousands of years — snowshoeing.
Based around the Canadian Cancer Society's new signature event Family Snow Day, families will gather at three locations across Ontario — Todmorden Mills in Toronto on Feb. 15, Country Heritage Park in Milton on Feb. 21 and Kamview Nordic Centre in Thunder Bay on Feb. 30 — for a five kilometre snowshoeing adventure/fundraising event.
The funds raised will be part of the Cancer Society's new Snowball Fund, which is designed fund programs to help families living through cancer.
Samaritanmag spoke to Canadian Cancer Society director Tonya Stewart to find out more about what Family Snow Day is and, uncomfortable pause, what they're going to do if there isn't any snow on the ground.
What is Family Snow Day?
Family Snow Day is a new event that we're launching here at the Canadian Cancer Society which brings families together and gets them outside in the winter time. This year we focused the on opportunity to snowshoe. The way we do it is it's a bit of an outdoor challenge for families and really encouraging people to get outside and stay active in the winter time while helping us raise important funds for our mission.
What's going to go on?
Families register for the event — you can register for a family of up to six and "family" is whatever it means to you, obviously we're not dictating that — and you register, you fundraise, you come to the event, and then at the event we have a 5k snowshoe track. We've got a really great sponsor Atlas Snowshoes who's providing us with the snowshoes so you can test them out. There's a trek on the Don Valley in Toronto, or at our other locations in different places around the province in Thunder Bay and Milton and there are also a bunch of winter activities as well. So at a couple of our events we have this great course provided by Burton called Riglets and it's a mini snowboarding adventure course for little kids. So it's a lot of really good winter activities, a lot of good food, but again it's about getting out there and trying something a little bit different and being active in the winter.
Why did you decide on snowshoeing?
For our events closer to the city, we really started thinking about what a family could do to get outside and be active outside of the traditional run and walk. So really thought hard about the idea, about bringing that Muskoka or Northern Ontario experience into the city. So that's how we got to snowshoeing and we found a really great sponsor so that's how it made it really easy for us to be able to offer it free of charge for the participants once they paid to be part of the event and fundraised for us.
Have you ever tried snowshoeing yourself?
I have. I've been once and I loved it. I went last year for the first time up in Muskoka and it was really good exercise, but it was all really achievable. So it's not compared to cross country skiing, which I've also tried and it takes more finesse. Snowshoeing is a little bit more of an entry level winter sport so it's good for people who want to try something and be active, but also aren't ready yet to ski downhill.
I was with a group of friends when we went. But it was amazing to me to see how many families were out there doing it, kids of all ages. So when we were looking at a new winter event it just came up as something really obvious and really Canadian.
It could be argued that it might be the most Canadian winter activity.
We are called the Canadian Cancer Society so certainly Canadian identity figured into that a little bit. And as I said, we really were trying to look at that outdoor activity that would get people outside, because from our perspective staying active and staying fit even in the winter months is an important thing to do from a cancer prevention perspective.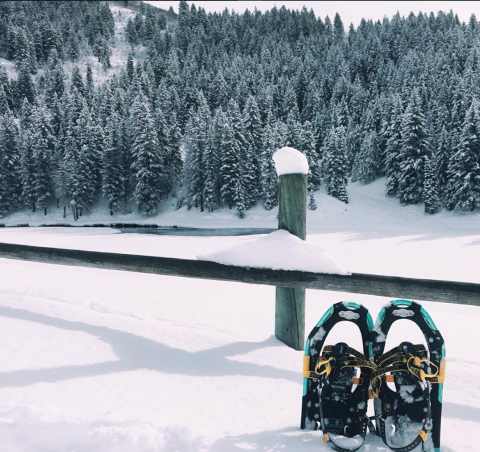 What is the Snowball Fund? Is it new or is it a pre-existing fund operated by the Society?
It's new for this event. So we're taking all the funds from Family Snow Day and applying them to our mission activities related to families that are living though cancer.
The fund we're raising money for is the Snowball Fund, which is a fund we've established here at the Society to help families living through cancer. Whether it's mom or dad or one of the kids, we have to make sure these families get the support that they need and also that we're funding the best research so that we we can prevent cancer when we can and have the proper treatments when a cancer diagnosis does happen to your family.
This is a first-year event so we're really just trying to establish a base of participants this year. We ask every family to raise $500 per family, so across the province if we could raise say $100,000 that would be a great start for us. We want to establish a new base of fundraisers who maybe have never done anything with the Society before.
What's the best way for someone who's interested in participating to get involved?
The best thing to do would be to visit Family Snow Day website and register or visit Cancer.ca for more information.
Finally, what happens to the event if there's no snow?
Pray to the weather gods? We definitely have an alternative in mind. In Toronto we've got a great location at Todmorden Mills in the Don Valley so it's still a great place to take a winter hike with the family. So we will still have the event with all the different activations that we can. Obviously, the snowshoe component we would at least work with our sponsor to see if they could at least test the snowshoes at the event and give people a bit of an experience if there was a bit of snow, but otherwise we would go ahead with the hike. Obviously Thunder Bay doesn't have that problem. I hear there's snow coming this week so people should expect to be moving no matter what.
Shop: Nike