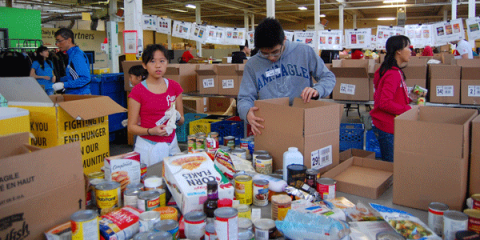 If you are having a tough financial month, can pay rent or mortgage, but have no money left over to buy groceries because your car died or you needed a root canal, Canadian food banks are there for emergencies, for those unexpected bumps we sometimes experience in life.  They are not just for the working poor or those on social assistance.
"We don't turn people down. It doesn't work that way," Gail Nyberg, executive director with the Daily Bread Food Bank (DBFB), tells Samaritanmag. "We certainly do an intake interview to assess people's financial needs — the cost of their rent, and stuff like that. But the first time someone comes, even if they didn't qualify, we would never send them away without food. It's just not what we do.
"We are the food bank. We're not Longo's. People who come to see us are coming because they need the help. So while it's true that member agencies are working the front-lines doing intake interviews, we all work under a very similar protocol and that protocol is: if someone comes to your door seeking food, they get food. We do not turn people away."
That approach is consistent nationwide, according to Nyberg and Samaritanmag's research.
Food banks are one of Canada's ugly realities. In a wealthy western nation with a 2012 GDP of $1.821 trillion USD, a 99 percent literacy rate and abundant dirt-cheap groceries, the presence of people, most working, who are too poor to buy food is shameful and shocking.
And yet, according to Food Banks Canada, nearly 900,000 Canadians are assisted by food banks each month. Thirty-eight per cent of those are children and youth and 11 per cent are Aboriginal, compared to 4.3 per cent of the total population. Hunger in Canada is real.
Toronto's Daily Bread Food Bank — a non-profit, charitable organization supporting neighbourhood food banks and meal programs in some 170 member agencies — has registered over one million visits annually since 2008, with an increase of nearly 40 percent in Toronto's inner suburbs (defined as Etobicoke, North York and Scarborough), according to its website.
As Nyberg tells Samaritanmag, hunger — while very urgent for those grappling with it — is merely a symptom of a bigger, more complex national issue. 
"It's about poverty," she says. According to a 2008 report by the Organisation for Economic Co-operation and Development, the rate of poverty in Canada is among the highest of the world's wealthiest industrialized nations.
Nyberg confirms that Canadians assisted by food banks are part of the blowback. "In Third World countries people die because there isn't any food. We have lots of food. We just have people with not enough money to buy it. And it's not even the cost of food, which is relatively cheap.
"What causes most people to use food banks is the cost of their housing. Either you are working for a low wage or living on some kind of assistance. You end up paying 73 percent of your income in housing and you scrimp on food. You can decide not to buy meat or fresh vegetables in a week, but you cannot decide to pay only for the living room and the kitchen but not for the bedroom."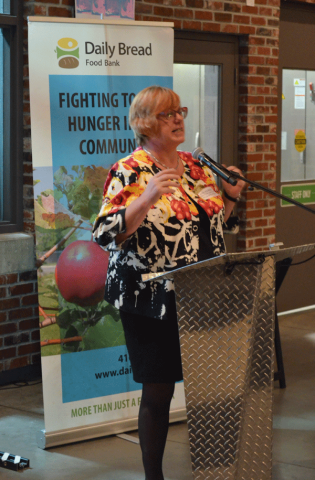 That is certainly the experience of Karm, 49, who lives on disability in North Etobicoke's Rexdale area, who "has used food banks many times over the past 10, 15 years" and has a fistful of stories — some good, some not so good — about her experiences and those of friends and family who have also relied on food banks to get by. She asked Samaritanmag to use only her first name for privacy reasons.
On the plus side, Karm — who suffers from IBS (Irritable Bowel Syndrome) and fibromyalgia "and a few other things. I could be my own hospital ward," she laughs — says that most of the people she has dealt with at her local food bank have been polite and caring. But the food itself is often an issue.
"Half of what I get I end up leaving in the lobby of my building for others to take because I just can't eat it. Things like pasta with gluten and some of the canned stuff that is high in sodium and sugar. This isn't just me being fussy; these things are culprits behind a lot of problems. And lots of people on disability have food sensitivity issues."
Including Karm. "I am going for a gluten and celiac test soon and that may explain some things that have been plaguing me for years. But my sister, who has Crohn's disease, has also had problems with the food she gets at food banks. The food banks can't seem to accommodate these things. It's not their fault but it makes things much more challenging when you can't choose what you get to bring home."
Karm's ideal food hamper would include fresh fruits and vegetables, almond milk, gluten-free carbs, protein-rich foods like meat, chicken or fish and just generally more nutrient-dense foods. But she grants that "beggars can't be choosers."
It shouldn't be this way. As the DBFB's statistics-loaded website makes clear, food bank users are not typically homeless and thus unable to store and prepare food on their own. "Meal programs are the typical fare of the homeless," Nyberg says, adding that "98 percent of food bank users are housed."
But misconceptions die hard. "Most people using food banks have lost a job recently, become disabled or have a disability of some kind — sometime invisible ones like mental health issues. Mostly it's people just like you and I where something has changed in their life.
"Reliance among the working poor is something we continue to see grow. And now what we're seeing is people starting to use food banks after having lost a good job but are hitting bottom, are working two jobs and can't make ends meet."
In a section titled "2013 Who's Hungry," the DBFB's website further illustrates the demographic profile of those using food banks.
"While client visits to Toronto's city core are now back to pre-recession levels, visits to food banks in the inner suburbs (the above-mentioned Etobicoke, North York and Scarborough) have skyrocketed since 2008. People accessing food banks who live in the inner suburbs and 905 region (Peel, Durham, York) are more likely to be newcomer families with children, whereas those in the city core (Toronto, East York, York) are more likely single people with a disability."
Perhaps most disturbing, the DBFB links unemployment rates with food bank visits, meaning that many of us could be a pink slip away from suddenly needing food assistance. Luckily food banks will be there if and when we need them.
Calgary Food Bank's Emergency Food Hamper Program puts a hamper containing "approximately 7 days' worth of nutritionally balanced groceries for each person in the household" — including an additional carton of milk to low-income households with teens 13 to 17 years old — into the hands of Calgarians in temporary emergency situations. The Bank will distribute up to seven hampers in a 12-month period with a minimum of 30 days between hamper requests.
"If additional hampers are needed, a referral from a recognized agency or program is required," the Calgary Food Bank site says, stressing that clients must call ahead to reserve hampers so volunteers can make an assessment and "provide referrals to other service providers.
"More often than not there is more than a shortage of food for our clients. The additional referrals help callers to resolve the issues that have led to their crisis. This is why more than 80% of our clients access the Food Bank less than four times...ever," the website advises.
Similarly, Nyberg says, "We are more than just a food bank.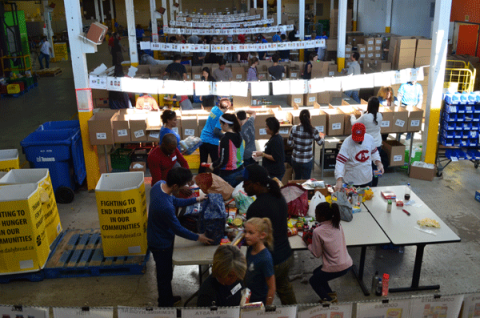 "Giving out food is the immediate need but working with people and connecting them to networks across the city to help them either get a job, find an appropriate house, get some help with an addiction they might have. We are also about trying to get people to a position where they don't have to use food banks again.
"I do believe for every person we serve there is someone out there who needs us but doesn't get served for a number of reasons. Maybe they don't know we exist – which is often the case with newcomers. Maybe there's a stigma or it's hard to get to in some cases. And then I am sure there is a sense of pride.
"There will always be a role for hunger relief in this city. As long as there are addiction and mental health issues, there will be people who are down on their luck," Nyberg says. "But the very numbers that we are serving are incredible. I mean, food banks that serve 763,000?," she says, referring to the overall clients visits to the DBFB member agencies from April 2012 to March 2013 as listed on its website. That's just crazy."
Mens Flynit Trainers