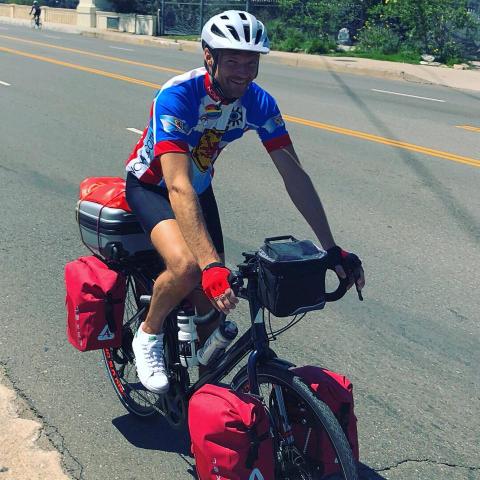 Next time you encounter an interview with a touring musician whining about the rigours of the road, spare a thought for Rich Aucoin.
On March 23, the Halifax-based dance/rock artist began a 15-date U.S. jaunt in support of his new Hold EP. On the tour, originally called F#$k You Depression, but is now called Press On, he is bicycling alone from city to city — covering some 5,500 kilometres across states from California to Pennsylvania — raising awareness for mental health and donating 100 percent of tour proceeds to Mental Health America. His Canadian winter tour raised money for The Canadian Mental Health Association.
His goal is to raise $1,000 a month over the course of four months through ticket sales and crowdfunding.
Cold, rain, flat tires in the middle of nowhere and marauding coyotes are all real possibilities on Aucoin's journey which makes the standard between-show boredom and bad food complaints of traditional rock tours pale considerably.
Amazingly, this is not the first time Aucoin has toured by bicycle.  In 2007, he traversed Canada (roughly 6,500 zigzagging kilometres) promoting his debut EP Personal Publication, to raise money for Childhood Cancer Canada Foundation, a charity he selected in part because of its small operational overhead. He has also toured Canada by way of running half-marathons in various cities, donating money to the Heart and Stroke Foundation.
Needless to say, much hard-won learning from Aucoin's previous bike adventure has been applied to the planning of this one, including (but not limited to) the importance of having a smartphone. Samaritanmag talked with Aucoin about the logistical hurdles of his current ride and why, despite the hardships, it's so worth it as a charitable measure.
Apart from your own previous 2007 tour, is there any kind of precedent for this?
I think (Canuck indie folk-rocker) Jeremy Fisher has done a bicycle tour across Canada. And there was this dude, the Ice Cream Man, who gave out ice cream across the U.S. But this is a little different; trying to fit camping gear and keyboards on the bike. The last tour I didn't take any camping stuff and just made sure to make it each day to where I needed to be, whether that was friends' houses or couchsurfing.com places or motels in more isolated areas. This time I'm going to try camping. It will be warmer than when I travelled Canada. So now the big logistical thing is trying to fit my projectors and music equipment alongside a very small tent and sleeping bag.
Typically, touring musicians allow a day or two between shows for travel time. In your case it's more. Between Phoenix AZ and Flagstaff NM, for example, you have five days...
It will literally take me that amount of time to safely travel between those spots. That drive would normally take five hours, which translates to five days on the bicycle. But in some ways, it's a more pleasurable way to see a country. I have been on the road in vans with other bands before and it's an insular experience by comparison.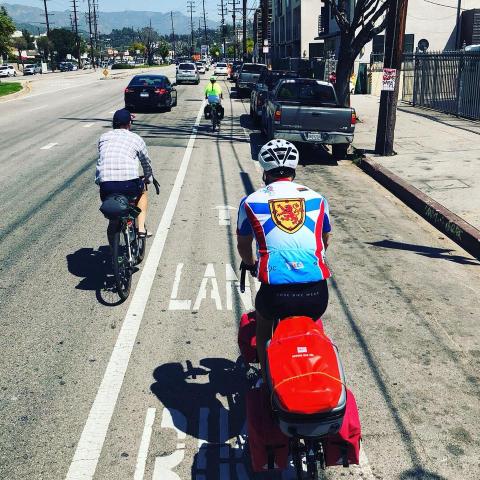 What's the furthest distance between shows?
L.A. to Phoenix? Or is it Flagstaff to Albuquerque? The longest days are about 150, 155 kilometres.
So, what are your bandmates doing on the days you are cycling? Just killing time?
They are hopping on and off the tour based on the logistics of the show. I often perform solo and like to go to places for the first time by myself and set up in the middle of the crowd and build it up from there. Then as more people start coming to the shows, I will bring a drummer or bass player. So, a Halifax show would have a nine-piece band, but Flagstaff will be just me solo.
Are audiences generally aware that you are travelling this way? And does it result in people coming out just to see this crazy guy biking from show to show?
Yes, there's an element of that. When I toured this way across Canada it was my first tour so all these shows were new to me. And I was solo until I got to the East Coast. In each city I'd be hitting up the weeklies and local papers and radio stations to try and spread the word about then shows. People were intrigued, and they knew proceeds were going to charity. Same with this time; I am not taking any money from the shows. It will be interesting to see the impact of social media this time out.
Apart from exhaustion, what are some key perils facing you?
Weather. I remember biking into Regina in an endless downpour. It just never let up. That was intense. Breaking down in isolated areas and having to wait for a lift to the next nearest town with a bike shop. And then there was, not a full-on tornado, but tornadoes in the area ahead of me and behind me in Manitoba. I could not stop for lunch because every time I slowed down even a bit, the storm would catch up.  I have been pelted with golf ball–size hail. I've been harassed by motorists. Last time I bought a flip phone for the tour but it died after Nelson, BC. I am also keen to see the impact of a smartphone this time out.
Why are you raising funds for Mental Health America and the Canadian Mental Health Association?
I've done a lot of fundraising so I guess you could say I am just working my way down the list. Plus, many people have made references to my live shows as being a natural anti-depressant, so it seemed apropos. And since I am touring both Canada and the U.S. [the Canadian tour happened earlier this winter] I wanted to set it up so people could be making donations in their own country. It's not about seeing if I can do it. It's an adventure. And hopefully people will have a fun time at the shows knowing they are donating to charity.
Mental health likely wasn't as prominent when you did those other tours, like it is with Bell's Let's Talk campaign.  Was it on your radar then?
It was but basically my long-term plan with my philanthropic efforts is to just cycle (small pun intended) through all the causes I can. While I raised money for kids with cancer for the first one, my dad had cancer and so it was more forefront in my mind. It was also a great fit to do it with The Childhood Cancer Foundation too at the time. They're a great smaller organization doing good work.
Mental health issues are varied from bulimia to drug addiction to schizophrenia to depression.  Where do you think the money is needed?
Everywhere, of course, is the easy answer. But I definitely think more money is needed to give people the option of support either from checking in somewhere or having somewhere to go to get help immediately. Right now, it's easier to be deemed unsafe by the police to get that sort of attention and care. That obviously needs to change. Aside from money, just ending various stigmas is another thing we can all do but just talking about mental illness with understanding and compassion.
Tour dates below:
4/6: Phoenix, AZ @ TBA
4/11: Flagstaff, NM @ The Hive
4/19: Albuquerque, NM @ Burt's Tiki Lounge
4/26: Amarillo, TX @ The 806
5/3: Oklahoma City, OK @ The Root
5/4: Norman, OK @ Opolis
5/11: Little Rock, AR @ TBA
5/16: Memphis, TN @ Hi-Tone
5/23: Nashville, TN @ TBA
5/31: Knoxville, TN @ Birdhouse
6/20: Washington, DC @ DC9
6/23: Baltimore, MD @ The Crown
6/26: Philadelphia, PA @ PhilaMOCA
nike fashion