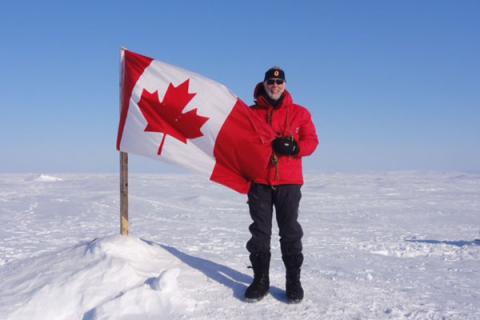 Toronto business executive Jim Leech has enjoyed philanthropic leadership roles with such foundations as Mastercard and Toronto General & Western Hospital, but the Association of Fundraising Professionals' 2018 Outstanding Volunteer admits he fell into it by accident. Actually, he was forced into it, back when he graduated from Royal Military College and was posted overseas.
"I was a newly-minted, very young lieutenant posted to Germany and a single officer," Leech recalled during an interview with Samaritanmag. "The second day on the job, I was called into the office of the regimental adjutant, which is where a young lieutenant does not want to be summoned. The adjutant insisted that all young officers get involved with something in the community to keep us out of trouble.  So, my first act of volunteerism at that level was doing something good to keep me out of trouble."
Leech was assigned to coach a regional hockey team and found himself immediately in over his head.
"I wasn't a very good hockey player and I'd never coached anything," Leech explained. "But that did not matter to the adjutant as it kept me on the straight and narrow. I thought it was going to be one game every other weekend but it ended up being  very serious bantam league hockey with several international tournaments and it occupied three evenings a week."
Following that inauspicious introduction to the world of volunteering, Leech embraced the avocation, something he continued throughout his professional life as the President and CEO of Unicorp Canada Corporation, Union Energy Inc. and the Ontario Teachers' Pension Plan and into his 2014 retirement.
"Volunteering and giving back was to be an important component of my life," said Leech, a member of the Order of Canada, who is currently Chancellor of Queen's University, Chair Emeritus of the Toronto General & Western Hospital Foundation, Chair of Mastercard Foundation (the world's second largest foundation, focused on Africa) and is additionally involved with the Canadian military.
"It was important to be involved in something other than what you're doing in your day job. It gives you a different perspective and opens your eyes to what is going on around you. My entire life, I've made sure that I've been involved in at least two activities outside of my job, to keep myself grounded."
Here's an exclusive Q&A that Samaritanmag conducted with Jim Leech.
There's only so much time and being an executive surely limits it further due to responsibility, but how do you determine which causes and organizations you end up supporting?
I am drawn to organizations that appeal to me in that they can make a difference. I've been fortunate in that I've had involvement in community activity. I was with The Rotary Club, but I've also spent a lot of time in the arts, in education and in health care.  More recently, I've been involved with international development.

How do you determine which ones? You've got to have a passion and an interest for it. I never was a budding thespian, but after I saw my first performance of Canadian Stage Company's Dream In High Park — actually, at that time the organization was called Toronto Free Theatre — A Midsummer Night's Dream in High Park, I became so mesmerized that I spent the following 20 years involved in theatre arts organizations in Ontario. So, you have to have a passion for it – it has to be something that you're really interested in.
You've done a lot of fundraising over the years. What are the biggest challenges and obstacles involved?
Fundraising is like selling a product: You've got to believe in the product and then it's a matter of saying, "OK, how do I match this need with the interests of potential donors?"
Again, it goes back to that word "passion." You find donors who believe that supporting such-and-such an organization will satisfy one of their passions; that they will get the emotional reward for supporting that project. In some cases, it's easy and obvious.  
I work with Toronto General & Western Hospital Foundation, which funds medical science; so, you may find somebody who has a family history of heart disease or diabetes and match them with a scientist who is doing cutting-edge research in those areas. It's matching the product you have with someone who has the propensity to support it. That's effectively the challenge.
When it comes to some of your accomplishments, is there any one that has had a profound and surprising impact on you?
The one that had the most profound impact on me was five years ago in 2014, when I participated in an expedition to ski to the North Magnetic Pole in order to raise money and awareness for Canadian soldiers returning from war zones with post-traumatic stress disorder (PTSD).
We were 40 business leaders, Olympic champions, guides and filmmakers accompanied by a dozen soldiers, all with PTSD and other war injuries — some had the visual scars of war as well as the invisible ones and were at various stages in their rehabilitation. It had a profound effect in several ways.
One surprise was the generosity of people that supported the venture. They looked at it and said:  "If Jim is prepared to spend over a week trudging across the polar ice, the least we can do is support him in some way." But it also had an impact on me in two other areas: one was understanding and learning from these veterans and watching them struggle — and also witnessing them begin to heal through this process. It was eye-opening.
Secondly, it was a turning point in my life. I had just retired from a long career and was trying to decide what I wanted to do. And when you're trudging along 8 to 12 hours a day with 60 pounds on your back and dragging a 90 pound toboggan that seems to have a mind of its own, you can carry on a conversation with a colleague for one-to-two hours, but after that you're too bagged to talk.
So, you've got a lot of time to think and that's when I came to the realization that I wanted to spend the rest of my working life in philanthropic leadership as opposed to going back into business and being on corporate boards and things like that. So that expedition had a huge impact on me in several dimensions.
We're usually more publicly aware of the U.S. military and their issues than our own Canadian military. What are some of the matters of which we should be mindful?
That's a broad subject. You're right: prior to 2001— until Afghanistan — the Canadian military was not top of mind in the civilian world. We civilians went about our day-to-day lives under the assumption that somebody else was looking after the sovereignty and safety of the country. Afghanistan was an eye-opener for this generation of Canadians: They learned that fellow citizens stood up and had to do their dirty work. It's something that the generations of two World Wars and the Korean War understood, but not the baby boomers down to the millennials. They saw it on television;  saw veterans coming home — some in body bags — and learned about invisible injuries like PTSD.
A couple of things happened: the respect for our armed forces increased and we started to learn about the issue of returning soldiers who are wounded, what happens after that and how are they looked after.
It's through the work of people like General Rick Hillier that these realities were raised in our consciousness — and organizations like True Patriot Love emerged to allow those of us who benefited from the service of others to express our gratitude.

On our expedition, we  also learned that there were some significant flaws in the system; that the unwritten contract that Canada had with its soldiers, who had given significant parts of their lives to serve us, in some ways, wasn't  always being honoured.
And I can say that as a result of that trip, that expedition to the North Pole, there were certain policies that were changed. So, not only did we raise money — we raised just over $2 million to help with PTSD — but there were significant changes made to public service policy.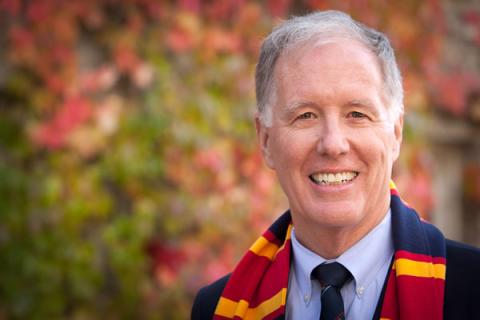 Is there one that you can pinpoint?
The difference in treatment between a soldier who was a full-time regular member of the Canadian forces and the person standing next to him who happened to be a reservist. If they were wounded, there was a difference in the way they were treated.  
So, if you had been a regular force member and lost an arm in the line of duty, you received "X" compensation. But if you were a reservist and lost an arm, you were compensated with one-half of "X." That is not right. There were two things that happened that caused that policy to change: One was feedback given to public officials from business leaders on our expedition. At the same time, there was the murder of young Corporal Nathan Cirillo on Parliament Hill in Ottawa — they happened around the same time to initiate change.
What is the most pressing thing that needs to be done about this issue?
The issue, with regard to PTSD, is making sure that the sacred contract that we have with people who serve is honoured. I think Canadians have a huge respect for soldiers who defend our country and way of life and want that contract honoured.
The other issue that we all saw when we were up North was the effect of climate change. The permafrost is not as deep as it used to be.
Tell us about Young Africa Works. It sounds very much like a passion project for you as well.
Young Africa Works is a new strategy that the Mastercard Foundation is implementing. My involvement with Africa really started with a charity of which I was a founding board member called Right To Play International. Its motto was "every child has a right to play." Basically, it takes learning through play to children in war-torn countries. So, whether it's learning about malaria or family violence or sexual violence or birth control, it uses the medium of play to deliver that message.  
For example, if the World Health Organization wants to immunize everybody against some disease — measles, whatever — and they come into a refugee camp, not everybody, especially kids, come rushing in to get inoculated. So, Right To Play would send out a message "there's going to be a soccer game on Saturday, but you can't play unless you bring your immunization card confirming that you've been inoculated." Play is a very powerful motivator.
I was involved with Right To Play for a number of years, and when I left the board seven years ago,  I was recruited onto the board of the Mastercard Foundation. At that time, the Foundation was relatively small. Today the Mastercard Foundation is the second largest foundation in the world. (The largest is The Bill and Melinda Gates Foundation.) The Mastercard Foundation is headquartered in Toronto and its current strategy is called Young Africa Works. Its goal is to create 30 million new dignified and fulfilling jobs for youth in Africa by the year 2030.
Africa is the continent with the fastest  growing population and the largest number of youth entering the working age. If we don't do something about it, if these youths don't find fulfilling and dignified employment, there's going to be a big problem.
Young Africa Works is a country-focused strategy: we've identified 10 countries where we'll be working in partnership with government and the private sector — as well as educational institutions — towards our goal.  One of our first projects, for example, is in Rwanda. There, the government has identified the tourism and convention industries as drivers of future economic growth, so they've built a brand-new convention centre and a new airport, which are magnificent. They've attracted a lot of hotels but when you look at it, the people who work there aren't Rwandan and don't even come from the local region. The locals just don't have the training. So, we've created a project with the government, Cornell University's Hospitality Faculty and the hotel industry to train young Africans in the region to learn the various trades necessary to find employment in hospitality.
Is that measured on a yearly basis? Is there any current success?
We opened our office in Kigali last March. We launched Young Africa Works at the same time, so it's too early to measure any success. Earlier work we did in the previous nine years of the foundation was on a much smaller scale.
The history of the Mastercard Foundation is quite interesting. It was started by the shareholders of the Mastercard Corporation 11 years ago, when the company went public. At that time, 10 per cent of the shares of Mastercard were contributed to this foundation — and then it was totally separated from the corporation. Although we share the same name, there is no governance responsibility to the corporation.
When it first started, it was quite small, those shares were worth $500 million USD ($673 million CAD). Today they're worth well in excess of $20 billion USD ($26.92 billion CAD).
As of today, the foundation has invested $2 billion USD ($2.68 billion CAD) in projects in 29 countries. With Young Africa Works, we have three more African countries to add by the end of Q1 2019. And by the end of 2020, we'll have operations in 10 countries under the Young Africa Works banner.
You mentioned in the video created at the AFP conference for your Outstanding Volunteer Award, that it was important to have good people at the top. How so?
Like any organization in the private or public sector, you need a CEO and a senior team who know what they're doing. I've been very fortunate that, by and large, all of the organizations that I've been involved with — particularly the ones I'm involved with now — the Mastercard Foundation, the hospital foundation and Queen's — have very good professional leadership on a full-time basis. There needs to be somebody, or some team, at the organization that is actually a "pro" in those fields. That's so important, because it's hard to have the passion to go and convince people to donate funds to support an organization if you're not sure yourself whether the organization is in good hands.
What is something that people should be aware of that they don't discover until they start volunteering?
Sometimes volunteers have too much passion and get too involved to the point where they start meddling. So, it's finding that fine line between "I have passion for this really want to help," but also understanding that there is a full-time management team in place to do the day-to-day work. So, it's finding a way to work with that management team and find the right balance.
I'll tell you one other thing: we always think of volunteerism as not-for-profit. But I did a stint in the last couple of years as a senior adviser to the Prime Minister in establishing the Canada Infrastructure Bank. And what's interesting is that there was some discussion at the beginning as to whether I should be paid for doing the work. I said no, I didn't want to be paid. I would rather do it as a volunteer.
That actually gave me more authority, because everybody then understood that I was doing it as a volunteer and not for personal gain. It's actually more empowering. So, volunteerism can take several forms.
You and your wife Deb Barrett also set up a $500,000 bursary fund for indigenous students.
There has never been a forum where the chancellors of all the universities in Canada get together, but two years ago, then-Governor General David Johnston called a meeting of all the chancellors because he believed they were in a position to influence outcomes. He was really pitching three things — the research agenda as being an economic driver for the country; universities' participation in Canada 150, and the third, about which he was extremely passionate, was the Truth and Reconciliation Report. He threw the challenge to us that as chancellors of the universities, we should take on the responsibility to ensure the institutions respond appropriately and show leadership in this area. I think that call to action was heeded by everybody in the room. So, in addition to ensuring that Queens was taking it seriously — which it was — my wife and I decided we would do something tangible to show our support. We consulted with indigenous groups on campus and determined that a bursary was probably the best route to go.
The bursary is "spending money" to help the indigenous student who is getting down to the last two months of their university year and may be running short of cash. If they aren't able to make their rent payment, they might have to drop out.
It provides financial assistance on a needs basis to make sure that kids aren't dropping out because they need an extra $1,000.
(Please support Samaritanmag's original journalism by making a PayPal contribution or EMT transfer using  info@samaritanmag.com so we can increase the amount of content and writers we hire. Samaritanmag is the anti-tabloid, covering good people trying to change bad things. Let's make this thing bigger than TMZ.)
Air Max