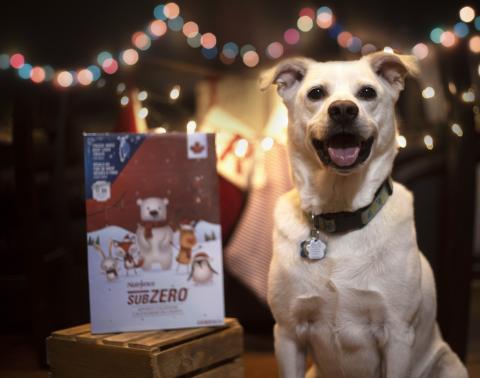 Other animals in need will benefit when people buy a Nutrience Sub-Zero Advent Calendar for their dog or cat from the Ontario Society for the Prevention of Cruelty to Animals and Humane Society.
For every person who buys an advent calendar from the Paws & Give web page for their pet until the end of October, the Ontario SPCA and Humane Society will donate another one to local food pantries that will give them and additional food supplies to deserving pet families.
The Nutrience Sub-Zero Advent Calendars, available for both dogs and cats for $33.99, feature 24 doors with three treats made from 100-per cent Canadian-sourced beef behind each one.
There are many other gifts to choose from on the Paws & Give web page, and each one purchased helps protect and shelter animals in need. Proceeds go directly to the Ontario SPCA and Humane Society's efforts to prevent cruelty to animals and promote animal welfare.
Gifts can be purchased and sent to other people along with eCards that can be downloaded and printed.
Among the other items available from Paws & Give are: pet bandanas; keychains; commemorative pins; holiday cards; baby clothes; hand sanitizer; calendars; plush toys; T-shirts; hoodies; toys for shelter pets; animal care packages; a dog rehabilitation program; animal rescue supplies; spaying and neutering for cats and dogs; outdoor shelters for homeless cats; a cat cuddler program; a dog-walking program; animals in recovery sponsorships; and support for animal transfers.
The Ontario SPCA and Humane Society is a registered charity that was established in 1873. The Society and its network of communities facilitate and provide for province-wide leadership on matters relating to the prevention of cruelty to animals and the promotion of animal well-being.
The organization offers a variety of mission-based programs, including: community-based sheltering; animal wellness services; provincial animal transfers; shelter health and wellness; high-volume spaying and neutering services; animal rescue; animal advocacy; Indigenous partnership programs; and humane education.