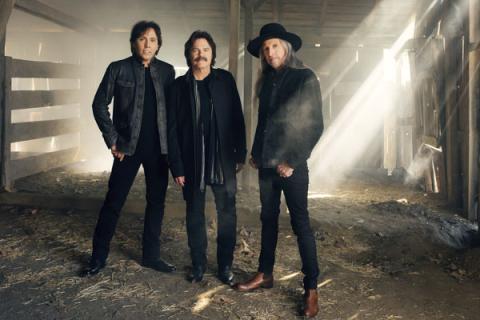 Not many bands can say they've potentially saved lives by simply showing up to play their concerts, but The Doobie Brothers can.
When the classic rock band behind such hits as "China Grove," "Jesus Is Just Alright" "Takin' It To The Streets," and "Rockin' Down The Highway" teamed up with rock 'n' roll cancer foundation Love Hope Strength to solicit fans at shows to become bone marrow donors last year they actually facilitated some potentially life-saving matches.
For a band that has experienced the trauma of cancer firsthand — past members Bobby LaKind, Keith Knudsen and Michael Hossack have died from cancer-related illnesses, and Patrick Simmons Jr., the son of band guitarist/co-founder Patrick Simmons, is also a cancer survivor — partnerships with the likes of Love Hope Strength are a given.
With The Doobie Brothers set to head out on a lengthy summer tour with Journey — starting May 12 in Irvine, CA and running until July 15 in Camden, NJ —  the band have once again teamed up with Love Hope Strength in the hopes of potentially making more matches and saving more lives.
Simmons, who wrote the band's first No. 1, 1974's "Black Water," spoke to Samaritanmag about The Doobie Brothers' partnership with Love Hope Strength and how the band's past charitable efforts are part of why they're still together all these years later.
The Doobie Brothers have teamed up with rock 'n' roll cancer foundation Love Hope Strength. What that is and how are you involved?
It's really a pretty cool foundation. Our part in it as we tour around the country, there are representatives from the foundation who are there to communicate with the fans about goals and how they're creating a database for people to give to register for bone marrow transplants. Through the simplification of the testing, it has allowed a lot of individuals to become part of that database. It's really changing people's lives. We've had a couple matches since we started this, being a part of it.
When you hear stories of Doobie Brothers fans signing up to be part of this transplant database, and then there's a match and you can see how one of your fans helped save a life, is that tangible proof that everyone's efforts paid off?

Exactly. It was such rewarding moment for everybody. When you first start out on those sorts of things you go, "Oh yeah, we'd love to help out." And then to actually see a match like that and have it pay off feels good.
How does it work for people who visit the Love Hope Strength booths at your concerts?
It's a very simple process. It's a swab in your mouth to get your saliva and that allows you to be part of the registration to be a possible donor. In the old days it was a little bit scary and now it's really simple. And again, the whole process of doing it is so much easier and not invasive and not painful at all, so it's really on the cutting edge of expanding this incredible database. I'm just so happy that someone came up with this idea so that guys like us, a bunch of hippie guitar musicians, can help out.
This isn't an isolated effort for The Doobie Brothers, right? You guys have been supporting charitable endeavours for a long time.
A little bit of history, the band has always been involved with this kind of a process. Years ago we started supporting Lucile Packard Children's Hospital at Stanford University. We started out by just showing up at the holidays and singing Christmas carols for the kids and the staff. As we learned about what was going on there we started raising funds and I've been a contributor for 35, almost 40 years, I've been a part of the fundraising activities there.
At that time we were primarily involved with childhood cancer and leukemia there. I think we all see hope on the horizon for a cure for some of these illnesses. It was always a dream, but to see the reality of it in your lifetime is pretty awesome, pretty exciting. So we're just really proud to be a part of this effort.
There was a period in the 1980s when the band had dissolved, but would still get together to do those Christmas shows at the hospital. Is it fair to say charity brought the band back together?
Absolutely. We weren't touring. We were off doing things on our own, hanging with our families. But we would still get together once a year to do shows for the kids at Stanford until we got too old and they were too young for us to be entertaining anymore. But we did do that year after year and it was a wonderful way for us to get together and revisit our friendships, especially during the holidays, which is a great time of year to have that kind of interaction.
Then, when we actually got back together to do a series of events together, we did it strictly for fundraising. I can't remember how many shows we did, about 10 I think. And all those shows were basically fundraising activities to contribute to various charities and the Stanford Children's Hospital being one of them. Little Sisters of the Poor, we did fundraising for them. We did fundraising for a couple Vietnam veterans associations, so that kind of thing really did bring us back together. We didn't really have any intention of sustaining it or going on but we went and recorded another album and had decent with that and enjoyed the process so much and 25 years later here we are.
Cancer has had a heavy impact on both the band and your family over the years. Has that made you more vigilant about participating in things like this?
I think so. I think you, by having firsthand experience with those issues, you come to recognize the immediacy of it. It's something you recognize that you can help to further the efforts to find a cure and find a treatment for people. And knowing that you could be instrumental to that, when it's suggested to you "Do you want to do this?" you immediately say, "Yes, of course" and step up and seize the opportunity to do it.
When your family members or your loved ones are experiencing these things, you're immediately involved in that and to be able to extend that into the general population, to realize that "Hey, not only did we beat it here at home, but we can help others to beat it as well," ou realize there are so many individuals out there beyond the band and my own family; there's so many people out there working together to the same ends and are willing to put it on the line and do the kind of things it takes to mediate people's suffering and help people overcome these issues. You want to be a part of that. I relish that opportunity.
To have been around as long The Doobie Brothers have as a surviving, touring band is a rare thing. How important is it to you to give back, do charitable things and use your power for good?
I think we always recognized that. It was as soon as we realized that we could be effective in helping others we started doing it. I think our first show together was an anti-war benefit back in the Vietnam War days. It was the Vietnam Day Committee at Berkeley or something like that. We played at a fundraiser they had, but it's really been for me personally always on my mind that that was something that would be possible. I don't think we ever thought about being a really popular band, but now that we have a larger audience and some really staunch fans it's really nice to be doing all the things that we have been doing all these years to help others. It's something I think most artists enjoy doing because you're able to give back.
I'm an old hippie so that love karma always comes through. What you put out is what you get back and I found that to be true in my life. The positive energy you put out there always seems to come back one way or another, so we continue to do that and really thrive on it. So it just I can't say enough about that it's just been a wonderful opportunity for the band and me personally.
Watch a video about Love Hope Strength
2020 air jordan 1 retro high og sail obsidian university blue 555088 140