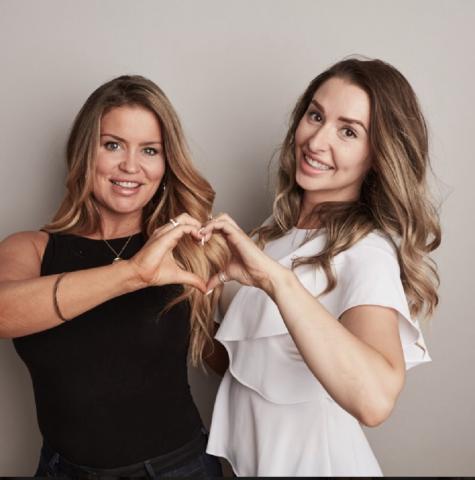 The Karma Box founders Erin Maureen and Kat Rose have jumped on the subscription-box craze — delivered themed boxes full of surprise products worth more than you paid — but as the name of their business suggests, their box gives back while you get.  
The new winter box, which just shipped out (to Canada, the U.S. and U.K.) and is available while supplies last, benefits The Daily Bread Food Bank.
The Canadian company has, to date, sent out three seasonal boxes focused on "natural beauty brands, current fashion must-haves, fitness essentials, health- conscious eats and swoon worthy home décor," as it is described on the web site. They can't say more than that, because, as noted, part of the premise — and fun — of receiving a subscription box is you don't know what you're getting until it arrives.
It's actually become an Instagram and YouTube thing for some people to do "unpacking" videos or post photos revealing the contents. Spoiler alert: some of the items in the winter box are Wild Craft Skincare's chamomile honey make-up remover; Cookie It Up's homemade cookies; and Abeego's reusable beeswax wrap.
Launched in the summer, the first Karma Box donated proceeds to Canadian Women's Foundation, which funds programs addressing "four urgent issues: prevention of gender-based violence, women's economic development, girls' empowerment, and inclusive leadership."  The fall box benefitted Oceana "which works to protect and restore the oceans on a global scale."
A one-time purchase is $69.95; a yearly subscription (a new box every three months) is $251.84. 
Samaritanmag spoke with these the two entrepreneurs about entering this new space, how they select the products, and, most importantly, the charity bonus.
Subscription boxes are a very competitive market right now. What made you enter it and how did you want to differentiate yourselves ?
Erin Maureen: We wanted to be in business for ourselves and, with that, we also wanted to create a business that was designed with a purpose. For us, that purpose was to give back and make a difference in as many people's lives as possible. Together, we came up with The Karma Box. We just feel like, through that, it encompasses giving back in so many ways. Not only do we donate a portion of the proceeds to a new charity or cause each season, we are also making a positive impact by collaborating with small to medium size businesses that also have positive initiatives, and, in turn, we can bring them added exposure and more brand recognition by featuring them in our boxes.
Before you landed on The Karma Box, what were some of the other ventures you were considering when you were brainstorming?
Erin: Another one we thought of was an eco-friendly clothing line, using all organic clothing made with recycled bottled water, eucalyptus, organic cotton. That was another venture we started to get into and then realized we didn't really want to be in fashion full-time. So we've thought of different ways that we could create a business that would encompass everything and that we want and we came up with subscription box model.
How do the two of you know each other and what are your respective skills that you bring to this?
Kat Rose: We've known each other for over 16 years now. What was great about our partnership is that we both had strengths in different areas that benefited our business. Erin comes from a marketing background and I come from a design background. We really complimented each other when we decided to become partners.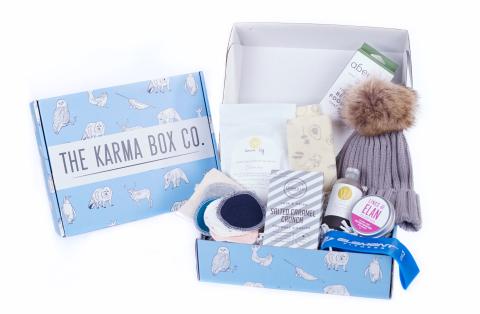 What is the criteria for the products that you include?
Erin: We like to really research the products that we're going to use. We stand behind them fully. We test them.  We make sure that they have good reviews so we know exactly what we're going to be putting in our box and how it's going to be taken and affect people and what impact it has. We also try to choose products that support other small businesses and help them grow as well.
Do the food items have to be preservative free or skincare, for example, have no harsh chemicals?
Kat: Exactly. All of the beauty brands that we put in our box are made of natural ingredients so paraben and sulphate-free, cruelty-free, environmentally friendly. I'd say our box encompasses that as well; our box is vegetarian; it's consciously made. All of our beauty products that we've used so far, they're normally organic or plant-based as well. So that type of product we try to have in our box.
There are so many charities and foundations. How do you select one each season?
Kat: There are so many foundations and causes and charities. We just research which ones we think we could help. We're going to keep changing our charity or cause or foundation each season and keep trying to give to as many as we can.
Erin:  For this one, we were thinking of homeless people and children who on Christmas Day go without gifts. It's a big epidemic in Canada, I think, and with the harsh winter months, we really wanted to focus on a charity that recognizes that. With the Women's Foundation, we thought because we're a box that's catered towards women in the health and wellness niche, we wanted to support and give back to other women, and then Oceana we're really concerned with the environment and the impact we leave and we love animals. We thought that was a perfect fit for us and we love what they're doing.
How does your subscription model work?
Erin:  We offer one-time purchases, if someone wants just try it or as a gift.  You can purchase it seasonally, which will come every spring, summer, fall and winter. And you can purchase in advance for the whole year.
For people that might not care about the charity angle — hopefully people do but if they don't — explain what they're getting for their 70 bucks?
Kat: It ranges. Our fall box was a $200 value and winter box is closer to $175 value, but we say you can't put a price on what you put in your body and the impact you have on the environment is also immeasurable. That's how we look at it. It's also the experience you get with the customer service. We want people to feel like they're part of a community as well.
Erin: And the quality of products as well because we really care about each product that we're putting in our box. We don't just put in small things and throw in whatever. We stand behind each piece that we put in.
(Please support Samaritanmag's original journalism by making a PayPal contribution or EMT transfer using  info@samaritanmag.com so we can increase the amount of content and writers we hire. Samaritanmag is the anti-tabloid, covering good people trying to change bad things. Let's make this thing bigger than TMZ.)
Air Jordan