Few cat-assist programs produce more immediate and tangible results than the Toronto Humane Society's winter shelter-building workshops which transform everyday materials – Rubbermaid storage bins, Styrofoam insulation, some tape and straw – into life-sustaining makeshift homes for street cats in winter.
Run as part of its Feral Cat Program – which in turn is part of a larger volunteer base including other members of the Toronto Feral Cat Trap/Neuter/Release Coalition – the Humane Society's overwintering shelter program ensures helpless cats don't end up as corpses when temperatures plummet to below-freezing lows.
The web site lists all the dates for upcoming workshops (from Feb. through April), plus instructions to build your own Rubbermaidn-type shelter at home or to request a shelter. There have been 17 workshops to date and more than 310 shelters have been built.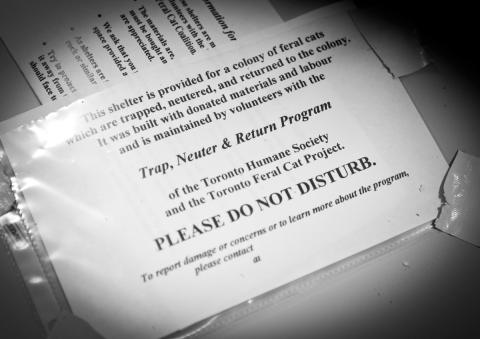 Feral cats are defined as cats that are not owned and not socialized to be candidates for adoption. Stray cats were previously owned, and may be candidates for adoption. Both end up on the street.
Indeed, were it not for the selfless efforts of concerned citizens and animal care professionals citywide, Toronto's current homeless cat crisis would be a flat-out disaster.
"We build these shelters primarily – almost exclusively – for what we call colony caretakers, people who feed a colony of feral cats in their neighbourhood," says Bill Howes, a Humane Society shelter-building volunteer since 2010. "And there are many such people spread right across the city. (Estimates put the Toronto homeless cat population at 100,000 or more).
"We hold the workshops in the winter months starting in November and running until the end of March or April," Howes continues. "We take over a space in the basement at the Toronto Humane Society on a Saturday morning, and we'll have anywhere from a dozen up to 20 or 30 volunteers come out to help build them.
"Many of the materials we use are donated; one of our volunteers (Kali Hewitt-Blackie) has been successful in soliciting materials from Canadian Tire, Home Depot and similar big box stores. Some materials we have to buy ourselves, but it's usually through money we raise asking for a $25 donation to the Humane Society for each of the shelters we build. It's not mandatory if someone can't afford it, but we do ask."
It's hard to believe something as simple as a plastic bin filled with straw can mean the difference between life and death. And yet Dr. Hanna Booth, veterinarian and founder of Toronto Street Cats — a volunteer group within the Toronto Humane Society, where she is also a board director — says that with reliable food, water and veterinary oversight, street cats can live as long as indoor cats, another reason why population-controlling spay/neuter programs are essential.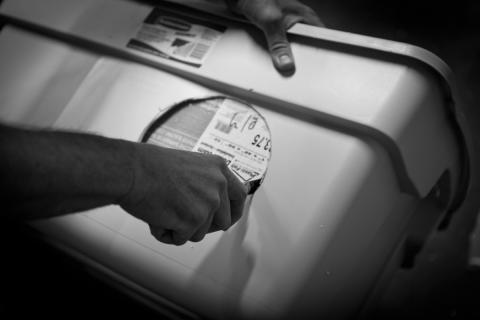 Booth — whom Howes calls the "godmother of feral cats in Toronto" — has been doing her part on the spay/neuter front for years, both here and abroad. Currently, she is spearheading the Regent Park Spay Project which aims to sterilize 500-odd cats in the densely-populated, low-income, inner-city area in 2012 using a $20,000 grant from PetSmart Charities.
"You really want to be sure you get all the cats in the area, otherwise a few intact cats will breed right back up to your carrying capacity," Booth says. "Cats are so seen as so disposable in our society, and the education moving forward is to get people to value cats the way they do dogs."
As for the shelters, Howes estimates more than 300 have been created since fall 2010. "This year alone since November, we have built 182. By now we've got it down to a science. People seem to really enjoy building them and they don't require any particular skills. You just need to love cats."
Asked whether the shelters are ever mistaken for rubbish and removed, Howes says "We put little signs protected in plastic document covers on the bins alerting people to what they are and why the bins are there.
"But by and large the bins are not in public places; they are in people's backyards or on commercial properties with the permission of the owners. And the bins last virtually forever. We have to replace the straw, but the bins are very sturdy."
Air Jordan 11 Retro black varsity red white -.Nike Air Jordan 11 (XI) Retro Black / Varsity Red - White, Price: $71.99 - Air Jordan Shoes