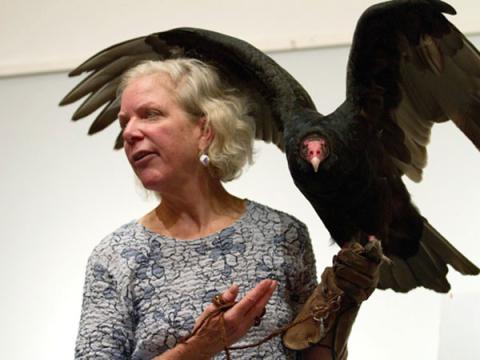 Pretty much everybody of every age loves owls. But it's fair to say Rebecca Lessard loves the wide-eyed marvels and their bird-of-prey brethren more.
Since 1990, the founder and director of Michigan-based raptor sanctuary Wings of Wonder has dedicated herself to rehabilitating injured owls, turkey vultures, hawks and falcons while increasing public awareness about wildlife, ecology, and environmental issues through robust educational presentations, well-publicized back-to-the-wild releases and a tireless work ethic.
"We present more than 150 educational programs throughout Michigan and reach more than 20,000 people every year," the Wings of Wonder website states, though that number may shrink as Lessard scales back her schedule this year to make it more manageable.

Still, the website goes on: "Our presentations are designed to foster appreciation, understanding, honor and respect for the important role these birds play in a healthy ecosystem. In addition to education, we rehabilitate sick, injured and orphaned raptors with the goal of releasing healthy birds back into the wild. We seek to increase the overall knowledge of wildlife rehabilitation, regulations and educational methods through fieldwork, networking and research."
And while Wings of Wonder has an active board and a score of dedicated volunteers, it's clear that Lessard — whose achievements include (but are not limited to) being a 2012 nominee for the Northern Michigan Environmentalist of the Year and Northern Michigan's 2007 Environmentalist of the Year Award in Education — is the org's public face and beating heart.

You might say that Lessard is the wind beneath the wings of Rita Mae the Peregrine falcon, Gilda the gray Eastern Screech Owl, Jaeda the American Kestrel and Wings of Wonder's other assorted permanent residents who, for various reasons, can't be released back into the wild.
Samaritanmag spoke with Lessard about Wings of Wonder's educational work, public profile, and why deer hunting seriously threatens raptors (it's probably not why you think).


Was there a specific event that set you on this path?

Yes, a very persistent veterinarian (laughs). I have a degree in biology and always loved animals though I wasn't particularly interested in birds. Around the late 1980s, a vet friend of mine got in touch about an injured Red-tailed hawk. He wanted me to rehabilitate the bird. I said no. I didn't know anything about raptors and was kind of afraid of it. But my friend was persistent and he told me it was going to be a great experience for me and my young children. And when I had that bird in my arms, it changed my life. I remember that exact moment: the power of the bird and its eyes which really captured me. They still do. So I rehabilitated that bird and then went on to get more training, which made me eager to learn more about raptors. My husband and I agreed to do raptor rehabilitation on a small scale, maybe five birds a year. The first year we had 12, and it just kept growing. After 10 years it was draining us financially and taking over our life. So we incorporated as a non-profit and that changed the landscape. It's been an interesting ride.

You're based in Michigan. Is there anything specific to that location vis-à-vis raptors or are they everywhere if you look for them?

There are raptors in every state, though some see more during annual migrations. There aren't many raptor rehabilitators or educators because it's very regulated, and it's very expensive to rehabilitate raptors mainly because of the caging. For example, to rehabilitate a bald eagle from start to finish, you need a minimum of 100-foot pen. Not everybody has that kind of space and money. You can't have any exposed wire, you have to build them to be sure nothing can get in. And then there's the food: you can't just go to the grocery store to get mice and rats. Our food bill is over $10,000 a year and we rehabilitate up to 100, maybe 130 birds a year. And we're a small operation. Generating enough funds to care for the birds is a constant concern. Our board puts the budget together and there's a line item for rehab costs. But when we take a bird in, we commit to it no matter what it costs. We don't say to the bird, "Sorry you've exceeded your food budget. That's it!" We're in it for the full term.

Is fundraising more challenging because predatory birds aren't cute and cuddly like kittens or bunnies?

Yes and no. Any fundraising is difficult. We try to be creative. I think there is a fascination, albeit maybe a morbid one, with these birds because there are a lot of parallels with humans: raptors are at the top of the food chain and are predatory. And people have genuine fear of these birds; that they're going to swoop down and snatch their dog or their child. That's also part of our education program. I have crew of non-releasable raptors trained to the glove that I take out to programs. One of my goals is to form that bridge between raptors and humans and I do that by telling stories, and by introducing the personalities of my birds to my audience. I don't anthropomorphize them but I do raise that bit of compassion and people then open their hearts to the awesomeness of these raptors. I point out that my Great horned owl Eion (pronounced Owen) has a stuffed pink poodle that she has had since she was a baby and she carries it around with her. Anything else she would rip to shreds but not the poodle. That helps to foster empathy which makes people care.
What's been an especially successful approach to fundraising?

We invite the public to virtually all of our releases and pass the hat. Our eagle releases attract sometimes 500, 600 people. (For proof, check out the attendance at recent eagle release after the bird had been liberated from a nasty, clinging chunk of ice). And I've learned over the years to be sure to find a place with parking and possibly with washrooms and that is suitable for the bird. There are a lot logistical considerations (laughs). It would obviously be easier to just let the bird go, but we use those releases as educational and fundraising opportunities.


I'm sure some of the kids you've met through your educational programs have been transformed.

I recently heard about a girl I met when she was in fifth grade. She was so bedazzled with the raptors that she is now working with the U.S. Fish and Wildlife Service as a permit specialist in the southwest. And her mother or grandmother told me I was the reason she choose that career. That meant a lot to me. Young adults who I met in sixth grade will come up to me and say they still remember my presentation. I'll ask them to tell me three things they remember and they go on and on! It really warms my heart. That's why I believe so strongly in education. The rehab is very important but it's not going to have the same widespread, long-term impact that education will. That's what's going to change the world.

If you could come back as a raptor, which would you be?

A turkey vulture. They're amazing and one of the few raptors that are family oriented and very social. I love the family hierarchy of turkey vultures and how birds from the year before will act like aunts or uncles to the new chicks the next year. They can soar for hours with little effort, they are sun-worshippers and they're very curious, playful birds. I have a turkey vulture right now, Doolin, that I've had for nine or 10 years and he is my most requested program bird. He has changed thousands of people's views of turkey vultures. People will come in and say, "Oh it's just a turkey vulture; they're so ugly." And boy do I make them eat those words! When you see their feathers up close under the sun, they are iridescent.
If you could wave a magic wand and solve one serious problem threatening raptors, what would it be?
We are on a crusade right now to highlight the dangers of lead. Lead in fishing tackle and ammunition. A piece of lead the size of a grain of rice is enough to kill a bald eagle. People choose lead because it's been around the longest and it's cheapest. So they shoot the deer and gut the deer and that stockpile has filaments of lead. The eagles come and eat this free meal and they die. And it's a horrible death with seizures and neurological episodes. Usually, by the time we get the eagle, it's so compromised that we have to euthanize. Lead does not go through the body; it's assimilated and it's a toxin. Helping people to connect the dots — meaning that lead will also be in their children if they eat that meat — is part of our education. I am not against hunting at all. But there are lead alternatives. They may be more expensive and their dispersion out of the gun is a little different but it will save lead from getting into our environment. Same with fishing tackle, where lines get cut and float to the bottom of the lake where diving ducks pick it up. Eagle comes down and eats that duck, and now you've killed both birds. Humans are becoming out of touch with nature. And if you don't feel connected to nature, there's no reason to protect it.
Watch an eagle being released from Wings of Wonder:
Shop Sneakers in Footwear