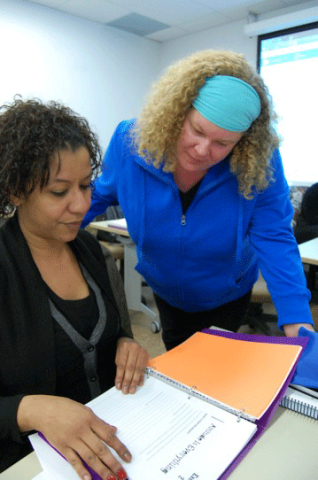 The transformative power of education has inspired many great quotes from many great minds. Don't be surprised when Theresa Schrader – and other previously marginalized people from Toronto – one day add their own heartfelt aphorisms to that list.
Schrader is the program coordinator with the Ve'ahavta Street Academy (VSA) which uses a unique eight-week program (now in partnership with George Brown College) to elevate those living on the streets, in shelters or in otherwise challenging circumstances through education, serving as a gateway to formal academic study.
More than that, the VSA offers its students hope.
As the VSA site says, "This program is for everyone who thought they would like to go back to school, but didn't think it was possible. The Street Academy is designed to motivate and empower individuals to explore education as a way out of poverty or off the street. We believe that post-secondary education in a city such as Toronto opens the door for the future.
"VSA offers communication skills, life skills, diversity training, conflict resolution, self-awareness, leadership workshop, career exploration, volunteerism, as well as actual academic lectures. The purpose of the program is to bridge students to other programs and show them the way to post-secondary education."
Nobody knows more about building bridges to successful new lives than the 38-year-old Schrader, who — as a former homeless crack addict — is VSA's most vocal champion. She is also its lifeblood.
As Schrader explains to Samaritanmag, "In 2005, I won a creative writing contest for the homeless held by Ve'ahavta," the Canadian humanitarian and relief organization, "motivated by the Jewish value of 'tzedakah' (justice), that assists the needy at home and abroad through volunteerism, education, and acts of kindness, while building bridges between Jews and other peoples," according to its site.
Schrader continues: "I stayed in touch with the organization after that.  I started moving forward with my life. In 2009 I started college studying social work, and after my first year I had to go back on welfare, which was pretty daunting. So I called Avrum (Ve'ahavta president and CEO Avrum Rosensweig) and asked him if he had any jobs. He said no.
"I cajoled him and he finally said he always had this idea of starting philosophy classes on the streets of Toronto which was already happening in New York. I said, 'Why don't we have a school for the homeless but indoors, not outdoors?' He liked the idea and suggested I put together a proposal with a budget. I had no clue how to do that, but I outlined the idea, Avrum took the proposal to his board and they approved a pilot of the project."
In summer 2010, the Ve'ahavta Street Academy was born. Since then, 65 students have gone through the program with 23 percent (or about 15 students) going onto further schooling.
Word of mouth is key to the program's outreach. "We hand out flyers at social service organizations plus I network with social service workers I have connections with in the community," Schrader says, adding that "Funding is always an issue."
The VSA receives no government assistance, relying exclusively on private foundations and donor dollars. "We feel if we had the resources to do better follow-up support we would have higher numbers. But with the marginalized population we're working with, 23 percent is still really good."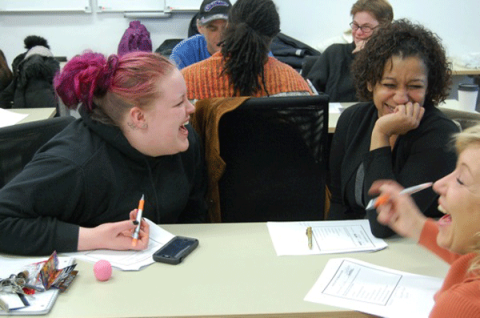 As Schrader explains, the curriculum – led by working professors and professionals from various fields who volunteer their services — focuses on skills that will make assimilation into a classroom setting easier.
"The first week is about communication," she says. "The second week is about life skills or problem-solving behaviour in your everyday living. The third week is about awareness about oneself and the community around you.
"Week four is career exploration. Week five is diversity. Weeks six and seven are academic — actual academic classes such as mapping out and writing an essay, social policy, creative writing, leadership and world religion — and week eight is hope and inspiration."
Carlos Lopes knows just how impactful the VSA program can be. Though he doesn't elaborate, 38-year-old Lopes — who completed the program last summer after seeing a poster for it at the Daily Bread Food Bank where he was volunteering — tells Samaritanmag, "Considering the state I was in at the time, the course couldn't have come at a better time.
"I wasn't homeless but I was close it, and down and out for sure," he says, noting that he also served as an assistant to Schrader. "I had been very anxious to get back into a classroom setting and to see how I would perform. This seemed like a good place to start."
This fall, Lopes — who is currently building lighting consoles for a company that supplies lights to the movie industry — hopes to attend Bridges to Ryerson, "a one-year, part-time transitional program for mature students who have the motivation, potential, and stability required to be successful at post-secondary education, but who have foundational educational gaps and lack the formal admissions requirements," according to the Ryerson site.
"Prior to the VSA I might have been qualified to do lots of jobs physically but not mentally," Lopes says. "I mean, my self-esteem was so low that I would keep forgetting what I could do. The program reminded me of my self-worth and allowed me to go forward," he says, citing the VSA's creative writing class as especially inspiring.
"And not only was the program free to attend, they gave us no reason not to go. They provided transportation, lunch, a weekly honorarium. We started with 13 students and finished with nine," Lopes says. "It was difficult – there were some personality clashes and people going through very difficult times."
Schrader confirms that the Ve'ahavta Street Academy is a pioneering program, and although it's her full-time job — she serves as a "one-woman show" with "a colleague helping with the follow-up two days a week" — it is also clearly a passion project.
"For 10 years of my life I lived on the street and was addicted to drugs. It was very difficult for me to change my life but once I did, I did it through education," Schrader says. "I know I am a darn-tooting smart girl. And I know there are a lot of smart people on the streets. If I can help other people like me to see they have talent and gifts and the ability to move forward with their life, I think that's amazing.
"I look at each homeless person as a wealth of opportunities. I tell potential students that I am not asking them to do anything I haven't done myself. We want to give people an opportunity to change their lives, and to show them there is a better way."
KITH TOKYO 入店抽選 (キス トウキョウ 東京) , Fullress , スニーカー発売日 抽選情報を掲載!ナイキ ジョーダン ダンク シュプリーム SUPREME 等のファッション情報を配信!