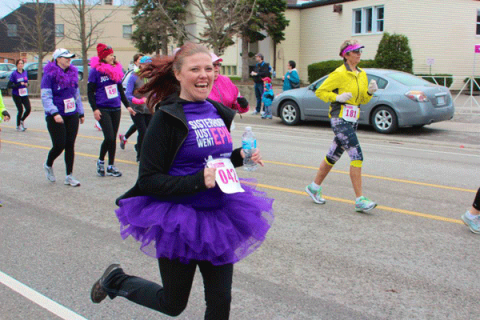 The physiological benefits of regular exercise are well known. But if those behind the Shoppers Drug Mart Run for Women have their way, the positive impact of vigorous exercise — specifically running — on mental health will also be a truism in the near future.
Now in its second year, the Shoppers Drug Mart Run for Women has a simple yet powerful goal: to raise funds for mental health care providers of various stripes across Canada while getting women and girls (men, too) together for a fun day in the community to underscore the connection between running and depression.
Shoppers Drug Mart Corporation, a subsidiary of Loblaw Companies Ltd, is Canada's largest pharmacy retail chain with 1253 Shoppers Drug Mart and Pharmaprix stores across Canada.
According to information on the Shoppers Drug Mart website vetted by Dr. Valerie Taylor, chief of psychiatry at Toronto's Women's College Hospital, aerobic exercise that raises your heart rate for at least 25 minutes can have the same effect on your brain chemistry as anti-depressant drugs and structured talk therapy. PET scans indicate that running can increase the level of serotonin in the brain, which is a key treatment for depression.
So it follows that Run for Women — being staged nationwide through June 1 — benefits local women's mental health programs in each of the 10 race cities: Vancouver, Calgary, Edmonton, Winnipeg, Oakville, Unionville, Ottawa, Montreal, Quebec and Halifax.
The first run of 2014, which happened last weekend in Unionville, Ontario, saw roughly 1,000 participants running/walking 5K and 10K —plus 1K for girls under 12 — raising funds for women's mental health programming at Women's College Hospital through a mix of registration fees and donor pledges.
Shoppers Drug Mart also donates $5 per participant in each run. This year, some 10,000 runners are expected to participate. In 2013, just under $100,000 was raised in total among six communities.
"Dr. Taylor was one of the keynotes at Unionville and she really brought home the fact that exercise is one of her main recommendations when treating women with mental health issues," Lisa Gibbs, director of community investment with Shoppers Drug Mart, tells Samaritanmag. "The release of serotonin in the brain during running is a hugely positive thing."
As Gibbs explains, Run for Women operates under the aegis of Shoppers Drug Mart WOMEN, the company's social purpose platform.
"It launched in 2011 and its purpose is to make a meaningful difference in women's health as a company. We focus on mind, body and spirit. It's a national movement designed to improve the health of Canadian women by connecting women to health resources than can ensure their health gets stronger."
As the WOMEN website notes, "When it comes to looking after their own health, women tend to put the needs of others ahead of their own needs. It's our goal to put women's health first, because when women are healthy and well, we all are."
In addition to Run for Women, Shoppers Drug Mart WOMEN supports providers such as Motherisk at Toronto's Hospital for Sick Children (tagline: "treating the mother - protecting the unborn"), Weekend to End Women's Cancers and Tree of Life ("in support of women's health").
"In 2013 alone," says Gibbs, "Shoppers Drug Mart Women supported over $15 million in women's health funding in Canada."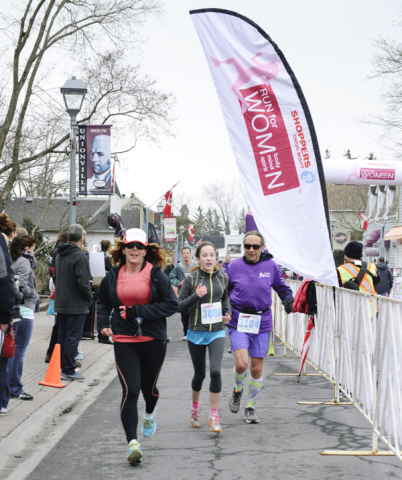 Among those benefiting locally from Run for Women: IWK Reproductive Health Care Foundation (Halifax), the Women's Mental Health Clinic at Foothills Medical Centre (Calgary) and the Mood Disorders Association of Manitoba (Winnipeg).
"Shoppers Drug Mart has been caring for Canadians and focusing on their health and well-being for over 50 years," Gibbs says.  "Many individuals are touched by mental illness whether directly or indirectly. And there is definitely a gender imbalance.
"Women are three times more likely than men to suffer from depression, and one in four women will experience some form of depression in her lifetime. I think everyone out there is fighting for their mental health every day. We all have our strategies. 
"But to be able to be out there and running and showing the world that through exercise you can learn to cope with issues is straight up and real. So I think with this event, Shoppers Drug Mart is leading by example."
In addition to bragging rights, Run for Women participants also depart with swag bags of goodies from various Shoppers partners: "great Life Brand products, while our other sponsors will be providing all ladies with Schick HYDRO Silk razors and shaving cream, Degree deodorant, Balance Bar samples, women magazines and Nature's Bounty coupons," according to the Run for Women website.
Registrations fees vary depending on the run but most start at $25 and while participants can solicit donors to sponsor their runs via pledges, they don't have to. Imagination helps though — in Unionville, according to Gibbs, one group used the run as a nutty component of a bachelorette party.
"We are definitely committed to continuing this for the foreseeable," Gibbs says. "We are looking for ways to connect with really great women's health organizations across Canada and to do more runs. It's leading by example and it's good for all of us."
【国内12月1日発売予定】ナイキ エアジョーダン 4 レトロ SE "サシコ" ディープ オーシャン/セイル-セメント グレー-ファイヤー レッド (CW0898-400) - スニーカーウォーズ