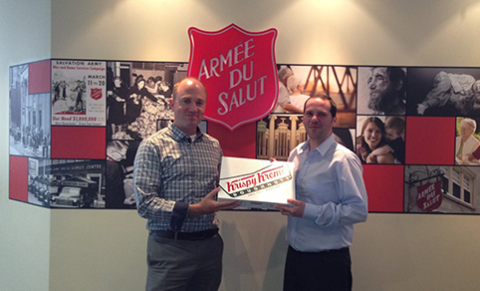 On Friday, June 5, food fans across Canada and the U.S. will celebrate a date that should actually be a civic holiday in the minds of many, National Doughnut Day.
More than just the realization of Homer Simpsons' greatest dream, National Doughnut Day has a long and noble history. During the First World War members of the Salvation Army would cook doughnuts and give them to soldiers stationed in France. Two decades later a military doctor named Morgan Pett started National Doughnut Day in 1938 by giving doughnuts to wounded soldiers during his rounds.
To commemorate National Doughnut Day, participating Krispy Kreme stores across North America will be giving one free doughnut to everyone who comes to their locations on June 5. Samaritanmag likes a free doughnut as much as the next person, so we spoke to Kelcey Hamaker, the co-president of Krispy Kreme Canada, to find out why they're doing this and what their community fundraising program is all about.
First off, to make it absolutely clear, will Canadians have the opportunity to get a free Krispy Kreme doughnut on National Doughnut Day?
"Yes. Absolutely. We do get a lot of Twitter traffic and Facebook messages and emails asking, 'Does this count here?' 'Is it true?' and so on and so forth. Yeah, absolutely we've participated for several years.'
Where will people be able to get their free doughnut?
'At all five of the locations that we operate. All five stores. There's one in Mississauga, two downtown Toronto and one in Montreal and one in Quebec City.'
What is National Doughnut Day?
"National Doughnut Day actually goes back to the Salvation Army who created it to commemorate folks who were handing out doughnuts to soldiers in World War I. That's the roots of National Doughnut Day. So it's been around for a long time. I guess Krispy Kreme decided years ago that it's who we are, doughnuts, it's a great day to commemorate, and it's a fun way to engage our fans. And give a little bit back to the community and give everybody a free doughnut. I mean, what's better than a free doughnut?"
Do you have a formal charity connection on this? Do you work with the Salvation Army for example?
"We do work with the Salvation Army. Formal's a big word, but we do work with them in Montreal year-round. And on Doughnut Day, we bring a bunch of doughnuts to the head office; they take a picture, put us on Facebook, and mention a little part of their history. They leverage that for a bit of social message on their end. There's nothing particular organized that day across the board Canada-wide with the Salvation Army. But in Toronto and Montreal we do bring them product on the day-of and they're always excited to see us. It allows them to raise awareness with their teams. A lot of people who work for Salvation Army are volunteers; they don't know anything about National Doughnut Day."
Is Krispy Kreme involved in any other charitable initiatives?
"We've got our fundraising program that works with charitable initiatives year-round, whether it's raising money for breast cancer, whether it's people raising money for Alzheimer's research, etcetera. That list is extensive. Those are people who come to us and leverage our fundraising program to help them raise funds for their organizations. We've worked with Ronald McDonald House in the U.S. we've worked with the Jimmy Fund in the past. There are several. There's not one official one. Tim Horton's has Camp Day and that's their thing, right. McDonald's has RMCC and that's their thing. We've got a smaller scale, but a wider variety."
When you say helping fundraise, what are the mechanics of that? How does it work?
"The fundraising program that exists for Krispy Kreme is North America-wide. It started years ago, decades ago in the southwest. Basically the product is sold at a great rebate to these organizations by us so they can turn around and resell them at a greater pricepoint than what even we would sell them for in our stores. And they keep all the proceeds. So we rebate our products for them and they can turn around and resell it for profit and keep all the proceeds.
"For example, Children's Wish in Halifax, we do a massive fundraiser with them once a year, every year, and fill trucks with doughnuts from Montreal and Quebec City and drive them out to Halifax. They raise anywhere from $25 to $30 grand on a yearly basis in a one day event and that allows them to grant one or two or three wishes based on who they've targeted for an event. That's a massive organization and they do millions of dollars a year. We're just a small example of a one day event that they leverage Krispy Kreme in order to raise funds to help a couple kids."
How long has Krispy Kreme celebrated Doughnut Day in Canada?
"I believe we started in 2008. It was fairly subtle in 2007 and 2008 and it has grown since then. We've given out several thousand doughnuts in total over the years at our stores and we're well over a hundred thousand across North America. So people are certainly engaged."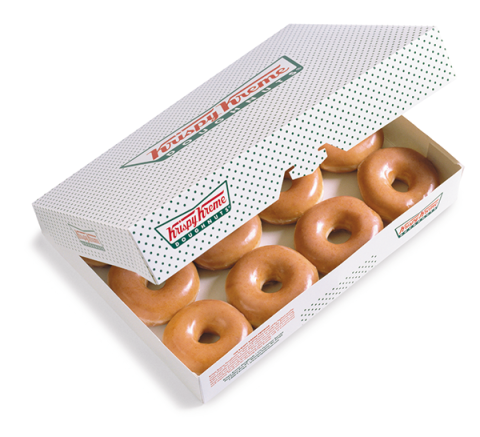 When you say several thousand is that the best estimate?
"Over the years, I don't even know how to quantify that. Last year we were probably pushing around the 4,000 doughnut range. It's hard to count because a lot of these are given out right off the production line in our great big factory stores. So, I mean, they're going right into people's hands. That's a good guesstimate for last year at least."
Is that a fair estimate for how many you think you'll give away this year.
"Yes."
How chaotic is it?
"There's an ebb and flow. We have our busier times of day. I mean, it is a work day. Although it is a Friday, so that always helps and people kind of cheat and run out of the office. It's cheat day by nature. Again, in our big factory stores it gets a little more interesting. We're equipped to produce a lot of doughnuts as you can imagine, so it's never too chaotic. But people get excited. The energy's certainly a little higher. And when everybody walking through the door knows they get to choose a doughnut and have it for free that makes for a pretty good day."
What varieties of doughnuts are available?
"All of our varieties are available for the free doughnut. Now, traditionally people will go for our original glaze doughnut. That's our signature product. The bulk of people go for the original glazed. Especially when it's hot off the line in our factory stores. But they can choose another one if they feel they'd like to try it. Kids tend to skew towards the sprinkled doughnuts."
What's the best part about National Doughnut Day?
"The best part for us is making our fans day, period. It really is. It allows us to ensure everyone leaves our store with a smile. Everyone's happy when they come to Krispy Kreme. It's not like you go to the grocery store or the bank — those are things you have to do. Krispy Kreme is by its very nature a very fun experience. This kinda just brings it up, elevate it a bit. Making our fans day is the best part for us. It really is."
Air Jordan 1 Low Pine Green/Black-White For Sale