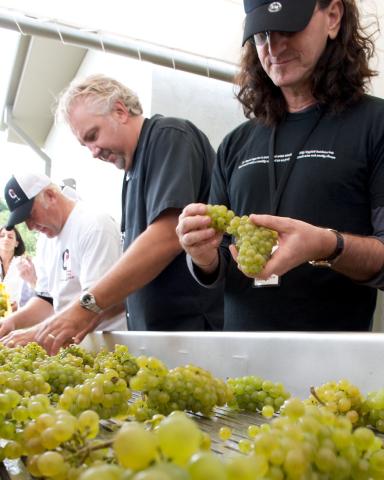 When he's not touring the world or recording albums that continue to influence generations of younger musicians, Rush singer and bassist Geddy Lee supports a grape cause.
A wine-loving philanthropist, Lee, 59, sits on the board of directors of Grapes For Humanity Global Foundation, a charity organization founded in Canada, and expanded in 2007 with a U.S. arm that has collectively raised over $4 million through numerous wine-related fundraisers.
Originally established in Toronto in 2001 by Arlene Willis and wine expert Tony Aspler, Grapes For Humanity Canada was started to support victims of landmines.
"Arlene had lost her brother due to a landmine accident, and became dedicated to trying to go to countries like Cambodia, Laos and Honduras that had been affected by landmines and help build prosthetic clinics and the people that had fallen through the cracks of their own government welfare," Lee tells Samaritanmag.
"I was very drawn to it because we did small projects. If we raised $50,000, we'd go to Honduras, build a clinic, and you saw the direct result of that money in action.  And that's something, to me, that makes you feel really good because you know there's no waste there."
Along with Rush guitarist Alex Lifeson, Lee has hosted two "Excellent Adventure" events on behalf of Grapes For Humanity Canada.
"We organized these train trips to the wine country," Lee explains. "We get the generous help of a local winery — the first time we did it was in Niagara and Moray Tawse of Tawse Winery offered up his place.  We bring people from the city, get a private car through the generous help of VIA Rail, and we take a train up to the winery. We spend the afternoon picking grapes; learning how that particular bit of cultural area operates, and have a fantastic lunch out at the vineyard."
A silent auction is also included, with items ranging from autographed musical instruments to exclusive experiences (i.e. playing a private doubles tennis match with Lee and Canadian tennis champion Daniel Nestor) or sponsored vacations raising even more funds to the cause.
2009's Grapes Under Pressure raised $37,500 as 50 guests took a special VIA Rail to Tawse Winery in Grimsby, Ontario to pick grapes, participate in a silent auction and enjoy an extravagant lunch prepared by chef David Lee.
In 2011, The 2011 edition Grapes Under Pressure changed locales, this time heading up to the Huff Estate Winery in Bloomfield, Prince Edward County, with 60 wine lovers indulging in all things grape.
"It's been a great experience," says Lee.  "People have had a great time. They've really enjoyed it."
More recently — on March 29, 2012 — Lee served as a celebrity judge for Grapes For Humanity Canada's Raw! The Great Toronto Tartare-Off, held at the Fairmont Royal York, raising more than $20,000 to construct a high school in Basico, Guatemala.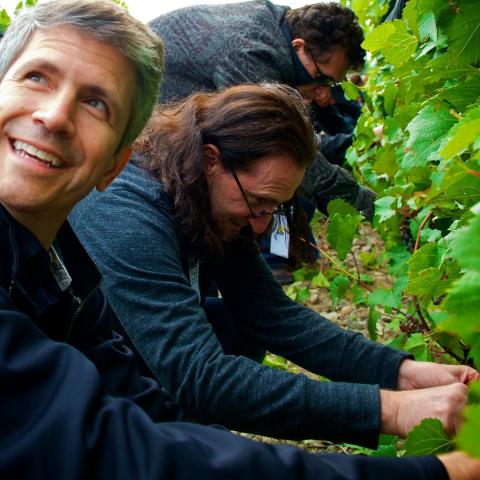 The wine trips along with the sale of Rush memorabilia have raised more than $350,000 for Grapes for Humanity Canada, confirms Grapes For Humanity's Tony Aspler.
Other projects that Grapes For Humanity has helped fund include the AVSI Clinic in Gulu, Uganda; the Cooperative Orthotic and Prosthetic Enterprise (COPE) in Laos; the Halo Trust (to help support the cost of demining three Cambodian villages); Cambodia's Kien Khleang National Rehabilitation Center; the Preah Vihear Income Generation Project; ROSECharities; the Hangar Clinic in Haiti; and other undertakings in Central America and Africa.
The organization has also supported other humane initiatives, including a resettling program for victims of Hurricane Katrina and rebuilding schools in the wake of the tsunami that devastated Sri Lanka.
Aspler tells Samaritanmag, Grapes For Humanity has expanded its vision.
"We look after children who have prosthetic problems," he says.  "We've built a school in Guatemala. We're seeing 10 students in Cambodia through university — 10 orphans — so it's really people in need, people in distress."
Aspler, who is president and CEO of Grapes For Humanity Canada, says the organization appreciated Lee's support so much that, in 2011, they established The Geddy Lee Scholarship, committing $26,500 that was matched by the provincial government's Ontario Trust for Student Support program.  Each year, one second-year student in Niagara College's Wine and Viticulture Technician program, who intends to pursue the craft as their livelihood after graduation, is awarded $1000.
As for Lee, currently prepping for a world tour with Lifeson and drummer/lyricist Neil Peart to support the band's 20th album, Clockwork Angels, he's in it for the long haul.
"I like doing it, and I've tried to help them as much as I can in the time I have," Lee says. "It's a really good group of people who all have a really good heart and try to do something good outside our own sphere of civilization. We've raised a good amount of money for a couple of different causes, so I'd like to continue helping them."
Grapes Of Humanity's next event will be held on November 7 at Sopra in Toronto: a five-course white truffle dinner paired with the world's best wines combined with a champagne reception and a silence auction of fine wines. Tickets are $1000 (tax receipts will be issued for a portion of the amount). To book, call Annette Quitevis at 416-445-9920 or e-mail Annette@sarick.com.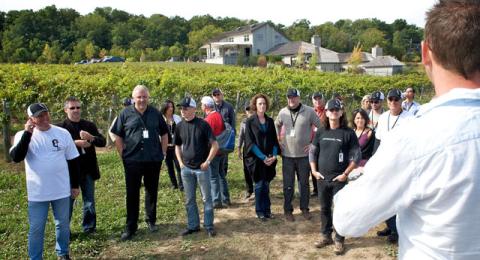 NIKE AIR HUARACHE