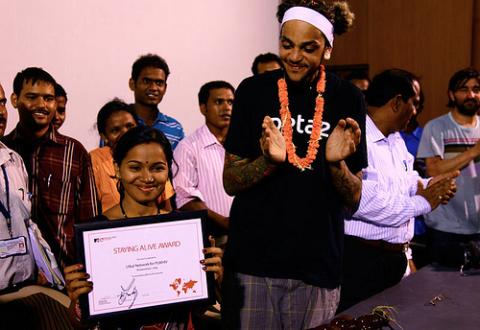 Gym Class Heroes vocalist Travie McCoy, who shot a documentary and released a charity single last year for MTV Networks International's Staying Alive Foundation, plans to continue bringing attention to the global prevention of HIV and AIDS.
"They actually made me ambassador of Staying Alive so I'm proud to carry that title," McCoy tells Samartanmag. "I'm sure they will be other projects we'll have in the future."
The Foundation (www.stayingalivefoundation.org) provides grants to youth-led initiatives committed to educating their peers, fighting stigma and discrimination, and empowering other young people to protect themselves against the disease.
"I went to South Africa, the Philippines and India with Staying Alive," says McCoy of the whirlwind 10-day trip last June. "I got to meet some young grantees who are given money every year to fund their grassroots program that they're doing in their communities to help raise awareness and education in their communities — and they're young people too.
"In the Philippines, I got to see a kid who is 14 years old teaching a class on the stigmas of HIV and how, not only in their community but in the world, those stigmas need to be depleted before we can move forward. People still think you can contract HIV through sharing utensils and whatnot. So there's a lot of ignorance out there.
"Honestly I don't think you can pay someone to not be ignorant, you know what I'm saying? It's something they're gonna have to grow out of or learn themselves out of."
On that trip, the documentary Travis McCoy's Unbeaten Track was filmed and aired all around the world on MTV's 64 channels. As well, McCoy was taking notes and writing the lyrics the entire time. "The goal was to write a song within that time frame about all the things I saw and experienced," he says. That song, "One At A Time," went up for sale on  iTunes on World's AIDS Day last year, December 1.
"All the money that was made from that song went back into Staying Alive to keep funding the grantees," McCoy says. "I only got to meet three grantees, but there are tons of them."
jordan Release Dates