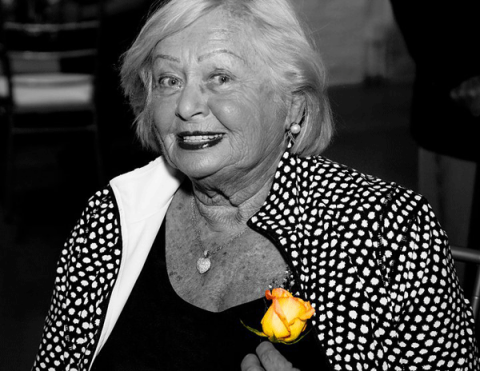 Holocaust survivor Franka Kon and the inspiration behind the Yellow Rose Project had been waiting her whole life to attend her senior prom. That celebration finally came one evening in June 2011 in Toronto. She showed up to the party wearing a yellow rose. When a photographer came over to snap Kon's picture, she told him, "I no longer have to wear a yellow star. I can finally celebrate with a yellow rose."  
The yellow star that Kon referred to was a badge that European Jews had to wear under Nazi persecution when an estimated 6 million Jews were murdered during World War II, known since the 60s as the Holocaust. The yellow rose is a symbol of survival.
Kon, now 91, hadn't crashed a prom for high school seniors, rather it was a senior citizen prom organized by Canadian Jewish groups and Toronto gerontologist Elise Kayfetz. These proms are annual events for Holocaust survivors who never had the chance to go to their own. What's more, when 30-year-old Kayfetz heard about Kon's exchange with the photographer, she was inspired to establish the Yellow Rose Project, a not-for-profit organization that partners Holocaust survivors with teenagers and young adults. Holocaust Education Week is Nov. 3-9, but Yellow Rose Project has events year-round.
Its mission is to "give Holocaust survivors the opportunity to build relationships, celebrate life and educate the Millennial/GenX generation — the last group that will have personal experiences with Holocaust survivors."
According to Kayfetz, there were 10,000 Holocaust survivors living in Toronto in 2013, a figure likely to be around 8,000, she feels, although neither number can be corroborated since many survivors do not identify themselves as such.
Kon grew up in Lodz, Poland. She had just finished public school in 1939 when the Nazis invaded her town. Her family ended up living in the Lodz ghetto for around four years. "We didn't have food to eat; we didn't have [anything] to cook with. And it's not describable. People were dying, children were dying. They put [the dead children] under the beds so that they could get more food for the week," Kon tells Samaritanmag at her apartment in Toronto.
Later, Kon and members of her family went to Auschwitz. None of them had heard of the concentration camp. "They took us to our room and we undressed. They started to shave our heads. We had to obey their orders. When they shaved our heads, my mother said, 'Children, give me your heads or I won't recognize you.'"
It is miraculous how many close calls with death Kon lived through. She says after German soldiers led her and her family to the showers to be gassed, the power went out in the camp. Near the end of the war, while staying in a barn in a German town, a soldier with a pistol came into the barn at night and told those staying inside to go with him. Kon's mother whispered to her daughter not to make a noise. Instead, two other people staying in that barn agreed to be taken outside and were shot. They had volunteered at their own will, saving the lives of those hiding inside.
Kon later made it back to Lodz after the war, where she reunited with her husband, Leo. They moved to Canada and arrived in Toronto in 1954.
Kayfetz says the Yellow Rose Project and its events such as the Senior Prom allows the Holocaust survivors to talk about their harrowing experiences in Europe to younger generations. This generation of teenagers and young adults will be the last group to have contact with people who experienced the Holocaust first-hand.
"In my experiences, you have the survivors who've always told their stories and then you have the survivors who have kept it quiet that sort of come out," Kayfetz tells Samaritanmag. "The ones that now finally come out of the closet want to speak and want to let it out."
One program that Kayfetz hopes will be a success for the Yellow Rose Project is "the unbroken telephone." In the style of pay it forward, this program will link Holocaust survivors with a group of four or five young Canadian adults. After the survivors tells his or her story, the young adults will have to pass on the testimonies to a group of four or five more young adults, and so on.
Kayfetz spearheads a team of young adult organizers for the Senior Prom every year. They will start planning for next year's prom, to take place in June, this November. "It's all run by young professionals and we're very familial," 25-year-old Shayla Schipper, the chair of sponsorship for the senior prom and a Yellow Rose Project participant, tells Samaritanmag.
"With a lot of other charities and fundraising, the funds go to research or they go overseas, but you don't get to experience what your work is affecting. With the senior prom, it's immediate and you get to interact with the survivors, you get to dance the Hora with them; you get to sit with them and learn about their lives and you forge relationships. The money does not go to costs or administrative things. It all goes to that one night."
Last year, 450 survivors came to the prom, some of them bringing their grandchildren as their date. Anyone who is not a Holocaust survivor must pay a fee to attend. Kayfetz estimates that between 30 and 40 percent of the young adults who showed up to the Senior Prom keep in touch with their dates or other survivors on a regular basis.
Since her first prom, Kon has spoken at schools across Toronto to teach youth about her experiences. "Whenever [teenagers] meet me to talk about the Holocaust, I'm always willing to help them or to tell them what they ask me," Kon tells Samaritanmag. "I am involved in the history, not for my sake but the future. People want to listen. At the beginning, people didn't want to listen, both Jews and non-Jews. Now, if somebody's interested, I am willing to share my experience."
Last year, as Kon 90th birthday approached, her daughter asked what she wanted for a gift. "I said I wanted to invite the second-generation because most of their parents perished already and I want to talk a little bit about the Holocaust," she recounts.
"It should be remembered. I always want to get together with the second generation and now we have the third generation, with some the fourth generation, great-grandchildren are coming. This is our future.
"Nobody can visualize what they did to us, what they did to the children, and now we would like our next generations to know about it. They should live with their eyes open."
Over 100 people showed up to the party. She still has the yellow roses, now long dried, in a basket sitting on her windowsill.
Kon is also a member of Toronto's Lodzer Center Holocaust Congregation, a synagogue founded by Holocaust survivors from Lodz. She says she has another idea to help the newer generations not to forget. "At the cemetery, at the back, there are Holocaust survivors. I wanted one day in a year when it's Holocaust Remembrance Week or the anniversary of the liquidation of the Lodz ghetto, to go out at the cemetery and put down a yellow rose to remember them too. That should be for people to remember, to see that we remember our dead."
Kon was first inspired to talk about her experiences during the Holocaust after she shared her testimony for the USC Shoah Foundation Institute for Visual History and Education. Film director Steven Spielberg established the Foundation in 1994 after making Schindler's List, to record interviews of survivors and witnesses of the Holocaust and other genocides that future audiences can watch and learn from. Kon keeps a 'thank you' letter signed by Spielberg in a laminated binder in her apartment.
Schipper says she enjoys keeping in touch with survivors after the prom, at holiday parties and brunches. The stories that stick with her the most are about how the survivors had to rebuild their lives from scratch. "With them being close to my age now [when they arrived in Canada], it's incredible to imagine their resolute and ability to rebuild," she says. "They dealt with this devastation and then made a whole new life for themselves."
Although the Yellow Rose Project is a local initiative right now, there are teams in New York and Israel currently in touch with Kayfetz that are planning to do proms in the near future. The New York Senior Prom is set for the fall of 2014. Kayfetz is also planning to reach out to high schools in the Toronto District School Board to get more volunteers that are non-Jewish to come and help out at local events.
On Nov. 7, the Yellow Rose Project will be working with Ashkenaz to bring Jewish Holocaust survivors to the Ger Mandolin Orchestra in Toronto as part of Holocaust Education Week. That musical group plays classical music selections and is a tribute to those who perished in the Holocaust. Mandolin orchestras were a popular form of music in Eastern Europe and in North American immigrant communities after the war. Holocaust survivors can come to the concert at no charge.
But what will happen when there are no survivors left? Kayfetz says she hopes that their children or grandchildren who participated in the prom and other programs with them will show up to future proms in their honour and dance for them. A small film crew has been shooting both survivors and some of their younger dates at the proms, witnessing the celebration. Kayfetz hopes to make a documentary about the prom in the future as a way to preserve the survivors' legacy.
"If they can't be here, we can always celebrate them," Kayfetz says. "To always recognize that they went through a lot to be able to celebrate with a yellow rose."
nike air overlook apartments Retro High OG Wmns "Panda" CD0461-007 Women/Men Super Deals, Price: $98.03 - Air Jordan Shoes