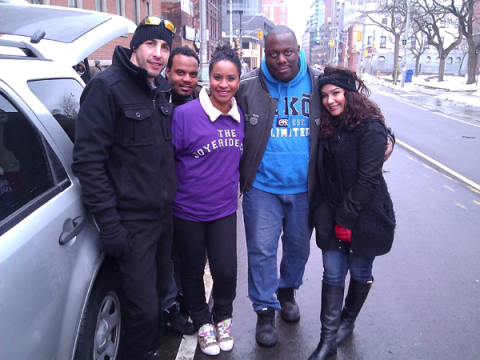 For most people, January is a time of resolutions though few survive past the end of the month. But there is one thing folks can do that will have an enduring and positive impact throughout the winter season and beyond: helping the poor.
A pair of Toronto activists is making that a very easy pledge to fulfill.
Along with author, mentor and at-risk youth advocate Joshua Stern, Ernestine Joye Dunkley — a kind of one-woman support group for the disenfranchised — is spearheading Kool Kicks, a shoe drive for the city's homeless and needy.
The Kool Kicks initiative loosely falls under the aegis of Project Blanket, a drive now in its third year executed by Dunkley's the Joye Ride organization, which aims to help restore hope through outreach to individuals struggling with poverty, addiction, incarceration and the like.
On a recent Sunday, Stern and Dunkley assembled at Toronto's Salvation Army Maxwell Meighen Center to distribute shoes, socks and other garments to about 100 transient people who had heard about the giveaway largely through word of mouth.
Most items – including about 60 to 70 pairs of shoes, 20 winter coats, blankets, sweaters, hot beverages and hot meals - were donated by friends and supporters. Stern, who operates outreach/fundraising organization the Josh Project, personally bought 60 of pairs of new socks for distribution. Tim Horton's kicked in some hot chocolate.
Stern also brought along his five-year-old son Tristan. "It was something I wanted him to see," he tells Samaritanmag, adding that they could barely cope with the demand over the two hours they were on-site at the Meighen Center. "You definitely see another side of society that is generally not on the media radar."
Both Stern and Dunkley says the need for warm and durable clothing — in particular, shoes — on Toronto streets is acute; they're hoping local people can raid their own closets this month for gently used items to donate. And Stern and Dunkley will come right to your door to collect them.
Simply email info@thejoyeride.com or info@joshuastern.ca to make arrangements. And while the Kool Kicks shoe drive is Project Blanket's current focus, donations of all sorts are welcome year-round.
"I do a lot of outreach with girls who were incarcerated," Dunkley tells Samaritanmag, "and one of the girls I have a soft spot for is a crack addict who has been in and out of jail pretty much her whole life. She was just incarcerated for stealing from Value Village.
"That to me is so sad. We can provide clothing to people so they don't have to go to second-hand stores and steal.  There are enough people around with tons of clothes and shoes they're not using that no one should have to steal or go without. If we can get our hands on those items, we will get them into the right hands for free.
"With all the other things some people are dealing with, if we can at least give them the comfort of clean, wearable clothes and shoes, they'll have a little something better to go on."
Dunkley continues: "Joshua and I talk about poverty all the time. We have both had our struggles. It's not just the people on the street or in shelters. There is hidden poverty and homelessness; the woman who was evicted and now sleeps on a friend's couch, or the kid who sits next to your kid at school.
"So many people are struggling. And they may not ask for help but we can definitely offer it."
Air Jordan Release Dates Calendar