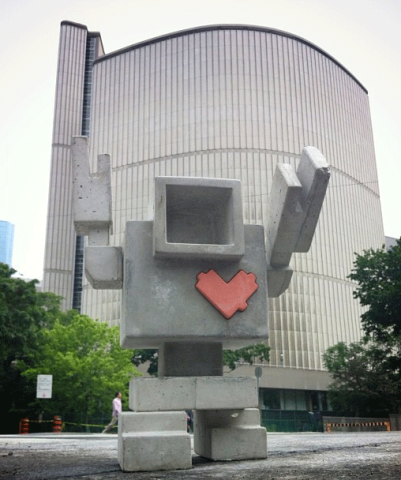 They weigh 250 pounds and stand at a measly two feet. A striking, red heart protrudes from the left side of their body underneath a faceless head. These little cement robots, Lovebots, are popping up across downtown Toronto, extending their stiff hand in an attempt to spark a smile in passersby.
Around 20 of these robots populate the city from The Junction to Kensington Market; 100 are planned to appear before the end of October. The Lovebots are not just for decoration, but are dedicated to the specific good Samaritans in the city who can inspire others to do kind deeds. They are the brainchild of Toronto artist Matthew Del Degan, 23, who says that the child-sized robots are his way of igniting happiness and inspiring joy.
"No matter who you are, we focus on our differences. And the city's overwhelming, so we just go to work and act like robots," Del Degan, who is going into his fifth and final year as an industrial design student at the Ontario College of Art (OCAD), tells Samaritanmag. "The whole idea was that we're not just faceless robots who don't talk to each other on the bus. We all have big hearts. I wanted to make a symbol that represented the people in this city."
The Lovebot was first designed as a much smaller prototype for one of Del Degan's class projects. After raves from his professor and classmates, he decided to pursue a business where the Lovebot could be the mascot. "I got such great reactions, more than I had with anything I'd ever designed," he says. "I loved coming home to it and it kept making me smile."
Del Degan is now the head of The Sandbox Society, a creative business inspired by the image of wide-eyed children playing in a sandbox and making new things. The Lovebot is the Society's first project, but is four years in the making. At the start, Del Degan was hard at work sanding the cement robots in the basement of his home; however, the process was such monotonous labour he thought of giving up.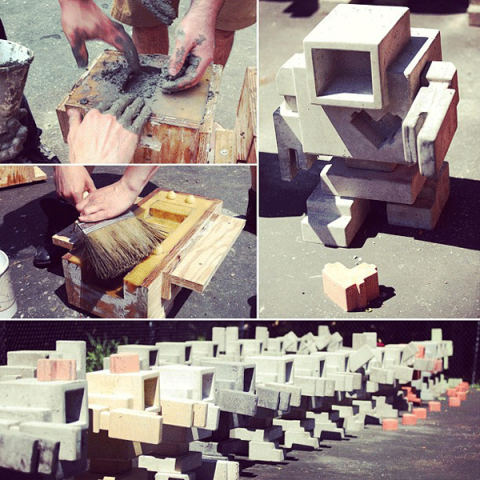 "I remember taking a week to do one of [the robots] and I said to myself, 'I'll never do this again,'" Del Degan says. "I could've been spending that time with my girlfriend or somebody I cared about, or doing something I enjoyed. I was by myself, locked up — and this is during school." It took him about a year to get a robot mould to work properly.
Alongside business partners Rodger Beck and Ryan Caklos and a crew of 20 volunteers, Del Degan now moves and unloads the concrete sculptures in Toronto's downtown core. They place the Lovebots in front of stores and businesses that agree to display the street art in honour of these charitable people. Torontonians submit stories on his website, lovebot.com, and if Del Degan and company are touched by the story a Lovebot is dedicated to that person. The robots are reminders of the love that exists around Toronto, he says.
An interactive map on lovebot.com shows the locations of each two-foot robot, enabling Torontonians to track the cement sculptures as the project covers more ground. The inspiring story attached to each Lovebot is also featured online.
One of the sculptures is dedicated to a baker at Nadège Patisserie in Trinity Bellwoods who makes cookies and gives them to people who do good deeds. Another Lovebot went to Chris Kay Fraser, a journalist who writes love letters to the city of Toronto. "She's almost trying to say 'I love you' toward the city as if it were a person," Del Degan says. "She hides them all around the city so that people find these notes, read them and think about the letter. That brings a little more love into the city."
A robot outside of the Atomic Toybot on Queen Street West is for "Handyman James." Although Del Degan placed the Lovebot outside of the store in April, the handyman noticed its arm was broken. He took the sculpture and installed a stronger arm for the Lovebot; now, it is dedicated to this helpful companion.
Del Degan feels more than just the strain of making and shipping these boulder-weight figures, but he wants to be able to support the 20 volunteers that work for him. "The pressure's building from the expectations of the project," he explains. "I've got people that have taken a year off of school to work for me. I didn't ask them to do that, but they did. I feel somewhat accountable. I'm managing people's lives now."
At the back of each Lovebot is a serial number. #0001 belongs to Del Degan's grandmother, although he says it could go to anyone in his family. "I seem to have the most ideal upbringing — the most love and affection you can imagine. I feel obligated as a human being to give that love back to the city and the world," he says. "It's almost like you were given so much love, you feel entitled to give the love back to people. I'm trying to be this little ambassador of love."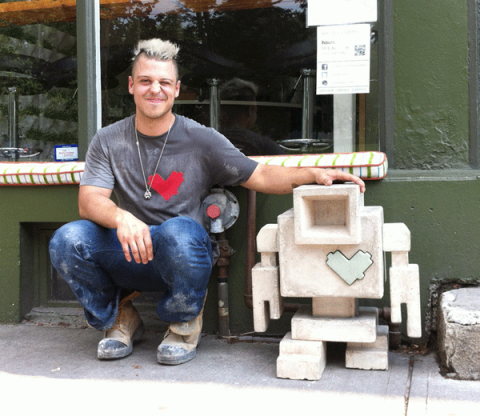 However, as much as this street art project inspires the young artist, it has also exhausted him. He works from 6:30 a.m. until late evening. He says he has lost connections with many of his friends, while making something with the goal of increasing human connection. "It's taken over my whole life. I have amazing people working with me and I love them so much, but there's no life outside of this."
His plan is to spread from the downtown core to the suburbs and outskirts of Toronto and beyond. Right now, the project is strictly local — at 250 pounds, the robots are heavy as boulders and hard (as well as expensive) to ship. Regardless, the artist has dreams even bigger than his heart.
"There's this giant robot I want to make. I can make it a monument in Toronto," Del Degan says. "If you had a giant robot in your city, it would be a cool thing to come and see. I want the project at the core to be from Toronto because the cement robots sprung out of the city, the 'cement jungle.'"
He also dreams of hosting a massive art show at the Art Gallery of Ontario (AGO) in honour of all the people who had Lovebots dedicated to them.
The Sandbox Society is now making robots for purchase, but Del Degan says he wants to stay true to the spirit of giving and community that the Lovebot promotes. "Every time we sell a product, for example, we'll write a note; ask [the consumer] to go inspire somebody else, go out and do something kind for somebody; go make someone's day.
"It's a pretty great way of making a movement happen because everything that you do affects more than one person," he says. "I want to be a for-profit business but I want to do things that constantly support charities and show how powerful and how loving we can be. I want to inspire people."
girls youth nike high tops shoes Light Smoke Grey