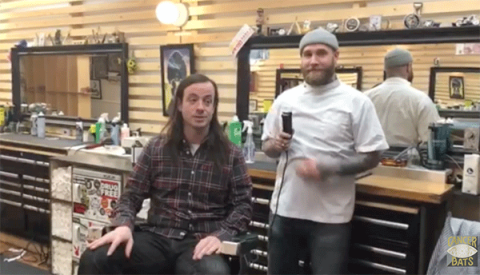 Toronto's Cancer Bats are giving the boot to cancer — well, giving what's inside the boot to cancer.  Money.
You would think that collecting donations would be enough, but, no, frontman Liam Cormier, a guy with enviable rocker-long locks is going to shave his head, on Feb. 22, the day after his last European show of this tour. Town Barber's Chris Hammell will do the honours.
Since Jan. 11, the start of the hardcore punk band's 39-date U.K./European tour behind their Juno-nominated album, Searching For Zero, Cancer Bats have been collecting donations from audience members, and online, to give to the Princess Margaret Cancer Foundation (PMCF).
PMCF at Toronto's University Health Network "raises funds for breakthrough research, education and the enhancement of patient care at Canada's leading cancer research hospital, Princess Margaret Cancer Centre and its research arm, the Ontario Cancer Institute," according to the web site.
Cormier reports they have already raised £5700 (CAD $11, 465) from the U.K. leg and now they're continuing to collect cash on the European leg. The singer spoke to Samaritanmag about the cause, the head shave, the collection, and if he's at all self-conscious about having a bald head.
At what stage in your show do you let people know what you're doing? You don't pass around a hat.
Even from the start of the show, I think because of social media people know. Cancer Bats have posted about it and I've posted about it, so the word is out. We're taking donations at the merch table. We have an old rubber boot that I had from past festivals. We've been using that to take donations and we empty it out every night. The boot's been almost full every single night of the tour. Halfway through the set I'll just be like, 'Hey, I'm doing this thing that you guys have heard about; I'll be taking donations after the show; come and meet me at merch on the way out; drop a pound, basically a dollar, into the boot and let's hang out; have a pic.'  So I basically just stand at the door as everyone files out and everyone's been throwing in. I have a duffle bag that I've been pouring it into and it's super heavy. We have to go to a bank with one of those coin machines.
Are some people yanking on your hair as they leave, knowing they won't see it again?
No, there have been people pleading with me not to shave my head. That's the whole point of it is that it's something serious. It's definitely funny.
Have you personally been affected by cancer within your own family or your friends and their families?
Definitely in our family and friends. I've had people pass away as a result, but also I have people that have survived, who have gone through chemotherapy and have come out and it's a positive story. That's why we wanted to make it more of a positive side for our friends who have had friends and family who have made it through. For as many people who have passed, there are examples of treatment working. That's why going with Princess Margaret Cancer Foundation is the research side of what they do. They are one of the top 5 research facilities in the world.
Do you know Paul Alofs, the CEO? He was in the music business [CEO of HMV Canada and BMG Music Canada].  And public relations director, Kevin Shea, was too.
No. The reason I know of Princess Margaret is because of Rob Dyer who does Skate4Cancer.  He's a really good friend. I've known him for 10 years. We've played Skate4Cancer shows. We brought him on tour with us. He was with us for two months doing Skate4Cancer stuff and we were out with him on other tours that he's been out on [like] Silverstein; when we were in Europe, he was taking money for Skate4cancer, so [it was] more his work with Princess Margaret. When I thought about doing this, that was automatically the first place I thought of.
Princess Margaret Hospital started its own head shave campaign last year, #NoHairSelfie. How did you hear about that or is this your own creation?
I hadn't heard of that specific one until I started looking on their site and they actually asked if I wanted to be part of their #NoHairSelfie head shave campaign. The only reason for me doing my own thing is because our tour goes from January 11 until February 22 and theirs is only on February 4, Cancer Awareness Day. We're definitely going to talk about it in the course of all this, but I think I can raise a lot more money if I just do it on my own, specifically around the shows. The woman I was speaking with, Flo [Bernard] at Princess Margaret, was like, 'Yeah, 100 percent. That's great.' Seeing their campaign and the way that I made a promotional video after just having watched their promotional stuff, we're all on the same page.
Q&A CONTINUES AFTER HIS PROMO VIDEO:
You have bandmates [guitarist Scott Middleton, drummer Mike Peters, bassist Jaye R. Schwarzer]. Are they also going to be shaving their hair?
No one else is shaving their head, or not at least at this point from what I've heard. Scott, who has really long hair, is definitely hanging onto his for as long as possible. The seriousness is not only for the people who have long hair, but also from guys who can't grow hair.  They're like, 'Oh my god.' They couldn't even imagine doing that. So I like it on both sides, and especially woman are like, 'I couldn't imagine shaving my head; that would be crazy.'
At Princess Margaret's #NoHairSelfie press conference last Cancer Awareness Day, there was a woman who spoke of the impact on your self-esteem when you hair falls out from chemo.  So shaving your head is in solidarity with them. Is that something you also feel?
That was something I learned from going on the site. I hadn't even thought of it. I was just, 'Oh I'll just donate my hair. My hair is long enough. I can just donate it to Pantene Beautiful Lengths, or an organization like that that gives free wigs to people undergoing cancer treatment. I have this hair; I can give it to someone else who can benefit from it,' and then seeing on the Princess Margaret site that it's also this sign of solidarity — not just trimming my hair; not just being 'I'm going to get a hair cut out out of this at the end,' but being like, 'I'm gonna get clippers at a zero and be just as bald,' obviously not having to undergo everything else that goes with it. But that side of solidarity, that's also a big a part of it.
So many people are affected by [cancer]. That's why I can confidently go to a group of 500 people in a room and say, 'This is something that we can all put a dollar towards' because I know every single person in that room has some connection to it.
On the vanity scale of 1 to 10, 10 being super vain, where do you place yourself?
(Laughs) Do you mean being worried about having a bald head? Maybe I'm super vain because I'm unflappable. I'm like, 'Oh, I'm a babe. I'm good. I'm not worried about it.'
With or without hair, you'll be good.
Yeah, that's not my power.
Have you ever written any songs about cancer or any cause?
That's what the song 'Arsenic in the Year of the Snake,' without being specifically about what reasons those people ended up passing away; it's definitely about that in general. And when mike and I were putting together that video to talk about this thing we were doing, originally he cut it to 'Arsenic and the Year of the Snake.' The song itself is about two close friends who died this year, but I think we also need to how more of a positive vibe because the whole purpose isn't about these people that have died, but doing research and making sure no one else dies. That's the bigger side to it. So that song was a big one, so that was part of it, some close friends passing away, one of them specifically from cancer. Not all of the people that the song is about died of cancer.
Have you ever visited a hospital and sang for kids?
I've never done that specifically. I went to a children's hospital through a friend to visit his sister who had come form the east coast to undergo treatment. He was like, 'It would mean a lot to my sister to just hang out and meet you,' and I came in and hung out for a bit at the children's hospital. If I had the opportunity to do it more, I definitely would. But I don't have any other talents — I couldn't come in play an acoustic guitar — aside from just showing up and having a good hang. I'm pretty good at chatting and making small talk with people.
Who are you entrusting your head shave to? Chris Hammell.
I don't have regular barber. I've had long hair forever. One of my oldest and dearest friends runs a barber shop in Toronto called Town Barber and so on the 22nd I'm gonna go and we'll bundle up all my hair and then he'll shave my head.
Nike Air Zoom Pegasus