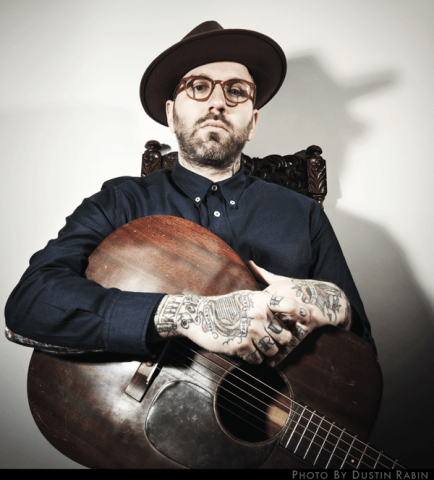 When musicians' profiles and success begin to grow, often they become ambassadors for a specific charity. If they become excessively wealthy, sometimes they'll start their own foundations. City and Colour's Dallas Green, whose four solo albums have gone platinum in Canada and just headlined Toronto's Air Canada Centre, usually supports causes privately,  but when he does go public it has been in a song.
"I don't think I'm really outspoken about anything in particular or an activist," Green says. "My thing is that I don't like bad people; I like good people, you know what I mean?
"I thought the [Gulf] oil spill was a travesty so I just ended up writing song about it," the Toronto-based singer says of 2010's "At The Bird's Foot," available on the charity compilation Gasoline Rainbows benefitting Global Green USA.
"You know, there's a B-side that will be released that I recorded for this record [The Hurry and the Harm] called 'Nowhere Texas' that I wrote after watching a movie called the Texas Killing Fields. It's about this strip of highway in Texas that goes into Louisiana where for 20 years they've been finding young girls' dead bodies," Green tells Samaritanmag.
"Basically, these girls from these small towns get picked up and raped and killed and dropped into this swamp and they can't seem to tie any of them together or convict anyone. I thought that was insane, so I wrote a song about it. "
City and Colour's record label Dine Alone has no information at present about when "Nowhere Texas" will be available and if a charity will be attached.
Green has also written a song about his sister Jordan's anxiety disorder called "O' Sister," which is on 2011's Little Hell.  She now works with Alzheimer's and dementia patients, a vocation he admires.
"I think that that's very noble of her," he says. "It takes a special kind of person to work with people like that. You need a certain kind of heart to deal with that kind of death. And I don't mean just death of your body, but how the mind slowly dies and you have to deal with that. But, again, it's not something that I speak about it unless someone brings it up."
Also quite cool is anyone on City and Colour's guest list for their Canadian shows is asked at Will Call to make a $10 cash donation, which goes to SickKids Foundation.   City and Colour has some remaining shows in Canada, before heading to the U.S., Australia then back to North America. 
adidas Yeezy 350