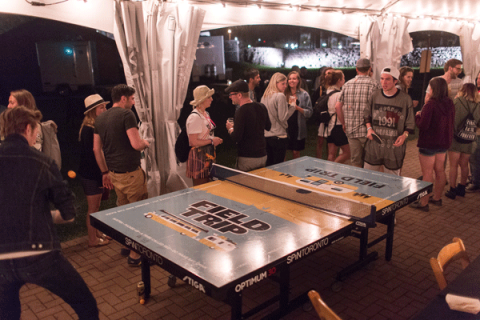 A high-end ping pong table signed by Interpol, Broken Social Scene, Chvrches and many of the artists that performed at Arts & Crafts' two-day Field Trip music festival in Toronto earlier this month is up for auction. Proceeds benefit The Remix Project which provides training in various arts fields for marginalized youth. The auction closes at midnight (EST) July 4.
Custom designed by ping pong social club SPiN Toronto,  the regulation size (9' x 5' x 2.5') Stiga-brand table sells new for about $1200 — that's without the signatures of cool musicians and Field Trip logos.
Among the John Hancocks collected — from all or some of the band members — are Interpol frontman Paul Banks, Broken Social Scene's Brendan Canning, Chvrches, Fucked Up, Reuben And The Dark, The Darcy's, Zaki Ibrahim, A Tribe Called Red, Maylee Todd, Megan Bonnell and Washed Out.
"Field Trip at it's core is about community and festivals can be a great platform for bringing the best together in collaboration," Arts & Crafts founder Jeffrey Remedios tells Samaritanmag.  "We wanted a ping pong table backstage for artists. The folks from Spin are our friends; we love what they do.   What started as borrowing a table for backstage they turned into wrapping with Field Trip branding and then auctioning it off afterwards for charity."
Remedios adds that he's a big fan of The Remix Project, which offers young people from disadvantaged, marginalized or under-served areas of the Greater Toronto Area (GTA) a chance to get ahead in life using their skills and talents. "Our programs and services serve youth who are trying to enter into the creative industries or further their formal education," it says on its web site. "The Remix Project provides top-notch alternative, creative, educational programs, facilitators and facilities."
"They felt a perfect fit for these proceeds," says Remedios, "not unlike our MusicCounts initiative where we suggested to patrons and guests [at Field Trip] that they should consider making a donation to MusiCounts [a music education charity], resulting in us raising over $20,000."
Bidding is done by clicking on the "bid on the table" icon and submitting a form with your name, email, phone number and bid amount. The winning price includes delivery and setup of the ping pong table within the GTA. SPiN is accepting further queries via email.  
Shawn Topp, director of marketing at SPiN Toronto, tells Samaritanmag, "The idea [for signed table] was originally Carrie Fisher's — she's our assistant GM — and the two of us expanded on it. The folks at Arts & Crafts loved the idea and were great to work with.
"The Remix Project is our official charity partner. They are a huge part of the community providing invaluable educational programming to under privileged youth in Toronto. Their entire organization is made up of incredibly creative and positive people. We are proud to support them as they grow — in fact, they've just recently launched in Chicago."
Jesse Kumagal, vice-president, talent, at Live Nation Canada, wrote on his Facebook: "While I'm extremely proud of the teams from Live Nation and A&C for the A+++ Field Trip Festival, one of the things that I think really set it apart from so many events were the charitable components. From requesting a minimum donation to MusiCounts for people on the guest list through to initiatives like this…
He then describes the ping pong table set up backstage in the artists' area which "served as the main entertainment for a ton of your favourite musicians. That table was autographed by many, and is now up for auction with the proceeds going to The Remix Project. Check it out — the table is seriously high end to begin with, but with this kind of provenance — as they say on Antiques Roadshow — its value is immeasurable. Help out a good cause and start raising those bids!"
Sneakers