It will be a motley bunch at the Lacombe Golf and Country Club in Alberta on Aug. 14 when chart-topping country singers, rodeo world champs, NHL and Olympic gold medalist hockey players and Olympic gold curlers hit the green for the 7th annual Gord Bamford Charity Golf Classic Gala.  
The gala for 750 people takes place at the Sheraton Hotel Exhibition Hall in Red Deer on the 13th.
"I have to say that we have as much fun on the golf course as we do the night before at the gala," Bamford tells Samaritanmag via an email. "It's a great way to wind down, hit some balls and celebrate an event that takes a year to plan."
The two-day fundraiser is private and invite-only, monies raised coming from a combination of sponsorship packages, and silent and live auction items — and people. The participating celebrities are bid on to join one of the 42 golf teams.
Last year's event raised $355,000 for The Gord Bamford Charitable Foundation, which the Alberta country singer founded in 2008 and distributes funds raised primarily to children's charities nationwide.
"The Foundation often gets requests for assistance, and those groups who focus on children are the ones that I lean towards helping," says Bamford. "And sometimes there is a direct connection to those I help. When my youngest daughter was born, my wife and I had to spend time at a Ronald McDonald House. So I have experienced firsthand what parents go through when it comes to their child being sick, and how necessary it is for them to stay close to that child."
Golfing for this year's Classic are Natalie Spooner and Meagan Mikkelson, the 2014 Canadian Olympic women's hockey team gold medalists and current Amazing Race Canada competitors, along with their Olympics teammate Shannon Szabados; and fellow hockey player Rebecca Johnston, who won Olympic gold in 2010. 
Then there's Kaitlyn Lawes and Jill Officer from the 2014 gold medal Canadian women's curling team; hockey players Curtis Glencross and Kris Russell, both of the Calgary Flames; and NHL alumni Theoren Fleury; and past Canadian and world champion rodeo cowboys Davey Shields Jr. and brothers Rod and Denny Hay.
And of course, the artists: Nashville's Cowboy Troy, songwriters Byron Hill, Phil O'Donnell, and Buddy Owens, as well as Canadian country acts Jason Blaine, Beverley Mahood, Aaron Pritchett and Duane Steele. Along with Bamford, they will each perform two songs.  Canadian rock legends Trooper is also playing (but not golf).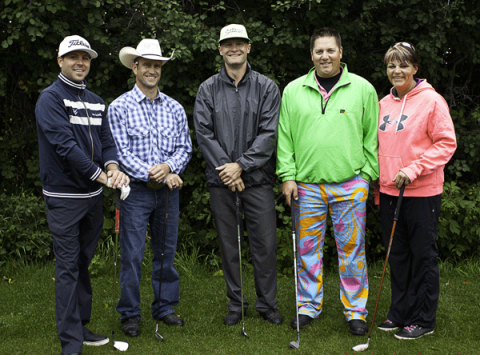 The money raised last year supported Ronald McDonald House, Make a Wish Foundation and Big Brothers and Big Sisters. Last fall Bamford donated $100,000 ($10,000 each) to 10 different Children's Hospitals across Canada, and made another $100,000 commitment to MusiCounts to help fund music programs in Canadian schools.
"I have always made an effort throughout my career to visit children's hospitals. Those cumulative experiences over time have proven to me the power of a guy with a guitar who can sing a song to a sick child. It turns into a magical musical experience that takes away their pain, even if it is only for a brief moment," says Bamford.
"I experienced that with a young man named Daniel Yaretz in March, 2010 when he was very sick with spinal meningitis at the Stollery Children's Hospital in Edmonton. He had lost 33 pounds and really, was in terrible condition when I went in to see him that day. He loved music, and our music that day turned into a shared experience between two musicians.
"I'm happy to report he's a healthy 21-year-old university student who now pays it forward by playing for senior's centers and children's hospitals. That experience showed me what music can do when it comes to the power of healing, both emotionally and physically. So after the success of our 2013 Charity Golf Classic, I knew I could broaden my giving, not only to just the Stollery and the Alberta Children's Hospital, but to other deserving children's hospitals all across Canada. "
Nike WMNS Air Force 1 Shadow White/Hydrogen Blue-Purple