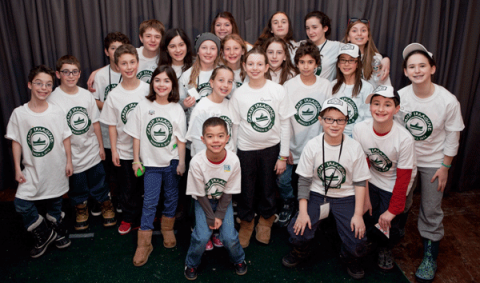 Who but a 10-year-old would imagine a way to fundraise that involves other kids and camp? That's what Bayley Abrams, now 12, whose mom is the founder of the not for-profit Imagine a Cure for Leukemia, did with her Camp Imagine, launched last year.
Organized by 25 kids ages 9-13, the second annual camp-themed event included a letter writing station — all the letters were addressed to a 9-year-old Toronto boy who has leukemia — arts and crafts, bean bag toss, bracelet making and popcorn station. It raised $34,000 to add to the million already raised by the organization as a whole since its inception in 2006.
Imagine a Cure for Leukemia is a not-for-profit charity dedicated to finding a cure for the blood cancer.
"She's an amazing kid with big ideas," Bayley's mom Nara Abrams, president & founder of Imagine a Cure for Leukemia, said in a press statement. "She also has a great group of friends who want to help. For several years, Bayley has asked her friends to donate to the charity in lieu of birthday gifts. Last year, however, she said she wanted to do more and the Camp Imagine project was born."
Bayley and 24 of her friends came together to write donation request letters and approach donors from various summer camps. The response was incredible, with close to 30 camps setting up their own kid-friendly activity booths at Camp Imagine at the Castlefield Event Theatre back in March.
Among the camps were Bayview Glen Day Camp, Camp B'nai Brith of Ottawa, Camp Northland B'nai Birth, Camp Manitou, Camp Robin Hood, Camp Tamakwa, Camp Tamarack, Camp Timberlane, Camp Wahanowin, Camp Walden, Camp White Pine and Camp Winnebagoe.
"Our charity benefited primarily from admission fees, the space rental charges paid by participating camps, an advertising book and the auction and raffle," said Abrams. "However, our goal was not simply to raise money. We also wanted to encourage kids to get involved with philanthropy and raise awareness of this illness. Most people are not aware that leukemia is the number one disease killer of children under 19." 
At Imagine Canada's March fundraiser a number of companies also stepped into help. There were burgers, fries and ice cream donated by South St. Burger Co., New York Fries and Dairy Queen, plus a raffle and silent auction. Entertainment was provided by live artist Brooke Friendly who donated the resulting paintings and a "camp dance" hosted by Sole Power Productions. The event also launched the "Camp Imagine Theme Song," written and performed by Marlowe and The Mix and the Camp Imagine volunteer committee. 
"I really enjoyed working on this event with my friends and my mom," said Bayley. "I love camp and so do lots of other kids. Everyone had a great time at Camp Imagine and we can't wait to do it again next year."
Other camp participants were Crestwood Valley Day Camp, Muskoka Woods, Elite Basketball Camps, Richmond Hill Country Club Day Camp, Stinger Ball Camp, Westcoast Connection, Zodiac Day Camp, Silber Family Centre for Jewish Camping, Camp Solelim, The Jack and Pat Kay Centre Camp, URJ Camp George, Camp Shalom, Camp Shomria, Camp Kadimah, Camp Kinneret, Camp Biluim and Energy Karate Day Camp. 
According to the Imagine for Leukemia website, the founders of the organization have family members and friends affected by the disease. "We fund projects where medical breakthroughs have already been achieved, and where additional research is needed to turn them into better treatments for people," it states.
Nike Air Max 200