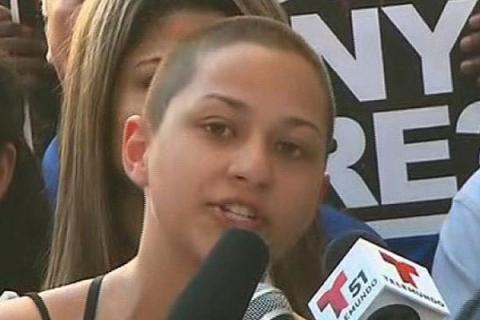 On Saturday, March 24, young people across America and around the world will take part in the March For Our Lives, a massive series of rallies meant to fight for comprehensive and improved gun safety legislation at the local, state, and federal level. The web site currently lists 839 marches taking place, including a map and search bar to find one need you.

In the wake of the recent mass shootings at schools  — three examples of many include Marjory Stoneman Douglas High School in Parkland, Florida, Feb. 14, 2018, 17 dead, 14 injured;  Marshall County High School in Marshall County, Kentucky, Jan. 23, 2018, two dead, 18 injured; and Rancho Tehama Elementary School in the Rancho Tehama Reserve, California, November 14, 2017, six death, 18 injured  — young people are saying no more and making their voices heard.

According to the March For Our Lives website, "This movement is for kids and by kids" and their ultimate goal is "to protect America's kids." These kids intend to use the March For Our Lives to raise awareness for this cause. There's even an app to download.
The March For Our Lives event was spearheaded by student organizers connected to the Marjory Stoneman Douglas High School shooting. Four days after the shooting at their school, emerging student activists including Cameron Kasky, Emma González and David Hogg announced their intention to hold the anti-gun march. Soon after, celebrity endorsements from the likes of George and Amal Clooney and Oprah Winfrey dramatically raised the event's profile, which has since cascaded into an extensive series of events around the world.

Here are six important things to know about the March For Our Lives:

The Marches

The main march will take place March 24 in Washington, DC and is expected to attract students, families, and their supporters. Starting at noon, the march will go down Pennsylvania Avenue towards the Capitol grounds. If going to Washington isn't an option, right now there are 817 separate sibling marches listed on the March For Our Lives website, sortable by postal code.

The Goals

According to march organizers, the goal is quite simple:

"Not one more. We cannot allow one more child to be shot at school. We cannot allow one more teacher to make a choice to jump in front of a firing assault rifle to save the lives of students. We cannot allow one more family to wait for a call or text that never comes. Our schools are unsafe. Our children and teachers are dying. We must make it our top priority to save these lives."

Organizers intent to demand legislation be brought before Congress to address gun control issues.

Emma's Message

Emma González, the student activist and survivor from the Parkland shooting who gave that remarkable speech, Feb. 17 in Fort Lauderdale, provided the march with a personal message:

"The kids from Parkland and from all across this country are taking to the streets to try and make our future safe. But we can't do it alone. We need your help to amplify our message. My friends were gunned down in cold blood as well as countless others from Chicago to Detroit to Sandy Hook. So now the young people in this country have been given a mission and I hope in some way it's your mission too. We need our voices heard by as many people as possible. We need them to come to our March in DC. We need them to sign our petition to stop these murders. This isn't a political rally. It's literally a march for our lives. Please help us amplify our voices by using yours. Be part of this moment in time. I believe the young people in this country can change the world. And wouldn't that be something?"

Voting

One of the key initiatives of the March For Our Lives is to get young people politically active and voting. The march website has an area dedicated to voter registration.

Donations

March organizers are selling merchandise and accepting donations to help finance their efforts. Any funds raised will be split between initiatives like voter education, ballot initiatives, and lobbying state legislatures and Congress and funding towards the Broward Education Foundation, the official fund for the victims of the Parkland school shooting.

Music & Entertainment

Major entertainment figures have already signaled their support for the march. Jennifer Hudson, Ariana Grande, Demi Lovato, Common and Vic Mensa are all confirmed to appear at the Washington, DC event.

High profile figures like Oprah Winfrey, George and Amal Clooney, Jimmy Fallon, Steven Spielberg and Ellen DeGeneres are just a small sample of entertainment industry people who've declared their support for the march in some way.

Watch Jimmy Fallon's message of support for the March For Our Lives:
/Nike_7_1