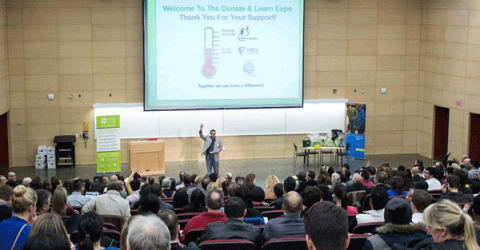 Fundraising can have tangible benefits for your career or business. And it can be really fun. That's the main takeaway of Donate & Learn, a community-focused initiative led by Toronto-based entrepreneur Bassem Ghali, who launched the charitable workshops-cum-expos in 2012 just months after founding Green Lotus, an online marketing services consultancy.
As Ghali explains, he wanted to utilize his online expertise and network of marketing professionals to give something back. When he discussed possibilities with his friends Stephanie Abouatallah and Richard Marginson — then social media mangers at Canadian Tire and Via Rail — they brainstormed Donate & Learn.
The idea is simple.  Small business owners, entrepreneurs, bloggers or anyone else hoping to gain a leg up in the online world through marketing and social media pay a tax-deductible $20 to rub shoulders with an array of industry experts, who deliver talks and participate in panels during an evening session. The experts volunteer their time, attendees get valuable tips for a small outlay of cash and 100 percent of profits benefit charity.
The success of the concept was immediately clear. The first two Donate & Learn workshops — held in December 2012 and May 2013 and benefiting the YWCA — attracted 220 and 260 guests and raised $3,800 and $4,185, respectively.
The third event, in December 2013, raised $9,200 for Big Brothers Big Sisters. The fourth event, slated for June 10 and benefiting Aboriginal literacy program Project Pathway, is expected to draw 600 attendees and raise $12,000.
Ghali and his partners aren't the only ones who think Donate & Learn is solid. In May 2013, the initiative gained the support of GoDaddy, a hugely successful domain registrar and web hosting company. "I mean, have you ever seen GoDaddy sponsor any event in Canada before?" Ghali enthuses. "To get that support inspired and encouraged us. And it just went from there."
Donate & Learn also got props from John Shehata, executive director of search and social for ABC News, who flew in from New York to be keynote speaker at the May 2013 workshop, along with Sally Chung, senior account manager at Google Canada.
"When we talk to people about this event, we really focus on three major points," Ghali tells Samaritanmag. "First and obviously, the fundraising portion of it. Second, the quality of the information.
"I've attended lots of events in my life and heard lots of ridiculous discussions and sessions. So we always ask our speakers to focus on things like to-do lists that will empower people to go home and actually do something to impact their business. The third point we always talk about is the fun portion.
"Fun moments at events are what people remember so we have the little piglet [Doug, the event mascot and star of a video advertisement]; we have a media wall; we have contests and prizes coming out of our ying-yang — we have more than 12 raffle prizes."
To wit: attendees are eligible to enter the Donate & Learn Super Fan Contest on Facebook for a chance to win an Xbox or one of five lifetimes passes.
Indeed, anyone who knows Ghali (disclosure: he and I worked together briefly at the Toronto Star's New in Homes online portal) knows he has zero patience for anything that doesn't capture his fast-tracking mind. Donate & Learn, with its top-flight speakers and packed agenda, offers heaps of information and value for money.
The expo on June 10 — held at Ryerson University from 5 p.m. to 8:30 p.m. — features speakers including LinkedIn account manager Paul Lovie, Microsoft Bing Canada search evangelist Andrew Yang, Procter & Gamble's Maria Shibaeva, the above-mentioned Richard Marginson (now the online marketing manager at Xplornet Communications) and Ghali himself, whose business card reads founder and head of client strategy at Green Lotus, among others.
Asked how he selects the recipient charities, Ghali explains: "We basically work with whoever believes in us and wants to support us and feels as excited about this as we do.
"YWCA hosted the first event. We were introduced to Big Brothers Big Sisters because the events manager used to work at YWCA and it went from there. Because this is a community project and we want it to be run by the community, we are in the process of staging a Facebook contest where people can vote for their favorite charity."
Ghali continues: "We signed a partnership with Ryerson University and they are providing us with a venue for free which is the biggest issue for any fundraising event. Plus we have a small army of students at Ryerson who actually run [event benefactor] Project Pathway through their Enactus worldwide co-curricular program, so they are helping with all sorts of logistical things."
Ghali confirms that he draws no salary from the event and while he has considered expanding Donate & Learn into other cities, "It's really tough. Unless we find a company that believes in us and sees the future of it and can help fund it, we would not be able to.
"The idea is there, the passion if there, the team is there but budget is a major issue. And Green Lotus always pitches in with the media, the catering… we always end up paying anywhere between $2,000 to $5,000 per event just to get it up and running."
That a social media marketing expert could successfully execute an event based on online strategy shouldn't be a complete surprise. Still, Ghali demurs on the proficiency point, preferring instead to aim the spotlight back at the community.
"The main question in making this fly was, 'What's the double benefit?' If you ask someone to donate $20 for a great cause, most people would say yes. But if you want them to leave their homes and come to an event, you have to figure out what's in it for them.
"So with expert speakers from GoDaddy, Microsoft, Google, TekSavvy and the value of that information combined with the right noise we make on social media, I think all of these factors combine to make a successful fundraising event. But it would not happen without the support of the people.
"No matter how smart or expert we are, we are operating on a tiny budget. We couldn't do it without community support."
Air Jordan 1 Retro High OG "Board of Governors" White/Black-Royal Blue