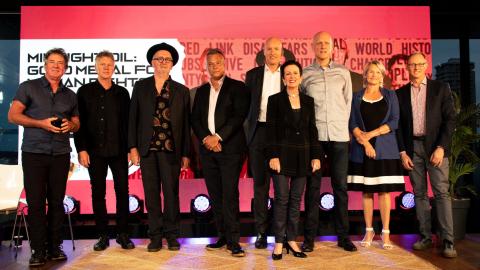 Australian activist rock band Midnight Oil is supporting its 12th studio album, The Makarrata Project, with February and March performances in its homeland with First Nations Collaborators. The band's share of the proceeds from the album's sale goes to organizations seeking to elevate 2017's Uluru Statement From The Heart, and Sony Music Entertainment Australia has pledged to match the artist donation.
The legendary band, fronted by former politician Peter Garrett (read Samaritan's 2017 interview), is able to hit the stage again because Australia has imposed major lockdowns and taken measures to avoid the spread of COVID-19. It has one of the lowest infection rates in the world. There have been less than 29,000 cases and 909 deaths since the pandemic began in the country of 25.79 million people, and there are currently less than 50 active cases. This has enabled concert promoters to once again start presenting shows at venues with reduced capacities and with appropriate safety policies in place.
The Makarrata Project, Midnight Oil's first album of new material since 2002's Capricornia and its first to top the sales chart in the band's home country since 1990's Blue Sky Mining, was released on Oct. 30.  The Uluru Statement From The Heart calls for the establishment of a First Nations voice enshrined in the Australian constitution and the establishment of a Makarrata Commission to supervise agreement-making and truth-telling between governments and Aboriginal and Torres Strait Islander peoples. The full statement can be read here.
As part of preparations for the WOMADelaide world premiere of "Makarrata Live," Midnight Oil and First Nations vocalists Dan Sultan, Alice Skye, Troy Cassar-Daley, Tasman Keith and Leah Flanagan will perform a warm-up show on Feb. 25 at the Enmore Theatre in Sydney.
Midnight Oil will perform The Makarrata Project as well as other songs from its catalogue that deal with reconciliation at its shows.
The performances will be without longtime Midnight Oil bassist and backing vocalist Bones Hillman, who passed away on Nov. 7 at age 62 after a battle with cancer. Hillman joined the band in 1987 and contributed to The Makarrata Project. Sydney bassist Adam Ventoura will perform in Hillman's place.
Here are Midnight Oil's upcoming Australian performance dates:
Feb. 25 at the Enmore Theatre in Sydney
Feb. 28 at Sirromet Wines in Mount Cotton
March 6 at WOMADelaide in Adelaide
March 8 at WOMADelaide in Adelaide
March 13 at Hope Estate in Hunter Valley
March 17 at Stage 88 in Canberra
March 20 at Mt. Duneed Estate in Geelong