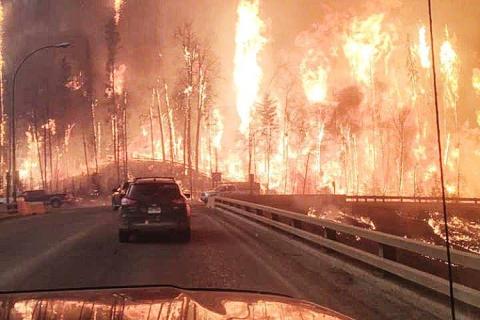 The Canadian Red Cross, the SPCA , Salvation Army and many others are taking donations to help residents, and animals, in Ft. McMurray Alberta forced to flea from a raging wildfire.
With more than 1,600 buildings destroyed and 88,000 people evacuated, the federal, provincial and municipal governments, emergency help organizations, corporations and ordinary citizens have started efforts to aid the homeless and displaced.
The Canadian Red Cross is encouraging people to send funds, rather than clothing or supplies. The organization is accepting donations at its website for the Alberta Fires Appeal and you can also directly donate $5 by texting the word "REDCROSS" to 30333 or $10 to 45678. The Government of Alberta will the match the redcross.ca donations.
The Salvation Army tweeted "Our CRU, volunteers, and food truck have all left on their way to help in Ft McMurray. ‪#ymmfire."
At a liberal caucus meeting in Ottawa Wednesday morning, Prime Minister Justin Trudeau said, "Canada is a country where we look out for our neighbours and we are there for each other in difficult times. And certainly in Fort McMurray, the difficult times they are going through right now is something that we are going to unite around."
The immediate response from the federal government came in the form of military aid — air transportation for aid workers and firefighters, search and rescue helicopters to scour the area for survivors and possibly troops to help secure and clean up the devastated city.
There are many other initiatives being created across the country to provide information, help and support for the fire's victims.  A search on Twitter uncovers many drives, including drop-offs at a U-Haul in North Vancouver Thursday (May 5) of "diapers, toiletries and non perishables."
TD Bank is donating $100,000 and "deploying a Fort McMurray TD Helps program to make advice and assistance available to personal banking customers in need, including such options as deferrals on payments, relief on fees and providing flexible credit options where needed," a press release states. "TD Insurance is also moving quickly to assist our insurance customers who have been affected by the fire, and will be providing on-the-ground assistance through its Mobile Response Unit at the Northlands Reception Centre (7515-118 Avenue N.W., Edmonton, Alberta) later this afternoon."
"Along with the rest of the country, we are deeply saddened by the continuing devastation caused by the wildfire in Fort McMurray," said Brian Gervais, senior vice-president, community banking, Prairie Region, TD Canada Trust, in a statement.  "TD is here to help - with a donation to the Canadian Red Cross to provide emergency assistance and through our TD Helps program to provide advice and assistance to our customers."
Aeroplan has donated one million Aeroplan Miles to the Canadian Red Cross to support the emergency appeal for the Alberta Fires and is asking its members to donate miles too through the loyalty program's website or Beyond Miles program to offset air travel costs, hotel accommodations and car rentals.
On a Facebook page, entitled Meanwhile in Canada, with photos of the fire and how to help, one poster shared these pieces of advice from Angelina McConnell:
Worth a read before donating! "Hey all! I just wanted to put it out there for all those wanting to help the victims of the ‪#ymm fire. A group of people including myself coordination major donations from across Alberta, BC and Saskatchewan during the Slave Lake fire crisis. Some lessons to pass on for all those wanting to donate things...
1. Only donate brand new or very, very gently used items. Countless volunteer hours were wasted on disgusting, old and crap donations.
2. Before organizing a donation drive, ask or pop into the evacuation centre nearest you to see what is needed. Most important items are generally water, toiletries, bedding/blankets, non-perishable food and snacks - the essentials. Ask if you can volunteer at these centres, they may need manpower help more than anything.
3. Despite what you hear, the Red Cross does not provide donations to people, that all lands on the evacuation centres and municipality, so please be aware of this before donating money and also coordinating donation drives because this will strain their resources.
4. Speaking of the Red Cross, before donating ensure the money is not going into a general fund and is sticking to the area effected. I ran into this and questioned their donations during the fire, and only then did they designate the funds to the victims. Just remember, this money is to support their assistance and vouchers for some things needed to support evacuees, but the money you are giving does not just get passed onto the victims of the fire.
5. If you are concerned about where money donated is going, hold off on donating until there is more information available from the municipality on how to directly support victims. Some charities may have lost buildings in this fire and you may want to donate to them to re-build their buildings, support their efforts, etc."
Brianne Lechelt posted a link to help animals:
"Fort McMurray Fire Emergency Animal Assistance for animal support, information and updates on the #ymmfires. If you are able to help by opening your home to animals in need (if necessary) - please fill out this form so we can gather the information in case further assistance is required."
Nike Air Force 1 "Just Do It" White/Black-Total Orange For Sale