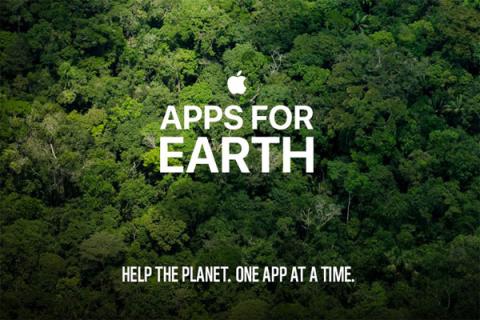 You now have an even better reason to feed your Angry Birds or Candy Crush addiction.
Technology giant Apple has announced it's teaming up with 24 high-profile app developers for the Apps For Earth promotional campaign to raise funds for environmental conservation organization World Wildlife Fund (WWF).
What that means is between now and April 24 100 per cent of the proceeds from participating apps and in-app purchases will be donated towards the WWF. Some of the high-profile apps that are part of the promotion include Angry Birds 2, Candy Crush Soda Saga, Kendall and Kylie, Map My Run+, Marvel Contest of Champions and Star Wars: Galaxy of Heroes.
You can help protect our planet — simply by purchasing great apps and games. The App Store and WWF have teamed up with 24 developers for Apps for Earth, a fundraising effort that features games, creative tools, fitness apps, and more. Until April 24, 100% of proceeds from participating apps and In-App Purchases will support WWF's invaluable conservation efforts.
Additionally, the WWF is encouraging the download of its own app, WWF Together, in which users can virtually experience things like "tiger vision," flap one's wings like a migrating butterfly, and chopping bamboo for a panda. For an additional $2.79 one can purchase WWF's "Planet Earth Story." With all the proceeds from Planet Earth Story also going to funding the organization's work, users will get access to 16 separate stories of amazing animals, experience a 360-panoramic image of Earth from space on iPhone, and get to play with play with digital water.
The WWF's stated goal is to protect the future of nature and to "stop the degradation of the planet's natural environment and to build a future in which humans live in harmony with nature." The organization supports programs around the world that contribute to six key areas of protection: forests, marine, freshwater, wildlife, food and climate. Founded in 1961, much of the WWF's work involving protecting species like the giant panda, the sea turtle and the plains bison, and protecting "priority places" such as the Amazon, the Chihuahuan Desert and the Coral Triangle.
Apple has been aggressive in improving its environmental footprint in recent years. Besides initiatives like Apps For Earth, the company has established goals to use 100 per cent renewable energy, eliminate toxic elements from their products, and established recycling programs for its old products.
More info on Apps For Earth can be found in the App Store.
Air Max 270 Men