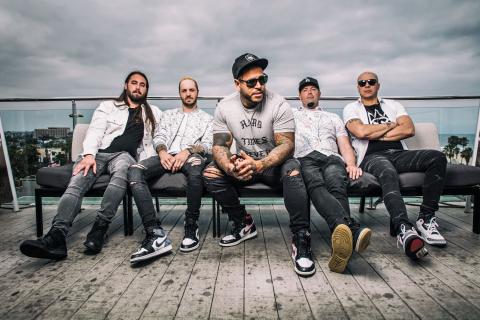 Bad Wolves' new single, "Sober," from the album, N.A.T.I.O.N, appears in the indie movie Sno Babies, about two suburban opiate-addicted teenage girls, and, as part of the rollout, the Los Angeles metal band has teamed with the Global Recovery Initiatives (GRI), a national funder of support services for people in early recovery from substance use. The film is out in June.
Bad Wolves will use the "Sober" video's release to help raise awareness of GRI's efforts to provide access to recovery support services as it looks to raise funds to put a thousand AmeriCorps reovery workers in the field. AmeriCorps, a network of service programs in the U.S., is comprised of volunteers who "address critical community needs like increasing academic achievement, mentoring youth, fighting poverty, sustaining national parks [and] preparing for disasters." The organization is setting up Recovery Corps to support long-term recovery efforts.
On its website, GRI points to support for programs that lower substance reuse rates,  erase the stigma around substance use disorders and foster greater access to services for people in recovery. Aportion of the proceeds from the sale of the Sno Babies soundtrack will help fund the AmeriCorps initiative. 
For Bad Wolves lead singer Tommy Vext, the Sober single and Sno Babies soundtrack tie-in aligns the rock band's aims with those of GRI.
"This song was a unique opportunity to talk about addiction not only from the perspective of the addict but also from the perspective of their loved ones," says lVext in a statement. "The message is very different from traditional songs that seem to always perpetuate a mentality of self-victimization which is exactly the kind of misguided thinking that perpetuates the mental obsessive side of alcoholism and addiction.  In the end the moral of the story is about holding on to not giving up on ourselves or the people who are trying - who are really, really trying to make and better themselves." 
Added GRI's Board Chair Pam Cytron:"Tommy's candor is a brave and powerful demonstration of what the successful road to recovery can look like.  We are excited to partner with Bad Wolves and spread that hope to others— because we know for the 21 million people in recovery in the U.S, the benefits are immeasurable."
Global Recovery Initiatives Foundation had "strong success" from a pilot program, which paired full time staff with existing, local non-profit organizations to deliver one-to-one recovery coaching, housing assistance, job training, continuing education and other needs as people in early recovery deal with families, work and communities as they re-enter the everyday world.
"Our initial goal is to engage corporate, foundation and individual major donors to raise $15 million dollars to match the public support it will take to deploy the first 1000 Recovery Corps members," GRI said on its website.
Sno Babies,  starring Michael Lombardi and new-comer Katie Kelly, refutes the 'not in my neighborhood' stigma of addiction and spotlights substance use disorders.
Bad Wolves also has an Indiegogo campaign to benefit Rock To Recovery. Items offered include signed and limited-edition merchandise and exclusive access at Bad Wolves show, once the band resumes touring following the coronavirus pandemic. Rock To Recovery aims to transform the lives of veterans, youth, and those working to overcome addiction, eating disorders and a variety of mental health issues via the powerful, healing, spiritual experience of creating and playing music.
Air Jordan 1 Retro High OG "UNC Patent" Obsidian/Blue Chill-White For Sale