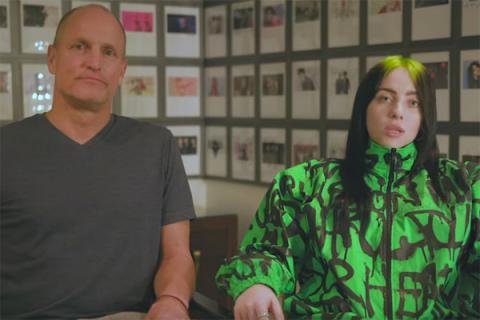 Rising pop star Billie Eilish and veteran actor Woody Harrelson have teamed up to create a climate emergency video encouraging people to support environmental organization Greenpeace and the youth climate movement Fridays For Future.
Titled "Our House Is On Fire," the pair's video was released on Eilish's YouTube channel on Sept. 28, a day after the Global Climate Strike which saw an estimated seven million young people around the world walk out of school to take part in a climate crisis protest.
In the video Eilish and Harrelson take turns trading lines about various ongoing environmental catastrophes and how to combat them. Thus far the video has received more than 3.6 million views.
Below is a transcript of the conversation between the two:
Billie Eilish: Earth is warming up and our oceans are rising. Extreme weather is wrecking millions of lives
Woody Harrelson: From California to the Amazon our forests are burning. We are in a climate emergency.
BE: We cannot let this happen on our watch. Up to one million species are becoming extinct because of man's actions and time is running out.
WH: History shows us that when enough people rise up and demand change those in power have no choice but to act.
BE: Millions of people around the world are taking to the streets on a climate strike, demanding our leaders listen to the science and act.
WH: We must take back power. That means voting for leaders who care about the future of our planet. Join in supporting environmental movements like Greenpeace or Fridays For Future, a global youth movement inspired by Greta Thunberg.
BE: And doing what we can to live a greener lifestyle, like cutting out meat or dairy from your diet and reducing plastic use.
WH: Above all, keeping yourself informed and making your voice count.
BE: If like us you love planet Earth, follow organizations like Greenpeace and Fridays For Future and be part of protecting it.
WH: After all, it's the only home we will ever have.
Watch Billie Eilish's "Our House Is On Fire" message
nike acg red edging zone shoes for adults