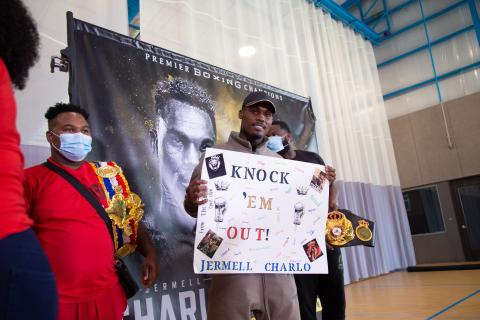 Unified super welterweight world champion boxer Jermell Charlo visited the Boys & Girls Club of San Antonio, Texas on July 14 to offer words of inspiration and give tickets to kids in attendance for his undisputed 154-pound championship fight against Brian Castaño on July 17.
Charlo, a Houston, Texas native, related his experiences growing up and stressed the importance of giving back to the more than 25 children he met before inviting them to the fight, which will air live on Showtime from San Antonio's AT&T Center.
"It's super important to come out here for the children," Charlo said in a media release. "I was once in their shoes. These kids come from a lot of different backgrounds and I'm here to inspire them to keep going for their dreams.
 
"Once I started going to the boxing gym, I was able to meet people like Evander Holyfield, which was really inspiring for me and helped me get to where I am today.
 
"It's a big thing to be able to help inspire kids to stay off the streets or inspire them to want to work harder. I hope that they just continue to try to become someone.
 
"You could see the happiness inside their hearts that they're going to be at the fights Saturday. That's what it's all about. You never know, going to a live event like Saturday could inspire one of them to become a boxer and feed their family that way.
 
"It's a beautiful thing to be here with the children and see the smiles on their faces. We've been through so much the last year, so it's great to see kids who want to be inspired and do more for themselves."
Boys & Girls Clubs of San Antonio encompasses six clubs and 37 after-school sites meant to keep kids safe after school by providing a positive environment where they can learn, play and grow. Membership focuses on academic success, healthy lifestyles, character and leadership.
In the school districts Boys & Girls Clubs of San Antonio serves, 72 per cent of the students are at risk of dropping out of school and 40 per cent are living in poverty. All club members are on track to graduate from high school with a plan for the future.
Boys & Girls Clubs of San Antonio chief executive officer Andre Ginnane joined Charlo at the event and also addressed the kids.
"The Boys & Girls Clubs of San Antonio has a 81 year history serving at-risk youth in the communities that we serve around Bexar County," Ginnane said in the release. "Years ago, we had boxing rings in two of our Clubhouses, Eastside and Calderone.
"Boxing was one of the activities we were known for. Since that time we have shifted our focus and introduced several other sports, including flag football, swimming, basketball, and baseball.
"Additionally, the programs we offer focus on education, character development, and living a healthy lifestyle. We are thrilled Jermell Charlo came to visit us, and inspire our Club Kids to keep striving to be the best they can be!"
Boys & Girls Clubs of America is a national organization of local chapters that provides voluntary after-school programs for young people. It was founded in 1860 in Hartford, Conn. and is now headquartered in Atlanta, Ga.
Charlo is the World Boxing Council, World Boxing Association and International Boxing Federation champion in the super welterweight category while Castaño is the World Boxing Organization champ. The winner of Saturday's bout will have the right to wear all four championship belts for the weight class.