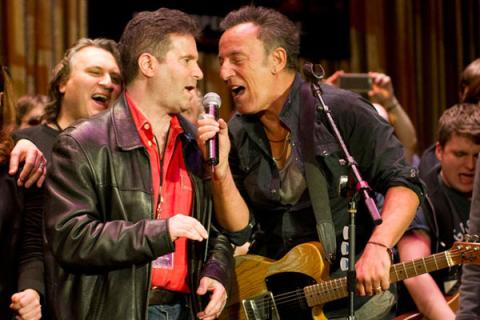 The Bruce Springsteen-connected Light Of Day Foundation (LOD) will be using December and January to put on a number of concerts across Europe and in the New Jersey and New York areas, all with the goal of raising funds for Parkinson's disease research.
Formed in 2000 and named after a Springsteen song, the Light Of Day Foundation originally came about when music industry veteran Bob Benjamin was diagnosed with Parkinson's disease, the degenerative disorder of the central nervous system. At his 40th birthday Benjamin asked that in lieu of presents money instead be donated to the Parkinson's Foundation. After raising $2,000 Benjamin, concert promoter Tony Pallagrosi and musician Joe D'Urso to do more fundraising events. In the 18 years since then LOD has put on concerts in numerous countries, raising more than $5 million USD ($6.62 million CAD) towards Parkinson's research.
Performers at Light of Day have included Springsteen (numerous appearances), Michael J. Fox, John Rzeznik (Goo Goo Dolls), Ed Kowalczyk (Live), Darlene Love, Southside Johnny, Jesse Malin, Alejandro Escovedo, Willie Nile, Garland Jeffreys, Jakob Dylan, Lucinda Williams, Badly Drawn Boy, Pete Yorn, Gary US Bonds, and Stone Caravan, John Eddie and many more local unsigned artists.
The next round of LOD shows will take place mostly in December throughout Europe, including 17 dates in Ireland, England, Germany, Sweden, Italy, Scotland, Belgium, Switzerland, Liechtenstein, Norway and Denmark. The European run will feature a cast of musical veterans including D'Urso, blues musician Guy Davis, Conor Oberst associate Anthony D'Amato, Jeffrey Gaines, Rob Dye and former E Street Band drummer Vini "Mad Dog" Lopez. Past LOD performers have included  Greg Kihn, Albert Lee and Garland Jeffreys.

After the European run is the annual LOD Winterfest series of shows, 10 dates which will happen throughout the states of New Jersey and New York in January. In the past Springsteen himself has made surprise appearances at these shows.

The Light Of Day Foundation gives the funds it raises to a number of Parkinson's-related causes in addition to the Parkinson's Foundation, Michael J. Fox Foundation, CurePSP, the Parkinson's Unity Walk and the New Jersey area's Joan Dancy & PALS.
Additionally, LOD has started funding an initiative called Come Out In The Light Of Day which provides educational support for those newly diagnosed with Parkinson's.

Light Of Day Europe dates:
Nov. 29 Dublin, Ireland - LOD Ireland
Nov. 30 Lochwinnoch, Scotland - LOD Scotland
Dec. 1 Leicester, England - LOD England
Dec. 2 London England - LOD London
Dec. 3 Zurich, Switzerland - LOD Switzerland
Dec. 4 Fürstentum, Liechtenstein - LOD Liechtestein
Dec. 6 Lugano, Switzerland - LOD Lugano
Dec. 7 Muggia, Italy - LOD Trieste
Dec. 8 Lugo, Italy - LOD Lugo
Dec. 9 Figino Serenza, Italy - LOD Como
Dec. 11 Edegum, Belgium - LOD Belgium
Dec. 12 Melle, Germany - LOD Germany
Dec. 13 Sarpsborg, Norway - LOD Norway
Dec. 14 Jonkoping, Sweden - LOD Jonkoping
Dec. 15 Copenhagen, Denmark - LOD Denmark
Dec. 16 Malmo, Sweden - LOD Malmo
Dec. 17 Dorphof, Germany - LOD Dorphof
Light Of Day Winterfest dates:
Jan. 11 Montclair, NJ - LOD North Jersey
Jan. 12 Philadelphia, PA - LOD Philadelphia
Jan. 13 Stony Point, NY - LOD Rockland
Jan. 13 Asbury Park, NJ - LOD Cover Me
Jan. 15 Staten Island, NY - LOD Staten Island (tentative)
Jan. 16 New York, NY - LOD NYC
Jan. 17 Asbury Park, NJ - LOD Winterfest
Jan. 18 Asbury Park, NJ - LOD Winterfest
Jan. 19  Asbury Park, NJ - LOD Winterfest
Jan. 20 Asbury Park, NJ - LOD Winterfest
Jan. 21 Asbury Park, NJ - LOD Winterfest Wrapup Brunch
(Please support Samaritanmag's original journalism by making a PayPal contribution or EMT transfer using  info@samaritanmag.com so we can increase the amount of content and writers we hire. Samaritanmag is the anti-tabloid, covering good people trying to change bad things. Let's make this thing bigger than TMZ.)
Air Jordan 1