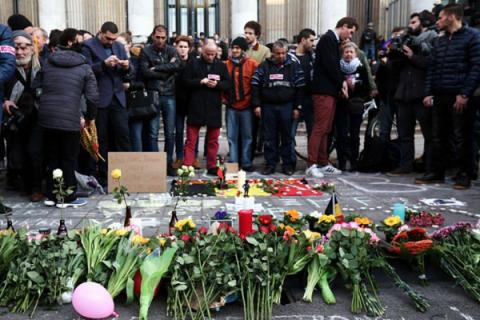 Major crowdfunding site GoFundMe has launched a campaign to support Brussels, Belgium in the wake of the terrorist bomb attacks that shook the city yesterday.
The company has just announced the Brussels Terror Attack Victims Fund, a crowdfunding campaign to collect money for Brussels victims that will eventually be transferred an official victim-focused charity once one has been established. To jumpstart the fund GoFundMe has donated $25,000 (USD) to the cause. In the 18 hours the campaign has been live donations are already up to $36,850 (USD) from 441 separate donors.
Through three coordinated bomb attacks — two at Brussels Airport in Zaventem and one at Maelbeek/Maalbeek metro station — 31 people were killed and 271 injured yesterday in Brussels. Terrorist organization ISIL (Islamic State of Iraq and the Levant) has claimed responsibility for the three suicide bombers who launched the attacks.
"To support the people of Brussels during this incredibly frightening and difficult time, GoFundMe has created this campaign to raise funds for the victims and their families," the GoFundMe team wrote on the Brussels Terror Attack Victims Fund campaign page. "We will be donating all of our fees and making a contribution of $25,000. Once an official charity for the victims has been established, we will transfer all funds there.
"Our hearts go out to everyone affected by these senseless acts of violence, and we are standing with you in solidarity. #PrayForBrussels"
GoFundMe bills itself the number one fundraising site for personal causes and life-events. Last year the company raised more than $2 billion for various causes and works with major charitable organizations like Red Cross, Goodwill Industries, Make-A-Wish Foundation and Oxfam.
A number of donors have left messages of support on the campaign page.
"My heart goes out to the victims of this terrible hate crime. I can't even begin to imagine the pain and suffering they are going through. The Go Fund Me team is amazing to give such a generous donation to such a good cause. Kudos to you," said donor Karen Bruno.
"I feel for all those families that lost their loved ones and my condolences to everyone who died in the Brussels terror attacks and I hope my contribution will help," added another donor, Cheryll Mercado. "I don't know anyone who got killed or injured I just want to help."
To donate go here.
Women Nike cool nike high tops for boys boots women CK3172-002