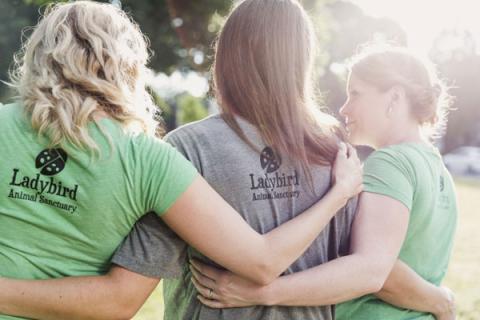 Bryan Adams, Sarah McLachlan, Jim Cuddy and numerous other Canadian music stars will be performing in virtual charity concert to support the launch of the Ladybird Animal Sanctuary's "Help Build The Farm" campaign.
The Help Build The Farm will take place on Giving Tuesday, December 1 and will be broadcast via Facebook Live.
Other high-profile acts scheduled to appear include Barenaked Ladies' Ed Robertson, Jann Arden, Joel Plaskett, Whitehorse, Sloan's Chris Murphy, Terra Lightfoot, Danny Michel, Shakura S'aida, and Jill Barber. Proceeds from the virtual concert will go towards the Ladybird Animal Sanctuary's plan to purchase and build a farm sanctuary for animals in need.
The Help Build The Farm event will be split into two halves, with Murphy, Plaskett, Whitehorse, Barber, S'aida, Michel, Lightfoot and a number of others performing as part of a free, all-access event. A registration-required VIP backstage event will feature Adams, McLachlan, Robertson, Cuddy and Arden and will be accessible to Ladybird monthly donor members.
Created in 2010 by the "Ladybirds" — the well-connected Southern Ontario-based musicians Lisa Winn, Whitehorse's Melissa McClelland and Janine Stoll who also double as a musical act of the same name — the volunteer-led registered charity Ladybird Animal Sanctuary has built a network of more than 30 volunteer foster homes around the Hamilton, Ontario region with the purpose of rescuing domestic animals like cats and dogs from shelters. According to Ladybird, they've rescued 1,193 animals from high-volume shelters since they began. 
Now, Ladybird intends to build its own physical sanctuary.
"With humble beginnings as an adoption and foster network based in Hamilton, Ontario, Ladybird is now ready to meet the next BIG challenge to fulfill the original BIG dream," said a statement on the Ladybird website. "Ladybird is working towards acquiring a property to host Ladybird Animal Sanctuary. Now is the time to look to the future and create a Ladybird run, safe haven for animals in need. Help Ladybird make the dream come true for all of these deserving animals. Help Ladybird build a dream sanctuary!"
The proposed farm property aims to grow Ladybird's animal rescue operations, which includes adoption and fostering programs in addition to offering and environmentally sustainable, local community-focused art and fitness programs as well as local events.
Watch a trailer for the Help Build The Farm virtual concert
Air Jordan 1 Retro High OG "UNC Patent" Obsidian/Blue Chill-White For Sale