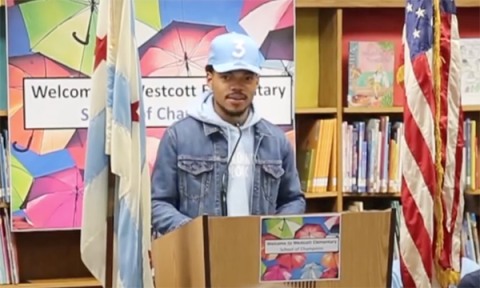 An impressive gesture by Chance the Rapper may change the way people think about the notoriously extravagant spending habits of hip-hop stars. The 23-year-old American musician and songwriter —  whose acclaimed third mixtape Coloring Book recently made headlines as the first streaming-only album ever to win a Grammy for Best Rap Album — this week donated $1 million to the Chicago public school system (CPS).
This came after the rapper born as Chancelor Bennett, himself a product of Illinois public schooling, had what he described as a disappointing meeting with state governor Bruce Rauner to discuss recently announced cuts to school funding.
Education, Chance the Rapper said at a press conference held yesterday at the Westcott Elementary School on Chicago's South Side, is just too important to be left to the whims of politics. In an at times blistering address, Chance the Rapper condemned Rauner's actions which he claims are at the expense of schoolchildren.
"Friday I met with Governor Rauner and urged him to do his job and to honour his commitment to put $215 million towards CPS so our kids can finish the year strong. Governor Rauner can use his executive power to give children the resources they need to fulfil their God-given right to learn.
"The governor gave me a lot of vague answers in our meeting and since had called me. Our talks were unsuccessful. Governor Rauner still won't commit to giving Chicago kids a chance without caveats or ultimatums. This time last year, state legislators and Governor Rauner reached an important compromise on behalf of Chicago Public schools and the students across the state... But Governor Rauner broke his promise to Chicago's children a few months ago by vetoing the $215 million that Chicago schools were counting on to close out the school year."
As CNN reports, Chance the Rapper's announcement came as the governor's staff was looking for its own solution to the $215 million deficit. "A couple of options were outlined in a memo sent Monday to Rauner's chief of staff. One involved asking Mayor Rahm Emanuel to transfer $215 million in Tax Increment Financing dollars."
CNN continues: "The other choice was to add the school district's request to SB16, a bill involving state employee pension packages making its way through the state Senate. When asked about the steps the governor has taken, Chance said it was Rauner's responsibility to ensure children of Chicago receive a quality education.
"I want them to fund CPS," Chance said during the press conference, which was widely circulated on YouTube. "It's not my job to propose any policy or be behind anything other than the kids."
In addition to the $1 million, Chance announced that for every $100,000 raised, SocialWorks — a non-profit organization the rapper co-founded — would donate $10,000, starting with Westcott Elementary School.
Indeed, the SocialWorks website links to an article in the Chicago Tribune citing Illinois as having the most unfair school funding system in the U.S. with the state's school districts having the greatest number of students living in poverty. Yet the city receives 20 percent less state and local money than their more affluent counterparts, according to a study by The Education Trust, a non-profit described as "fierce advocates for the high academic achievement of all students – particularly those of color or living in poverty."
So the fight continues.
"I am honoured to make this donation to help cultivate creative Chicago minds," Chance the Rapper said at the presser. "I am excited to share that this donation was made possible by my fans. Through ticket sales for my upcoming tour [made with the cooperation of competing companies] we were able to make this donation to CPS."
Air Jordan 1 Retro High OG 'Chicago' White and Black-Varsity Red For Sale