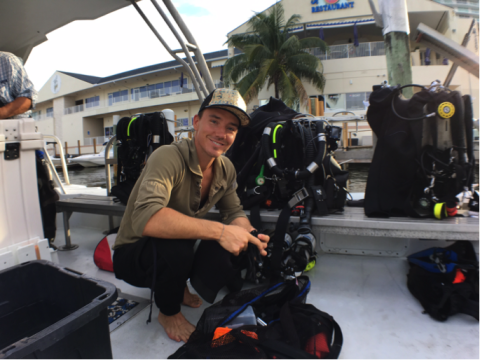 If you have never seen Sharkwater, the impactful 2006 documentary by the late Rob Stewart about the illegal killing of sharks and their importance to the environment — or you'd just like to see it on the big screen — Cineplex will be showing the film at 17 theatres nationwide for free, on Saturday, Feb. 25, but are encouraging donations to the World Wildlife Fund (WWF) Canada.
The Toronto-born shark crusader, conservationist, photographer and filmmaker died circa Jan. 31 scuba diving in Alligator Reef in the Florida Keys, where he was working on his next film, Sharkwater: Extinction. He was 37. 
While Stewart also supported Fin Free "to end the trade of shark fins and shark products" and the slaughter of 70 million sharks per year,  WWF Canada was selected at the request of the Stewart family, according to the publicist at Cineplex. WWF-Canada will hold the proceeds in a fund to help carry on Stewart's conservation work. A tax receipt will be issued for online donations.
"Rob Stewart accomplished so much in his life, but there's still more to do," it reads on the dedicated WWF page. "To honour Rob's memory, the Stewart family is collecting donations through WWF-Canada in order to continue his conservation work.
"Rob cherished ocean wildlife and inspired others to do the same. Born in Toronto, he started taking underwater photographs at age 13, a skill he turned into a career as a wildlife photojournalist and filmmaker. His critically acclaimed documentary Sharkwater (2006), about how the global demand for shark fins drives species to extinction, won dozens of awards and created mass awareness and action for shark conservation."
Sharkwater premiered at the Toronto International Film Festival (TIFF) in 2006 and had the largest opening weekend at the box office of any Canadian documentary. It went on to win some 40 awards and helped implement government policies around the world banning shark finning.
His second film, Revolution, also premiered at TIFF in 2012, for which he travelled to 15 countries to address environmental change and ecological collapse and what people are doing to help. It won close to 20 awards.
The free Sharkwater tickets will be available at the Cineplex box office of participating theatres "in exchange for a donation to WWF-Canada," according to the release. No minimum amount is specified.
"Rob Stewart was not only an inspirational activist and conservationist, but also an integral and outstanding member of the Canadian film community,"  Michael Kennedy, executive vice-president, filmed entertainment, Cineplex, said in a press statement.  "We are honoured to pay tribute to his career and work as well as raise awareness for this important cause that was most dear to him."
Sharkwater - A Tribute to Rob Stewart events will be hosted at the following Cineplex theatres on Feb. 25:
British Columbia
The Park Theatre (Vancouver)
Galaxy Cinemas Nanaimo
SilverCity Victoria Cinemas 
Alberta
Cineplex Odeon Eau Claire Market Cinemas (Calgary)
Cineplex Odeon South Edmonton Cinemas
Manitoba
Scotiabank Theatre Winnipeg 
Ontario
Scotiabank Theatre Ottawa
Cineplex Cinemas Empress Walk (Toronto)
Cineplex Cinemas Yonge-Dundas and VIP (Toronto)
Cineplex Cinemas Winston Churchill (Oakville)
SilverCity Hamilton Mountain Cinemas
SIlverCity London Cinemas
SilverCity Windsor Cinemas 
Québec
Cineplex Cinemas Forum (Montreal)
Atlantic Canada
Cineplex Cinemas Park Lane (Halifax)
Cineplex Cinemas Charlottetown
Scotiabank Theatre St. John's 
Nike