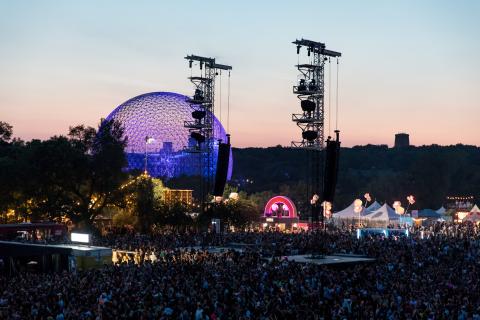 Concert promoter Evenko is stepping up efforts to reduce plastic and other waste that piles up at its music festivals at Parc Jean Drapeau in Montreal, like Osheaga, which kicks off tomorrow (Aug.2), as well as Heavy Montreal, IleSoniq and 77 Montreal, which have been and gone this summer.
In 2018, Evenko banned the use of plastic straws and encouraged the use of reusable bottles to reduce waste from single-use plastic bottles at its festivals. This year, a partnership with National Bank will provide water stations so concert-goers can refill their reusable water bottles for free.
And a giant National Bank water truck filled with 31,500 litres of water will be on site at the 14th Osheaga Music and Arts Festival (Aug. 2 to 4), for that use. Another new National Bank installation will allow festival goers to bring their single-use plastic bottles to be ground up on the spot and turned into recycled polyester for sustainable t-shirts.
The Heavy Montreal festival ran from July 27-28, the Ile Soniq festival is set for August 9-10, and the 77 Montreal event took place on July 26.
The goal at Evenko is to eliminate the mountains of plastic and other solid waste that piles up at festivals and requires removal to landfill sites. "We are proud that our eco-responsible efforts have yielded results that have so far surpassed our goals, and we will continue to push in all the right directions to ensure a sustainable and enjoyable experience for all at all of our festivals," Jacques Aubé, executive vice president and COO of Evenko, said in a statement.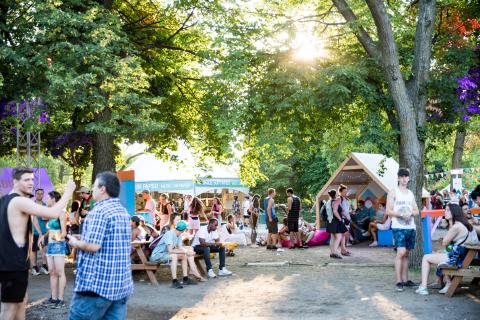 Encouraging environmental awareness is not the only aim of Evenko going green. 
The municipal body that runs Parc Jean-Drapeau is weighing its options with the Osheaga festival as it develops its latest 10-year plan, and Evenko is concerned its presence in the park could be scaled back.
So Evenko has launched a petition to garner public support for its musical festivals and to ensure the Osheaga festival can remain in Parc Jean-Drapeau.
That's especially so if festivals sell food and drink to concert-goers in traditional, disposable plastic cups, bottles and food containers, in addition to plastic cutlery.
The battle against single-use plastics comes in the wake of media reports of a giant plastic garbage patch in the Pacific Ocean, where plastic from everyday waste breaks down into tiny particles that are eaten by fish and enter our food chain.
Environmentalists have also raised the alarm on plastic waste destined for recycling that iinstead is shipped to Asia, where it rots as part of mountains of waste materials.
While stopping short of following other music promoters like Live Nation and Glastonbury in the UK and considering an eventual ban on the use of single-use plastics, Evenko is taking additional measures to produce far less waste at its festivals.
Evenko now stipulates food kiosks at its festivals must supply entirely recycled containers, cups and utensils, and the use of styrofoam is forbidden.
The concert promoter's efforts at waste management also include a sorting centre installed on a festival site to encourage recycling and composting.
Evenko is also encouraging the use of "eco-cups" in all bar services, and all hazardous materials is to be removed by a company specialised in environmental services.
And to reduce the use of cars to reach Île Ste-Hélène in Parc Jean-Drapeau., bike rack facilities for fest-goers have been increased.
Elsewhere, special bus and metro weekend fares are in effect for Osheaga attendees looking to use public transportation. 
Evenko going green also calls for giving priority to local partners and suppliers that have their own sustainability plans, offering vegan and vegetarian options at food.
(Please support Samaritanmag's original journalism by making a PayPal contribution or EMT transfer using  info@samaritanmag.com so we can increase the amount of content and writers we hire. Samaritanmag is the anti-tabloid, covering good people trying to change bad things. Let's make this thing bigger than TMZ.)
【国内12月1日発売予定】ナイキ エアジョーダン 4 レトロ SE "サシコ" ディープ オーシャン/セイル-セメント グレー-ファイヤー レッド (CW0898-400) - スニーカーウォーズ