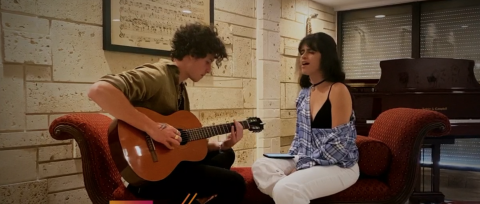 Amid the coronavirus crisis, major at-home fundraising concerts have taken place to raise funds for frontline workers, food security, and other related-issues arising from the the impact of the pandemic.
The online appearances by Elton John, Andrea Bocelli, Willie Nelson and others have provided much-needed funding to charities offering help to people facing financial hardship, and distracting fans social distancing in their own homes.
Though the online concerts are free, viewers are encouraged to donate to a range of causes and COVID-19 relief funds.
Andrea Bocelli's Music for Hope Concert (Italy)
Popular Italian tenor Andrea Bocelli on Easter Sunday (April 12) performed solo in a virtually empty Duomo Cathedral in Milan during a "Music for Hope" concert that livestreamed worldwide via YouTube. Besides offering a message of hope amid the pandemic, the classical music artist has been fund-raising via his Andrea Bocelli Foundation to donate medical equipment, and especially ventilators, to hospitals across Italy.
"We have already donated a lot: 4 respirators and a 30-bed ward. Yet we want to reach more and more wards to offer our help at this difficult time," the ABF said on its GoFundMe website page, which was launched on March 13 and as of April 22 had raised $393,702.52 on its way to a goal of $459,000.
The ABF itself gave $38,500 towards the COVID-19 relief fund.
Elton John-Hosted iHeart Living Room Concert For America (USA)
British pop star Elton John raised $10 million when he hosted the Fox and iHeart Media's "Living Room Concert for America" March 29 from his Los Angeles home, which included performances from Billie Eilish, Lizzo, Foo Fighters' Dave Grohl,  Green Day's Billie Joe Armstrong, Shawn Mendes and Camila Cabello, Backstreet Boys, and more.
The proceeds go to Feeding America —which distribute food and funds to a network local food banks across the U.S. — and First Responder's Children's Foundation, which provides support for first responders and their families as they face financial hardship due to the coronavirus outbreak. In Canada, viewers could donate to the Red Cross.
The First Responders Children's Foundation, created after the events of Sept. 11, 2001, in 2019 gave 44 college scholarships to the children of front line workers like police officers paramedics and firefighters that fell in the line of duty.
ACM Presents: Our Country (USA)
ACM Lifting Lives, the charity arm of the Academy of Country Music, on April 5 saw CBS airs ACM Presents: Our Country, a concert featuring country music stars performing from their homes and raising funds for the newly-launched ACM Lifting Lives COVID-19 Response Fund.
The event, including Keith Urban, Carrie Underwood, Blake Shelton, Gwen Stefani, Lady Antebellum, and Luke Bryan, replaced the ACM Awards, and raised $1 million as of April 10.
"The ACM Lifting Lives COVID-19 Response Fund was created to assist individuals working in the country music industry who are suffering a financial crisis as a result of the pandemic," Paul Barnabee, ACM Lifting Lives chairman, said in a statement.
One World: Together at Home Concert (USA)
The One World: Together At Home online concert staged by Global Citizen and the World Health Organization on April 18, hosted by Lady Gaga, and featuring such acts as Lady Gaga, Stevie Wonder, Billie Eilish, Lizzo, Alicia Keys, Keith Urban, Elton John, Paul McCartney and The Rolling Stones,  raised in all $127.9 million to support of health care workers in the global fight against the COVID-19 pandemic.
Of those funds, $55.1 million has been distributed to the  World Health Organization's COVID-19 Solidarity Response Fund, to help combat the coronavirus spread worldwide, while another $72.8 million has gone to local and regional responders. 
These include Education Cannot Wait, a global fund promoting education during wars or other protracted crisis; Americares, which provides protective supplies – masks, gowns, gloves and disinfectants – to health workers in COVID-19 global hot spots; Born This Way Foundation, co-founded by Lady Gaga and offering mental health resources to young people facing stigma and isolation; and CanadaHelps, is supporting a range of COVID-19 response efforts including CanadaHelps Healthcare and Hospitals Fund and CARE, which builds handwashing stations and soap and clean water to equip frontline workers with essential supplies in pandemic zones.
Global Citizen, based in New York City, works with non-governmental organizations to end extreme poverty worldwide by 2030.
At Home With Farm Aid (USA)
Willie Nelson on April 11 hosted At Home With Farm Aid, a virtual Farm Aid benefit concert to raise over $500,000 to support American family farmers and ranchers impacted by the COVID-19 crisis.
Featuring Nelson, Neil Young, John Mellencamp, Dave Matthews and Tim Reynolds, Bonnie Raitt, Luke Combs, Nathaniel Rateliff & The Night Sweats, and Margo Price, the proceeds are being targeted at creating emergency grants and recovery funds for rural farmers as Farm Aid for the first time goes virtual with a concert, rather than holding an in-person festival.
"The COVID-19 pandemic is creating extreme challenges and uncertainty for all of us. But, our essential food producers and workers are doing their part each day by growing the good food we need for every meal and making sure that it finds its way to our tables, the charity says on its website.
The proceeds will also help lobby for increased aid from the federal government for farmers, and support local, state and national farm organizations supporting farmers navigating the coronavirus crisis.
girls youth nike high tops shoes Light Smoke Grey