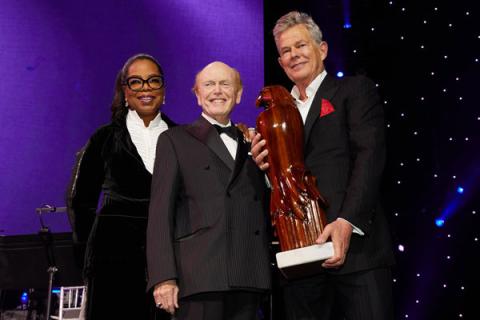 The David Foster Foundation raised $10.2 million to support needy families at the organization's 30th anniversary Miracle Gala & Concert held Oct. 21 at the Rogers Arena in Vancouver, B.C.
The Miracle Gala & Concert is the marquee fundraising event for the David Foster Foundation. The star-studded event featured A-list performances from Foster and Aerosmith's Steven Tyler; Jay Leno; The Tenors; Carly Rae Jepsen; Cee Lo Green; Matteo Bocelli, Laura Bretan and surprise guest Reba McEntire. Also in attendance were Oprah Winfrey and Dr. Phil. HLN's Michaela Pereira and CTV's Ben Mulroney hosted the evening. In recent years the David Foster Foundation has also hosted miracle concerts in Winnipeg (2016, raising $3.2 million) and Toronto (2015, raising $6.5 million).
Formed in 1986, Foster's charitable foundation financially supports families for all non-medical expenses while their children are undergoing lifesaving organ transplants.
An Officer of the Order of Canada, 50-time nominee and 16-time Grammy Award winner, Foster has worked with the likes of Michael Jackson, Diana Ross, Celine Dion, Aerosmith, Whitney Houston and Mariah Carey in his career as a hit-making music producer and songwriter.
This year's gala was used to present David Foster Foundation Visionary Awards to investor Jim Pattison and real estate leader Walter Schneider for their "extraordinary contributions to local, regional, and national humanitarian efforts." Pattison and Jim & Sandi Treliving each donated $1 million to Foster's foundation during the event.
"This year's recipients are two Canadian business icons who are committed to the improvement of the lives of Canadians from coast-to-coast," says Michael Ravenhill, CEO of the David Foster Foundation in a statement about the event. "We are incredibly honoured to welcome them to our 30th anniversary celebration, knowing that their long-term support of our Foundation, as well as countless other Canadian charities, has helped to shape the country as a whole."
Past recipients of the David Foster Foundation Visionary Awards have included Jim Treliving, who owns Boston Pizza, former NHL player and child advocate Sheldon Kennedy, and Simon Keith, Chair of the Simon Keith Foundation and one of the longest living heart transplant recipients in the world.
Watch Jayden Strattner-Brown's transplant story
Air Jordan Release Dates Calendar