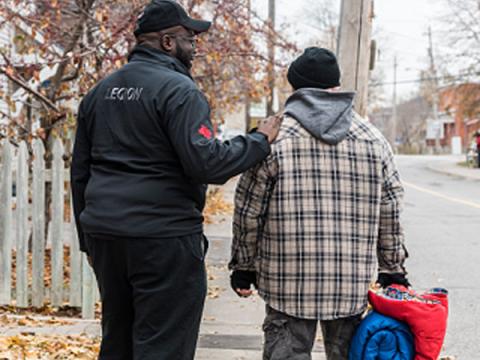 Wearing a bright red poppy in the lead-up to Remembrance Day on Nov. 11 has always been an important symbolic gesture for those in Commonwealth nations to remember the members of their armed forces who have died in the line of duty.
What may not be as immediately obvious, though, is the value wearing a poppy can have above and beyond its emblematic meaning. Wearing a poppy and, more specifically, donating to the Royal Canadian Legion's annual Poppy campaign when a person obtains a poppy, often results in direct support for the country's veterans, including its homeless servicepeople.
The Legion's "Leave The Streets Behind" campaign, which is funded by poppy donations, is the organization's national program to combat homelessness. The program's mission is simple — reach out to homeless veterans and those at-risk of homelessness and provide them with immediate financial assistance and support. The program also guides veterans towards social and community services all in the hopes of providing long-term solutions for them.
Some of the real, on-the-ground services the Legion provides in-need veterans includes items such as first and last month's rent, support for rental arrears as well as furnishings.
The Legion also works with support organizations such as VETS Canada and Soldiers Helping Soldiers on veteran outreach.
In a 2015 interview with Samaritanmag Tom Eagles, Dominion president for the Royal Canadian Legion, explained how money collected from poppies helps veterans.
"I'll just give you two or three examples," said Eagles. "If a veteran was in need, he was low income, and needed a roof on his house he would get a roof on his house. If the veteran needed a hearing aid, he'd get a hearing aid. If he needed heating oil, he'd get that. And that's what this money's entitled to.

"We have strict guidelines on the poppy trust fund because it's the public's money. It's not the Royal Canadian Legion's money, it's the public's money. And the Royal Canadian Legion manages it. We can't use that money to go into a branch to pay the light bill or the phone bill or the tax bill; that's not what the poppy money's for. The poppy money is for veterans and their families."
If you know veteran who is homeless or at-risk of homelessness, the Legion encourages reaching out to one of their service officers across the country so they can provide assistance.
Watch this Royal Canadian Legion veteran support video
Nike Air Mag Back To The Future Limited Edition Shoes Online Ptf84A, Price: $129.99 - Air Jordan Shoes