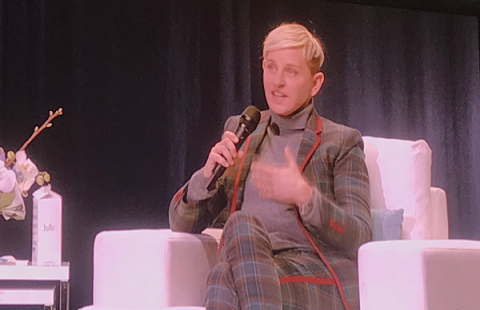 During "In Conversation with Ellen DeGeneres," at Toronto's Scotiabank Arena on Sunday evening (March 3), the talk show host and comedian gave an update on the Ellen Fund's work in Rwanda with the Dian Fossey Gorilla Fund.
"We finally are breaking ground to start building my campus in Rwanda. It's going to be built hopefully in the next two to three years," DeGeneres told interviewer Dave Kelly, adding later in a "rapid-fire" questions segment that if she wasn't in television she would've chosen a career in animal rescue.
In 2018, for her 60th birthday, DeGeneres' wife, actress Portia de Rossi, surprised her by creating the Ellen Fund to support "global conservation efforts for endangered species."
The first project is to build a permanent home for The Dian Fossey Gorilla Fund, aptly named The Ellen DeGeneres Campus of The Dian Fossey Fund.
The mountain gorilla is on The IUCN Red List of Threatened Species, but according to The Dian Fossey Gorilla Fund "the endangered gorilla species of great ape is increasing in number," due to the organization's integrated approach of "daily protection, scientific research, educating conservationists and helping communities."
From the late 60s to her murder in 1985, primatologist and conservationist Dian Fossey did revolutionary field work in Rwanda on the gorillas.  The 1988 movie Gorillas in the Mist, starring Sigourney Weaver as Fossey, is based on her book.
"The fact that I get to put my name next to Dian Fossey, which is something that Portia thought to do when she remembered 15 years ago when we got together [that] she asked what I would do if I didn't do this, and I said I would probably do something like what Dian Fossey did.
"I think a lot of people don't know who she is anymore," DeGeneres added. "But when I was a kid and I saw her on the cover of National Geographic with a baby gorilla and realized she lived in the mountains and studied gorillas, what an amazing woman she was to risk her life to do that — then Portia would put my name with hers and we're building this campus with the Dian Fossey Foundation [actual name Dian Fossey Gorilla Fund International]
"We had bought land and we're building the campus now and it'll be for tourism. It will be for scientists and students to come and study the continuation of protection and the mountain gorillas. "
DeGeneres, who received the Presidential Medal of Freedom from President Barack Obama in November 2016 — the highest honour awarded to a civilian, in recognition of extraordinary contributions to world peace, culture, or other national interests — also mentioned how Rwanda President Paul Kagame asked to meet with her and de Rossi.
"Rwanda is an amazing country. It is beautiful. It's clean, it's safe. The people are happy. President Kagame asked to meet with Portia and I. Most African countries, it's illegal to be gay. And here's a President asking to take a picture with two openly gay women. That sent an amazing message to all the other countries.
"What he's doing with that country after the genocide — the genocide didn't happen that long ago, and to have a million people slaughtered. There were less than a hundred gorillas left. They had killed all the gorillas — the people are happy and grateful and not angry. And we have two openly gay women building a campus and putting $10 million into that country [which] is going to change a lot of people's lives also."
(Please support Samaritanmag's original journalism by making a paypal contribution or EMT transfer using  info@samaritanmag.com so we can increase the amount of content and writers we hire. Samaritanmag is the anti-tabloid, covering good people trying to change bad things. Let's make this thing bigger than TMZ.)
تخفيضات