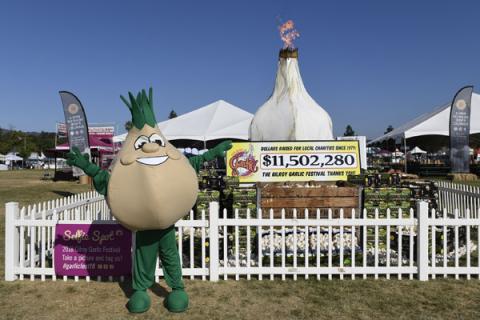 The  Gilroy Garlic Festival, at which three people were killed and 15 injured by a 19-year-old gunman on July 28 in California, is a tremendous supporter of local charities, donating millions over 40 years.
The long-running food festival is hosted in the "garlic capital of the world," Gilroy, CA, a small city of 50,000 near the city of San Jose. The annual multi-day summer festival attracts more than 80,000 people for its food-themed booths, celebrity chef appearances and concerts.
Since starting in 1979, the fest has donated an estimated $11.7 million USD ($15.39M CAD) to various charities.
In 2018 the fest paid out $255,000 USD ($335,405 CAD) to 170 charities and non-profit organizations. This massive list of recipients includes local schools, churches, libraries, youth athletic programs, health services and activities clubs. The festival has also created an endowment fund to manage the funds it receives and support local organizations "in perpetuity."
The festival says over 4,000 volunteer their time each year to support the event. The 2019 edition included appearances by Top Chef judge Tom Colicchio, Real Housewives star Teresa Giudice, MasterChef Season 9 Winner Gerron Hurt and musical act Colbie Caillat.
Six-year-old Stephen Romero, 13-year-old Keyla Salazar, and 25-year-old Trevor Irby were killed by shooter Santino William Legan, who was shot and killed by police.
"Gilroy is an amazing, tightly-knit community. We are family. We have had the wonderful opportunity in this community to celebrate our family through our Garlic Festival, and for over four decades that festival has been our annual family reunion. It's such a sad, just horribly upsetting circumstance that this happened on the third and final day of this year's festival," said Brian Bowe, executive director of the Gilroy Garlic Festival, in a press conference.
"We are heartbroken that senseless violence brought this year's festival to such a terrible and tragic end. We are truly grateful to the Gilroy Police Department, who responded immediately to prevent further loss of life, and to the hundreds of other first responders from regional and federal agencies who have provided additional support. We are also thankful for the thoughts and prayers and outpouring of support from people all over the world," added Shawn Keck, president of the 2019 Gilroy Garlic Festival.
Watch the history of the Gilroy Garlic Festival
2020 Frame Skate x Nike SB Dunk Low "Habibi" Chile Red/White-Lucky Green-Black CT2550-600 – With Sneaker