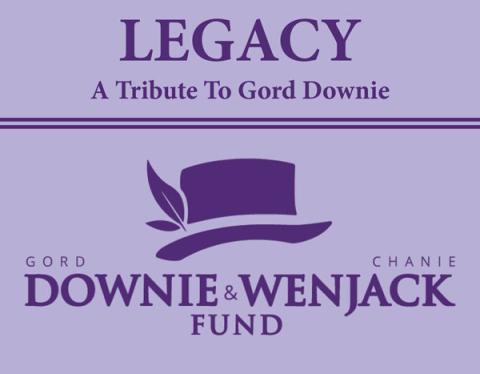 A number of high-profile Canadian musicians will take part in a pair of Gord Downie tribute concerts in Southern Ontario on and around the first anniversary of The Tragically Hip singer's death this week.
Funds generated from these shows will go towards The Gord Downie & Chanie Wenjack Fund, the charitable project / reconciliatory vision established by Gord and his brother Mike Downie which is committed "to improving the lives of First Peoples."
Lee Harvey Oswald's Tom Wilson, Danny Michel, The Kids In The Hall's Bruce McCulloch, Trent Severn, Matthew Barber, Twin Flames and Damhnait Doyle are among the performers. The first takes place Oct. 17, the anniversary of Downie's death at age 53 from brain cancer, at the Burlington Performing Arts Centre in Burlington, Ontario. The next night many of these same acts will be at the FirstOntario Performing Arts Centre in St. Catharines, Ontario to continue the Downie tribute.
Downie announced the establishement of The Gord Downie & Chanie Wenjack Fund and release of his solo album and graphic novel, Secret Path, in October 2016, six months after he revealed he had terminal brain cancer. The singer was inspired by the story of Chanie Wenjack, a 12-year-old boy who died while running away from the Cecilia Jeffrey Indian Residential School near Kenora, Ontario in 1966. (It was also an animated film).
Money raised by the fund in recent years has be guided by the National Centre for Truth and Reconciliation. Downie also used his final public appearances, including his final concert tour with The Tragically Hip, to encourage reconciliation with Canada's Indigenous Peoples.
Speakers at these concert events will also include Chief R. Stacey Laforme, Mississaugas of the New Credit First Nation, and Sarah Midanik, President & CEO of The Gord Downie & Chanie Wenjack Fund.
Funds from the Burlington show will be used to create the Downie/Wenjack Fund Legacy Space at the performing arts centre. The first such legacy space to be housed at a performing arts centre in Canada, this will be a designated area meant to provide accurate information regarding Indigenous history and the journey of reconciliation.
"The Legacy Space will engage many different cultures and people from different walks of life," said Chief R. Stacey Laforme. "It will engage the artists and that is critical because it will not be the politicians or the warriors who decide the fate of our world, it will be the singers, the dancers the arts, the artists. Art bridges gaps and transcends boundaries, connecting people on a deeper level. That is what such a dysfunctional world needs, understanding, consciousness!"
These shows are far from the only Downie-related happenings around the anniversary of his death. The CBC recently premiered the Finding the Secret Path documentary, the third part of a three-film Secret Path-related trilogy which also included The Secret Path animated film and Gord Downie's Secret Path in Concert live performance film.
Air Jordan III (3) Black/Cement 2011