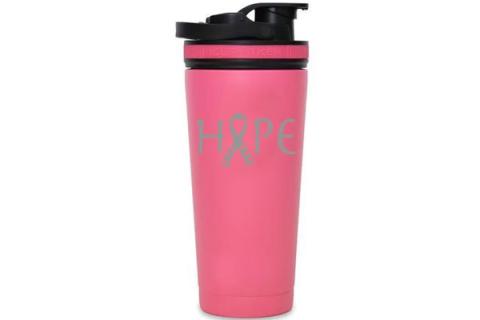 The Gronkowski football family wants your next post-workout protein shake to support the fight against breast cancer.
Led by former National Football League player Chris Gronkowski, his Super Bowl-winning brother Rob, pro baseball-playing brother Gordie, and fellow ex-NFLer brothers Dan and Glenn, the family's boutique protein shake bottle business Ice Shaker has introduced a special product line that will donate partial proceeds towards the Susan G. Komen Foundation as part of Breast Cancer Awareness Month.
Ice Shaker's Breast Cancer Awareness Collection features 15 separate bottles all in variations of Breast Cancer Awareness Month's signature pink colours. The collection includes a 26 ounce Wonder Woman-inspired shaker for $39.99 USD ($52.43 CAD), a similar Captain Marvel-inspired shaker as well as a shaker with the Breast Cancer Awareness Month ribbon design, one with the word "Hope" and another with a butterfly design. These designs are also available for Ice Shaker's 20 ounce skinny steel tumbler $30 USD ($39.33 CAD) and their 12 ounce stemless wine tumbler $25 USD ($32.78 CAD). Ten per cent of the sales from these bottles will go towards the Susan G. Komen Foundation.
Founded in 1982, the Susan G. Komen Foundation has funded more than $988 million in research and $2.2 billion in education, screening and treatment in over 60 countries since its inception. The foundation was started by Nancy Goodman Brinker, whose sister Susan Goodman Komen died in 1980 at age 36 due to breast cancer. The foundation focuses on supporting science, education and direct support for those with breast cancer.
According to the foundation, in 2019 there will be an estimated 268,600 new cases of invasive breast cancer in American women and 41,760 breast cancer deaths. Additionally, there will be an estimated 2,670 new cases of invasive breast cancer in men and 500 breast cancer deaths.
Started in 1985, Breast Cancer Awareness Month takes place around the world each October. Numerous charities, foundations and businesses team up throughout the month to run campaigns and create products, often utilizing the awareness month's signature pink colour and ribbon to raise funds for research into its cause, prevention, diagnosis, treatment and cure.
The specially branded bottles aren't the only way the Gronkowskis are contributing to Breast Cancer Awareness Month. The family also recently took part in a charity workout session at the Ape Strength gym in Texas.
Nike Air Max 200