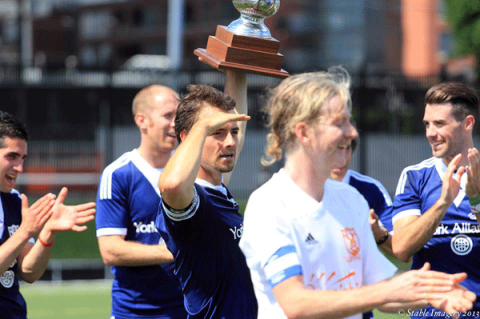 Broken Social Scene's Brendan Canning, Great Big Sea's Murray Foster, Bedouin Soundclash's Eon Sinclair and four-time Olympic medalist Adam van Koeverden joined other footie enthusiasts last Sunday (June 16) at Toronto's Lamport Stadium to Put The Boot In.
The annual charity soccer match, benefitting the Right To Play organization, pitted The Rollers against the Rockers  — the Rollers won 5-2.  The more important score, however, was the figure raised for Right To Play: $16,000, which goes towards helping to improve the lives of children around the world through the power of sport.
"Even in our lives of privilege in the West, sports and play do great things for our life and well-being," Foster tells Samaritanmag. "In a much worse situation, imagine how much more efficacious it would be to be able to play."
Right To Play is a Toronto-based global organization whose mission is "to use sport and play to educate and empower children and youth to overcome the effects of poverty, conflict and disease in disadvantaged communities," according to its web site.
Its roots are in Olympic Aid, founded in 1993 by Johann Olav Koss. It transitioned from fundraising vehicle to implementing Non-Governmental Organization (NGO) in 2000, adopting the name Right To Play, and receives funding from government and individual sources.
NXNE first became involved in 2007. "It came from a group of us talking about the lack of charity soccer matches," music industry veteran Jane Tattersall, one of the co-founders of Put The Boot In, tells Samaritanmag. "It seemed a natural fit to choose Right To Play, a charity that does such great work internationally, benefits children and has an affinity for sport."
For the first game, players made a donation to play. "When we understood there was a passion to participate, it turned into more of a fundraising vehicle where players can fundraise themselves," Tattersall explains. "We have brought in some sponsors to underwrite the hard costs of the event, so every single cent raised by the players goes direct to charity."
Current sponsors include SonicBids, Adidas, York Alliance, and The Queen and Beaver Public House (who donated the coveted Cup).
Kayaker Koeverden, who won a gold medal in 2004 in Beijing, has long been involved with Put The Boot In, via his role as an Athlete Ambassador for Right To Play. "Last year I just coached the Rollers team as I was training for the Olympics," he tells Samaritanmag.  "I thought, 'How stupid would it be to break an ankle in a charity game eight weeks before the Games!'" This year, he both captained and played for the winning side.
Koeverden has witnessed first-hand the impact of Right To Play programs on visits to three troubled African countries, Mali, Liberia and Tanzania. "Over one million children have access now to Right To Play activities on a weekly basis," he says. "I visited a school in Monrovia, Liberia, that was in a bombed-out church. It had no roof, but a Right To Play person comes in once a week. These programs help the students be more directed in their education through sport."
The day before the soccer match, NXNE and Right To Play presented the inaugural Backyard Concert in a Rosedale home. Hosted by legendary comedian Dave Foley and Mad Men's Jessica Pare, the event raised over $170,000 for the charity and featured acoustic performances by Sam Roberts, Gord Downie and Jim Cuddy, with appearances by Koeverden, NHL veteran Mark Napier and Right to Play president/CEO Koss.
Mens Flynit Trainers