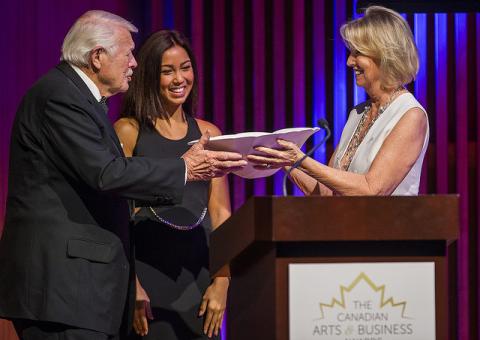 Hilary Weston, who served as Ontario's 26th lieutenant governor, was among those recognized by Business for the Arts for their philanthropy and volunteerism. The individuals, organizations and companies were recognized at the The Canadian Arts and Business Awards, held at Toronto's Aga Khan Museum on Nov. 14, where their honours were accompanied by a cash prize to donate to the charity of their choice.
Business for the Arts — which is celebrating its 40th anniversary this year — works at a national level to promote and encourage private sector investment in the arts through programs, events, forums, research and advocacy, and its annual gala is a celebration of those who provide support, according to its web site.
Individual award winners are recognized for their arts philanthropy and volunteerism and the many arts-based causes and initiatives they support and/or are involved with. Arts and business partnerships are celebrated for their impact on the community.
Hundreds of arts and business leaders turned out for a fundraising reception, awards ceremony and dinner hosted by Canada AM co-host Marci Ien. Award-winning singer/songwriters Joel Plaskett and Sean Jones provided entertainment along with the National Arts Centre Orchestra. Tables for eight people could be purchased in four tiers ranging in price from $10,000 to $40,000, while individual tickets were also available.
Weston, Ontario's lieutenant governor from 1997 to 2002, received the Edmund C. Bovey Award. It includes a sculpture and $20,000 to direct from the Bovey Award fund to UforChange in Toronto, which holds hands-on arts workshops led by a team of mentors that includes actors, playwrights, filmmakers, photographers, fashion designers and DJs.
After leaving public office, she chaired the Renaissance ROM fundraising campaign, transforming the Royal Ontario Museum through the largest and most successful campaign in Canadian cultural history, raising more than $300 million. She initiated the Hilary Weston Writers' Trust Prize for Nonfiction, the most valuable non-fiction prize in Canada, in 2011. Weston is chair of the advisory council of Operation Entrepreneur, which is part of the Prince's Charities Canada. She's been the honorary chair of the Governor General's Performing Arts Awards and is an ongoing supporter of the National Arts Centre.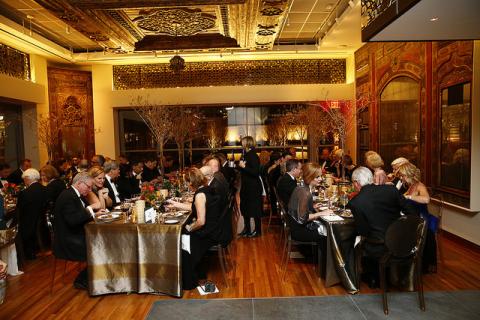 Chris Farias, creative director and partner of KITESTRING Creative Branding Studio, received the Arnold Edinborough Award, which came with an original artwork and $5,000 that he donated to three Hamilton, Ont. arts organizations: Hammer Entertainment, CoBALT CONNECTS and Culture for Kids in the Arts.
Farias has been an engaged part of the arts community in Hamilton and throughout southern Ontario since 2007, working with many arts organizations to brand, market and develop campaigns to achieve awareness and increased sales. These groups include Hamilton Arts Awards, Culture for Kids in the Arts, the Hamilton Philharmonic Orchestra, CoBALT Connects, Double Barrel Studios, Black Box Fire Theatre Company, Hammer Entertainment and visual artist Stephanie Seagram. Farias also donates support, time and expertise to a range of arts-based causes, charitable ventures and not-for-profit organizations. He's a board member and current vice-chair of Culture for Kids in the Arts and a longtime supporter of Art Crawl, as well as a patron of art galleries, live theatre, music venues and film festivals and a champion of local talent. Farias is able to promote his ideas and ideals as a Hamilton Spectator columnist.
RuBarb Productions Inc. and K+S Potash Canada won the artsVest Outstanding Partnership Award and received $5,000 to put toward the partnership. 
RuBarb is a theatre company that was founded in 2006 in Moose Jaw, Sask. It serves the community and surrounding area by supporting the development and growth of cultural activities and events, and by being a leading contributor to the dramatic, musical and artistic standards of the region.
K+S Potash Canada is a mining company that sponsored RuBarb to help subsidize tickets for children to events such as the annual summer musical, Singing in the Rain. RuBarb has established: the K+S Family Pack, which includes one free child's ticket with the purchase of three regular price tickets; and the K+S Family Fun Matinees, where each child in attendance receives a special gift.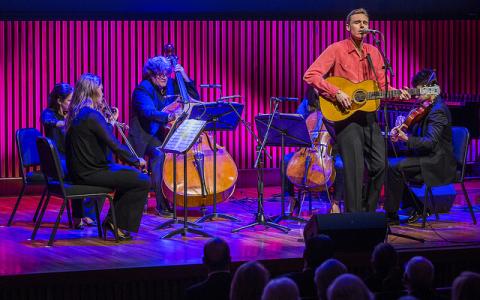 D'Arcy Levesque, vice-president of enterprise communications, brand and community partners at Enbridge in Calgary, received the Cultural Champion Award for corporate leadership. It was accompanied by $5,000, which will be donated to the Alberta Ballet Artist Fund.
Levesque has positioned the company as a leading champion of the arts across Canada and has been an influence on other Canadian companies' arts and cultural philanthropy. He was a key player in helping the National Arts Centre in Ottawa secure financial support and other partners in 2005 for Alberta Scene, the largest ever gathering of more than 500 Alberta artists. Enbridge has since sponsored of other Scene festivals celebrating artists from across Canada. Levesque encouraged Enbridge to become a multi-year presenting sponsor of the Governor General's Performing Arts Awards Gala in 2010. He's aligned the company brand with the arts across Canada, including the Walrus Foundation Advisory Council, the Alberta Ballet, the National Theatre School and the Enbridge playRites Festival of New Canadian Plays. Enbridge received Business for the Arts' Most Effective Corporate Campaign Award in 2011.
Levesque has used his influence to make the arts more central to public debate through his volunteer efforts as a board member of the National Arts Centre Foundation, the Walrus Foundation advisory council and the Governor General's Performing Arts Award Foundation.
Margot Holmes, executive director of the Vancouver Island Symphony for the past 16 years, received the Cultural Champion Award for arts leadership along with $5,000 that she donated to the symphony.
Holmes has been the driving force in elevating the symphony to new heights and now oversees a full orchestra presenting a complete series of programs each season in Nanaimo's 800-seat Port Theatre. One of her greatest accomplishments has been developing programs to showcase the orchestra and its members to engage school children with orchestral music. Her commitment to arts and culture also extends to her work with the B.C. Boys Choir and her business, Caline Artists International, which since 1987 has been devoted to promoting performance and touring opportunities for professional musicians across North America. Holmes remains committed to "keeping music live" through council presentations, membership in the Chamber of Commerce, free summer concerts in the park and the development of a cultural plan for Nanaimo. She has also successfully engaged the business community through partnerships that have resulted in an outstanding record of season and performance sponsorships and fundraising programs.
Toronto's Luminato Festival and Manulife won the Community Impact Award and $5,000 to put toward the partnership.
Manulife has partnered with the Luminato Festival to develop the volunteer experience through engagement and enrichment programs, including an official volunteer lounge, a training workshop series held at Manulife offices and a volunteer appreciation party.
The partnership also embraces CultureLink, a settlement agency for new Canadians. Luminato recruits mentors to work with small groups of newcomers as they prepare for their volunteer experience at the festival. With the support of Manulife since 2007, Luminato has been able to grow its volunteer base over the years to: engage more residents and visitors with the festival's unique programming; support more artists; and enrich both the arts sector and the diverse communities it reaches by supporting youth, documenting events through the youth volunteer photography team and measuring impact and attendance through the volunteer arts marketing team.
Manulife also works closely with other arts organizations across Canada, including the Harbourfront Centre, to ensure that Canadians and visitors can participate in accessible cultural experiences.
The Corporate Champion of the Arts Award went to BMO Financial Group, which received $5,000 to direct to a charitable organization that it has yet to reveal.
BMO has been a dedicated and leading partner of the arts for more than a century, contributing to organizations and projects both large and small. BMO and the Art Gallery of Ontario (AGO) have shared a partnership for more than 40 years and, as a leading supporter of Transformation AGO and a multi-year signature partner of the Canadian Collection Program, BMO has significantly contributed to the gallery's growth. BMO was also the lead inaugural partner of its grand reopening, providing visitors with three days of free admission. The partnership has continued with BMO contributing to the success of a number of exhibitions and a series geared towards children and their families. BMO's support has allowed the AGO to fulfil its strategic priorities of growing its audience, increasing its relevance to families and enriching the lives of children through art in the community.
BMO's commitment to the visual arts is also evident in its partnership with The Power Plant in Toronto that gives visitors free admission to exhibitions and supports a program to engage young children. BMO has made transformative contributions to the Museum of Contemporary Canadian Art for more than seven years, enabling it to increase capacity, present impactful exhibitions for the community and create a greater awareness of contemporary art. 
nike fashion