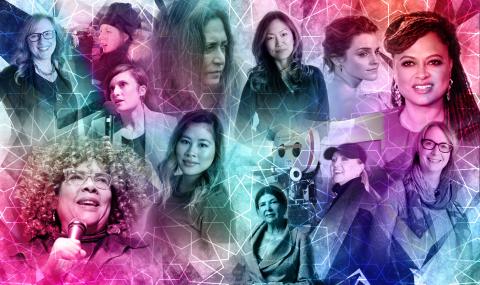 Movie broadcaster and streamer Hollywood Suite through December is matching all donations to the Women in Film & Television - Toronto Foundation dollar-for-dollar, up to $15,000.
Hollywood Suite, which offers four movie channels, reaches into around 9.5 million Canadian homes, via local cable and satellite TV providers. The inaugural 2017 campaign raised in all $25,000; and the 2019 fundraising target has been raised to $30,000.
Founded in 1984, "WIFT-T is a member-based organization of enthusiastic people committed to the development and advancement of women in the screen-based industry," it states on its web site. The Foundation for WIFT-T raises funds "to enable WIFT-T to carry out its mission to empower women in the screen-based industry."
The goal, says Heather Webb, executive director of WIFT-T, is to advance the careers of women in the film, TV, digital industries by providing cash prizes and tuition-free bursaries to aspiring and experienced filmmakers.

As of Dec. 6, WIFT-T had raised $3,598 on its way to its $15,000 goal, with Hollywood Suite committed to matching all donations.
The WIFT-T foundation's partnership with Hollywood Suite in its first year handed out three cash prizes at its annual film showcase to emerging filmmakers that included a $5000 raised by the Canadian movie service via donation matching.
"We're really thrilled with the (donation) matching campaign. We were able to give some cash awards to young and up and coming filmmakers, and we're hoping to do more next year," Webb tells Samaritanmag.
Hollywood Suite president David Kines backs efforts by WIFT-T to make the entertainment industry more equal for women looking to break into the film and TV business, or rise up to top executive posts.
"It's always been important to help women. The industry has always been very male dominated. But with everything going on now, we think it's an important effort to support WIFT-T," Kines told Samaritanmag.
Backed by a policy initiative from the federal government, the Canadian film and TV industry has set a goal for gender parity by 2020.
With financial commitments from public funding agencies and institutions like Telefilm Canada and the CBC, more doors are opening for women filmmakers, but too few are yet being hired to direct or produce big-budget projects.
"It's better than it was. But it's still incremental change that we're looking at. The best thing that's happened is (gender parity) is part of the dialogue now," Webb says.
Kines argues the gender equality already in place at Hollywood Suite needs to be mirrored across the entertainment industry. "It's just plain good business to have a good and diverse workforce. How can you market to a population that's 50 percent women and 60 percent diverse and have an employee base that doesn't reflect that reality?"
WIFT-T for women just breaking into the industry offers networking and mentoring opportunities, and professional development programs for mid-career and veteran female filmmakers looking to build up their business and leadership skills. Bursaries and scholarships are also on offer to offset the cost of the academic programs.
"The end goal is to make women more confident, and to have a really diverse network," Webb says of WIFT-TV as a member-based organization with its networking and career advancement options.
The WIFT-TFoundation in the last year also supported women in the media industry as they sought mentors or membership or passes to schools and film festivals.
Webb adds WIFT-TV is looking in 2019 to help send women filmmakers to international media markets and conferences as networking in an increasingly global entertainmnent industry becomes key to career advancement.
"This is a global industry. And you have to make those connections. That's where a lot of deals are made. And it's really expensive, so if we can support travel and hotel costs, that's our goal," she says.
(Please support Samaritanmag's original journalism by making a PayPal contribution or EMT transfer using  info@samaritanmag.com so we can increase the amount of content and writers we hire. Samaritanmag is the anti-tabloid, covering good people trying to change bad things. Let's make this thing bigger than TMZ.)
NEW BALANCE